Winchester Model 1895 Takedown Rifle (serial no. 81851)
Manufacturer Winchester Repeating Arms Company American

Not on view
This highly customized Winchester Model 1895 sporting rifle exemplifies the apex of luxury American-made big game hunting guns available in the first decades of the twentieth century. In addition to its premium factory decorations, the gun is also distinguished by its unique combination of special-order features that is not to be found on another Winchester rifle of this type. Winchester made the rifle in 1913 to the specification of Bernard H. Matthies (1892–1974), the American industrialist, philanthropist, and outdoorsman perhaps best-known today for his sale of a large parcel of land for a fraction of its value to the town of Beacon Falls, Connecticut, for the creation of a public park, today named Matthies Park. The rifle survives in very good condition and appears to have seen little use. It is one of three deluxe factory-decorated Winchester rifles given to the Museum by the Robert M. Lee Foundation in 2018 (acc. nos. 2018.856.4; 2018.856.5a–j)—the first factory-decorated Winchesters to enter the collection.

As the production of firearms became increasingly industrialized in the United States in the 1850s, customers seeking to personalize their machine-made guns could hire an independent gunsmith to add original embellishments, or, alternatively, choose from a variety of customization options executed by skilled decorators employed by the firearm's manufacturer. This rifle was decorated by a Winchester factory engraver, possibly John Ulrich (1850–1924). If by Ulrich, it may have been a private commission or executed as a Winchester contractor, as he is believed to have retired from full-time work at the company in 1907. Some Winchester decorators, including Ulrich, maintained independent workshops while working at the company and after leaving Winchester.

The rifle's blued receiver, box magazine, finger lever, and barrel are engraved with scrollwork and inlaid with gold wire framing three gold-inlaid panel scenes of big game animals—a tiger, leopard, and bear. The buttstock and forestock are carved with floral scrollwork. These embellishments reproduce designs illustrated in the Winchester Arms Company's catalogue Highly Embellished Arms. First published in 1897, Highly Embellished Arms codified for the first time Winchester's factory decoration options for its line of rifles, offering Winchester customers ten design options for receiver decoration and eight for the stock at varying price points. They include game scenes surrounded by scrollwork, and foliage motifs combined with scrollwork, with the option to customize for an added cost. The designs were conceived primarily by Winchester factory engravers Herman Leslie Ulrich (1846–1937) and William E. Stokes. The Matthies rifle features Style No. 1 engraving—the most expensive available—and Style B stock carving—the second most expensive available. Few Model 1895 rifles were embellished to this level, and together these decorations cost nearly ten times the price of the rifle alone. Other surviving examples of deluxe Model 1895 featuring this combination of engraving and stock carving are serial numbers 78191, 88044, and 88455, and the later rifles 216937, 403953, and 419777. Like the Matthies rifle, these guns are takedowns and their stocks are made from fancy walnut with a high grain contrast.

The Matthies rifle's numerous special-order features distinguish it among this group. The barrel is threaded for a Maxim silencer—a rare factory modification on Model 1895s. In addition to a special-order Lyman Gun Sight Company leaf sight and front bead sight, the rifle is also fitted with a Lyman flexible rear sight—a spring-mounted sight attached through the upper tang that could return to the upright position after being pushed back by the rifle's long bolt. The hand-made, unusually high-combed Monte Carlo style butt stock with rubber recoil pad was almost certainly made to Matthies's specification, and he would have provided measurements to Winchester to ensure it fit him precisely.

The Winchester Polishing Room Serialization Record Books record that this rifle received its serial number (81851) on April 7, 1913. Unfortunately, the Winchester's Factory Warehouse Records, which recorded each gun's specifications, special features, and other data, do not survive for Model 1895s post-dating 1900 (serial numbers 59999 and above).

The Model 1895 began production in 1895 and debuted in Winchester's June 1896 catalogue. Designed to handle the new, high pressure, smokeless powder cartridges that were coming into widespread use in the United States and abroad, the Model 1895 incorporated design features that differentiated it from previous Winchester lever action rifles, chief among them a long, strong new action, a new nickel steel barrel, a cartridge box as opposed to a tubular magazine, and a jointed finger lever (second model only) that served as an additional safety. John Moses Browning (1855–1926), whose designs led to the development of nine Winchester rifle models in total, including the Model 1886 and Model 1894, conceived the initial design for the Model 1895. It was the last lever action rifle he designed for Winchester.

The first Model 1895s chambered in .405—Winchester's most powerful lever action cartridge to date and made for use in the Model 1895—shipped in 1904 and became popular among big game hunters, most notably former President of the United States Theodore Roosevelt (1858–1919), who owned three of them. Roosevelt brought the rifles on his famous 1909 Smithsonian Expedition to Africa, lauding their effectiveness in accounts published in Scribner's Magazine and his 1909 book African Game Trails, and on his 1914 expedition to South America.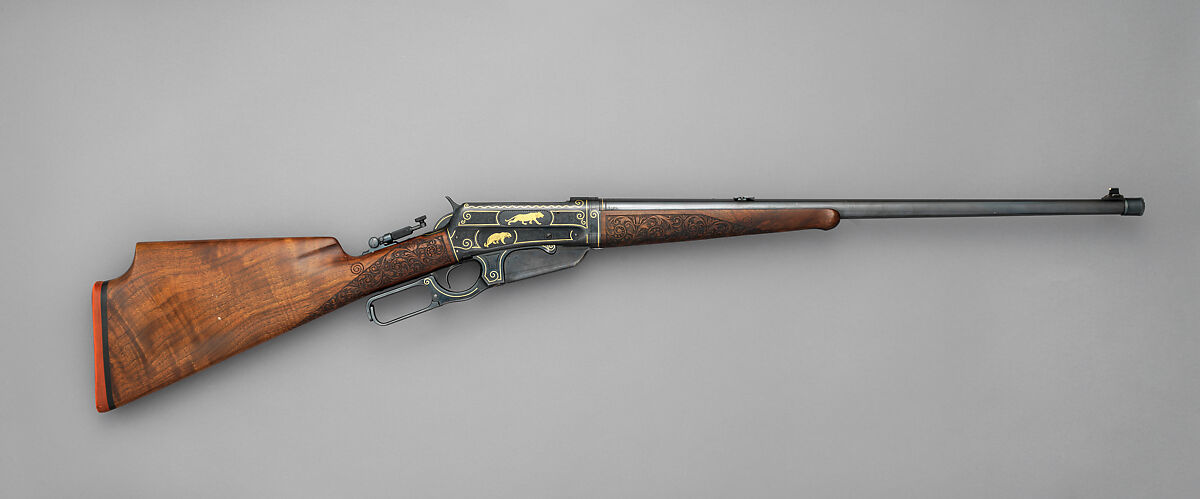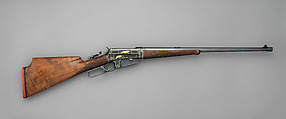 This artwork is meant to be viewed from right to left. Scroll left to view more.