Percussion Target Rifle
Gunsmith Julius Grudchos American
Gunsmith Selmar Eggers American

On view at The Met Fifth Avenue in Gallery 372
Target shooting with the crossbow was a well-organized sport in Germanic countries by the late Middle Ages. Shooters formed clubs that were modeled after contemporary craft guilds and served many of the same social and civic functions. During the late fifteenth century firearms gradually replaced bows as the customary weapon for target shooting in most areas. This activity being a long-established part of their society, German immigrants in the nineteenth century quickly founded shooting clubs (Schützenvereine) in the United States. Such clubs remained a popular fixture of German-American culture into the early twentieth century.

Most schützen rifles were relatively plain, unlike this finely made, unusually decorative example. It is distinguished by delicate floral ornament engraved on the steel and silver mounts, gold inlay highlighting the browned barrel and lock, and exuberant floral designs carved in the stock. Grudchos and Eggers, whose names appear on the lock and barrel, were well known for their innovative whaling guns. All the elements of the target rifle are stamped with number 1, suggesting that it was the first of the few firearms of this specialized type that Grudchos and Eggers made during their brief partnership.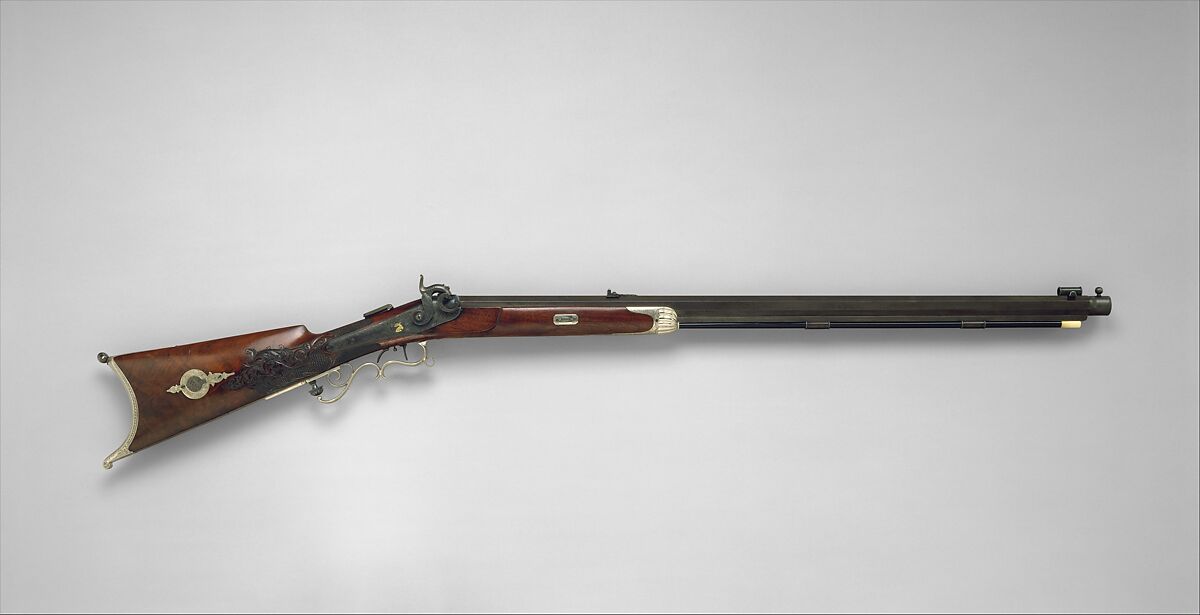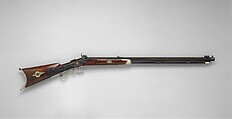 This artwork is meant to be viewed from right to left. Scroll left to view more.