Colt Third Model Dragoon Percussion Revolver, serial no. 12406
Manufacturer Samuel Colt American

On view at The Met Fifth Avenue in Gallery 371
Samuel Colt (1814–1862) was one of the most famous and successful American inventors and entrepreneurs of the early industrial age. By patenting the first mass-produced multishot revolving firearms, Colt achieved worldwide fame and a vast personal fortune. His introduction of precise machine-made weapons and his promotion of the interchangeability of parts were innovations that transformed the arms industry. Colt actively promoted sales through advertising and displays at international fairs, and by presenting deluxe arms to men of influence. His precise and reliable standard-model revolvers were highly valued by soldiers and frontiersmen. His more elaborately embellished exhibition and presentation arms appealed as functional objects of beauty.

Early American arms usually were plain, serviceable weapons intended for hunting and self-defense. By the mid-nineteenth century, however, the increasing wealth and sophistication of the middle class created a new demand for decorated arms. English and German designs initially served as models for American arms decoration. A new era of creativity began with the arrival of German-born gun engravers and die-cutters, who joined Colt's engraving staff at the Hartford, Connecticut factory beginning in about 1853. In addition to embellishing standard models, these engravers created some of Colt's most lavish and ambitious gold-inlaid arms, which were intended for promotional display or for presentation to influential citizens, politicians, and heads of state. The finest decorated Colt revolvers typically have blued steel surfaces deeply engraved with dense foliate scrollwork, with motifs such as human figures, animals and birds, and invariably, Colt's name inlaid in gold set flush with the surface. On the most luxurious examples, some of the gold was modeled in relief, resembling sculpture in miniature.

This Dragoon model revolver and its mate (presented to the Czar of Russia) are considered among Colt's masterpieces. Apparently, they were created as part of a set of three pairs of gold-inlaid revolvers that Colt took with him to Europe in 1854. That year saw the outbreak of the Crimean War, which pitted Russia against Turkey and her allies, Great Britain and France. Colt aggressively marketed arms to both sides. In November 1854, he presented three gold-inlaid revolvers, one example from each pair, to Czar Nicholas I of Russia. Of these, the Third Model Dragoon serial number 12407 (now in The Hermitage, Saint Petersburg) is actually the mate to the Museum's pistol, serial number 12406. The gift clearly demonstrated the technical and artistic aspects of Colt's product, while its patriotic motifs proudly proclaimed its American origin. The museum's pistol features a portrait of George Washington and the Arms of the United States, while on the Czar's pistol there are a view of America's capitol building and a personification of American industry.
#4414. Colt Third Model Dragoon Percussion Revolver, Serial Number 12406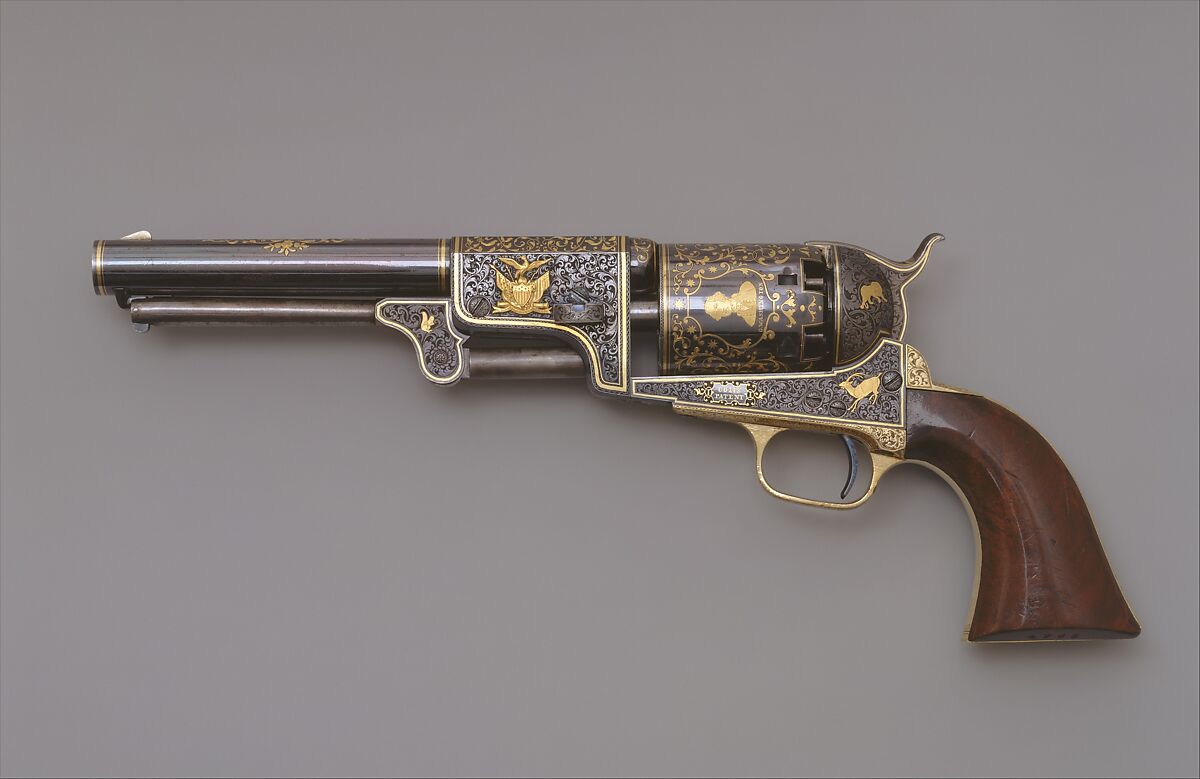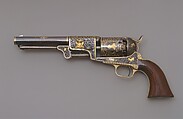 This artwork is meant to be viewed from right to left. Scroll left to view more.