Lamellar Armor (Byang Bu'i Khrab) and Helmet
Not on view
This is a representative example of a Tibetan lamellar armor and helmet. Both pieces show signs of hard use and repairs. By comparison with examples that are thought to be earlier in date, its lamellae are relatively coarse, dark in color, roughly finished, and more irregular in size. Most Tibetan lamellar armors share several distinct features. The body of the armor has the form of a sleeveless robe made from twelve to fourteen or more rows of lamellae, and the coat has a distinct waist, with the lamellae of that row being bent in a subtle curve. Most armors are sleeveless, but some have shoulder defenses formed of several rows of lamellae, and full sleeves in at least one rare instance. The coat opens down the length of its front, and the back of the skirt is split vertically from the bottom row up to the waist by two seams, one at either side. Some are trimmed with borders made of silk brocade, which is attached around the bottom edge of the coat at the base of the skirts and at the bottom of the shoulder defenses. However, the majority have a simple border at the base of the skirts consisting of two layers of thick leather.

Equally distinctive helmets were made to match the armors and are likewise associated only with Tibet or the Tibetan cultural region. Like the armors, this type of helmet is constructed of iron plates joined by leather laces. The bowl of the helmet is usually made up of eight arched plates, with four narrow outer plates that have cusped edges, and four wider inner plates that have smooth edges. In addition to a characteristic plume finial at the top of the helmet, on complete examples there is also a single row of lamellae encircling the base of the helmet bowl, a pair of cheek defenses made of five to seven rows of lamellae, and a flaring nape defense of three rows.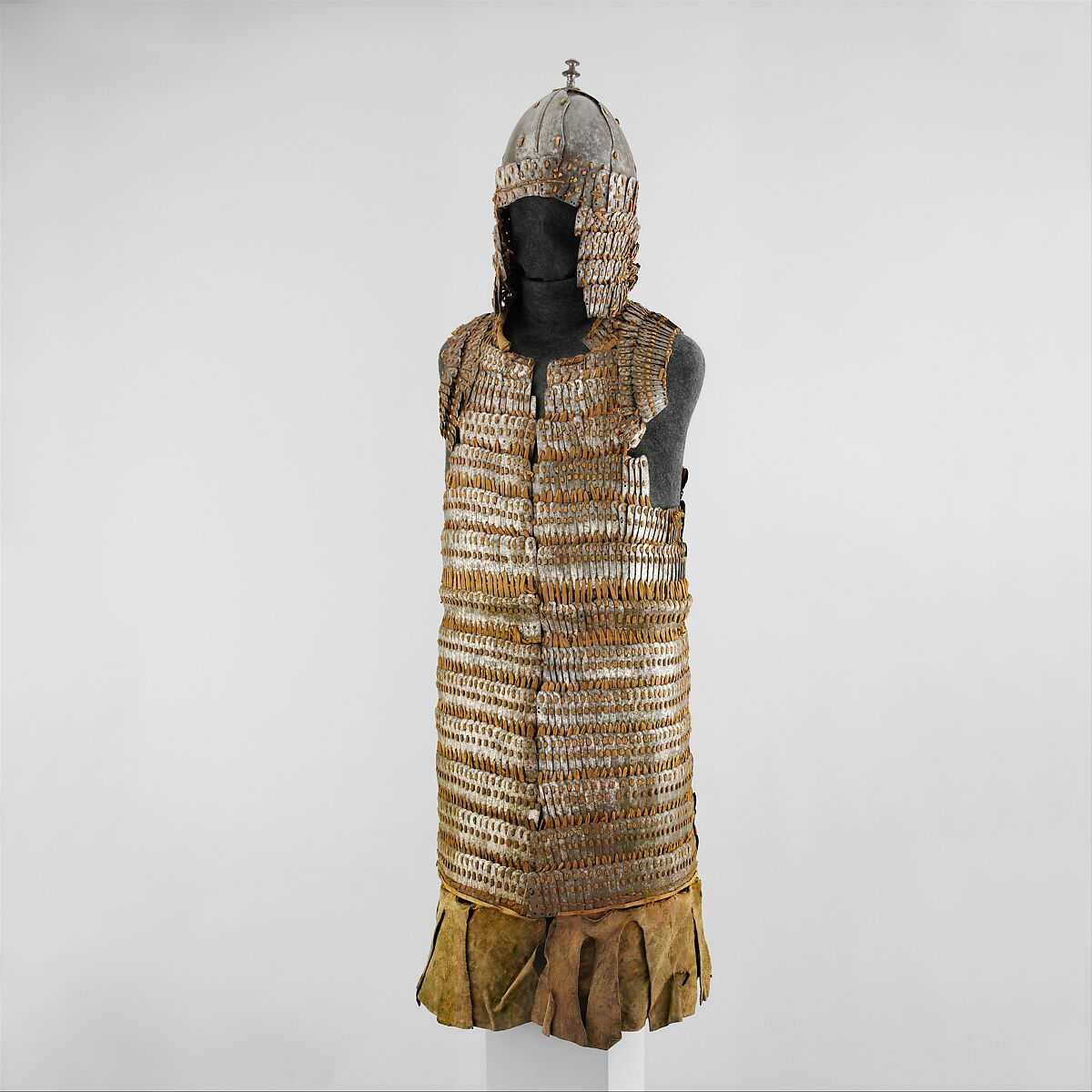 This artwork is meant to be viewed from right to left. Scroll left to view more.