Bowl
Not on view
Thin walls form a deep bowl with a slightly pinched rim, shifting the edge into a soft square frame. Shallowly incised designs of fluid figures and geometric shapes ornament the exterior. A pair of curving, double-headed snakes dominate the pictorial register, separated by geometric stepped motifs and vertical bars creating an encircling repetitive pattern. Dark red and green colors stand out from the original white background and though the bowl originally displayed additional colors, such as tans, grays, and yellow, only faded traces of these colors remain. Symmetrically designed with bold and simplistic imagery, this ceramic bowl is distinctive of the post-fire painting style characteristic of pottery produced by the Paracas culture during the Early Horizon (700 B.C. – A.D. 1) in the south coast of Peru.

The Paracas culture was named for the Paracas peninsula along the south coast of Peru, where Paracas material culture was first found in the early twentieth century. Initially identified by Peruvian Archaeologist Julio Tello, early excavations at Paracas sites revealed a funerary tradition of wrapping the dead in bundles of cloth and textiles. Funerary offerings, like this bowl were included in the mummy bundle.

Both this vessel's form and imagery are well-represented in Paracas material culture. Other Paracas vessels in the MMA collection like 63.232.72 are the same shape as this vessel. Depictions of deities with serpent like extremities, and the double-headed snake (seen again in MMA 63.232.99 ), are a common motif in all Paracas art forms, including highly valued textiles such as the Border Fragment (33.149.15). Snakes also became linked with shamanic activities, a connection reinforced visually with the shape of the eyes. The simplistically spherical yet conspicuously bulbous rendering represents physical effects of psychotropic substances, which were used often in shamanic rituals. A penchant for curving lines and contrasting colors, highlighting figural motifs and increasing visual dynamics, is clearly seen on the double-headed snake bowl.

The colorful surface of the double-headed snake bowl was created using the post-fire painting technique that is characteristic of pottery produced in Peru's Ica Valley by the Paracas culture. A coating of thick paint bounded by etched contours, as exhibited on this vessel, is a distinctive quality of Paracas style ceramics. Designs were incised into the clay before the ceramic was fired. After ceramics had been fired, a resin of blended mineral and plant materials was then brushed onto the surface. Paracas is one of the earliest cultural traditions known to produce ceramics on the south coast of Peru. The use of such a vibrant spectrum of colors was unprecedented prior to Paracas cultural traditions. Different color paints were made from iron oxides, copper minerals, and clays were mixed with a resin to bind the pigments to the surface of the ceramic. Many of these resources were not available locally and Paracas craftsmen would have relied on exchange relationships with other groups to obtain these resources.

Lolly Burrow, MA Candidate, Bard Graduate Center, 2017

References and Further Reading

DeLeonardis, Lisa. "Encoded Process, Embodied Meaning in Paracas Post-Fired Painted Ceramics." In Making Value, Making Meaning: Techné in the Pre-Columbian World, edited by Cathy Costin, pp. 129-166. Washington D.C.: Dumbarton Oaks Research Library and Collections, 2016.

Proulx, Donald A. "Paracas and Nasca: Regional Cultures on the South Coast of Peru." In Handbook of South American Archaeology, edited by Helaine Silverman and William Isbell, pp. 563-585. New York: Springer, 2008.

Sawyer, Alan R. Ancient Peruvian Ceramics: The Nathan Cummings Collection. New York: The Metropolitan Museum of Art; distributed by New York Graphic Society, Greenwich, Conn, 1966.

Silverman, Helaine. "The Paracas Problem: Archaeological Perspectives." In Paracas Art and Architecture: Object and Context in South Coastal Peru, edited by Anne Paul, pp. 349 – 415. Iowa City: University of Iowa Press, 1991.

Stone, Rebecca. Art of the Andes: From Chavín to Inca. 3rd ed. Thames & Hudson World of Art. London: Thames & Hudson, 2012.

Van Gijseghem, Hendrik and Kevin J. Vaughn. "Regional integration and the built environment in middle-range societies: Paracas and early Nasca houses and communities." Journal of Anthropological Archaeology 27 (2008): 111-30.

.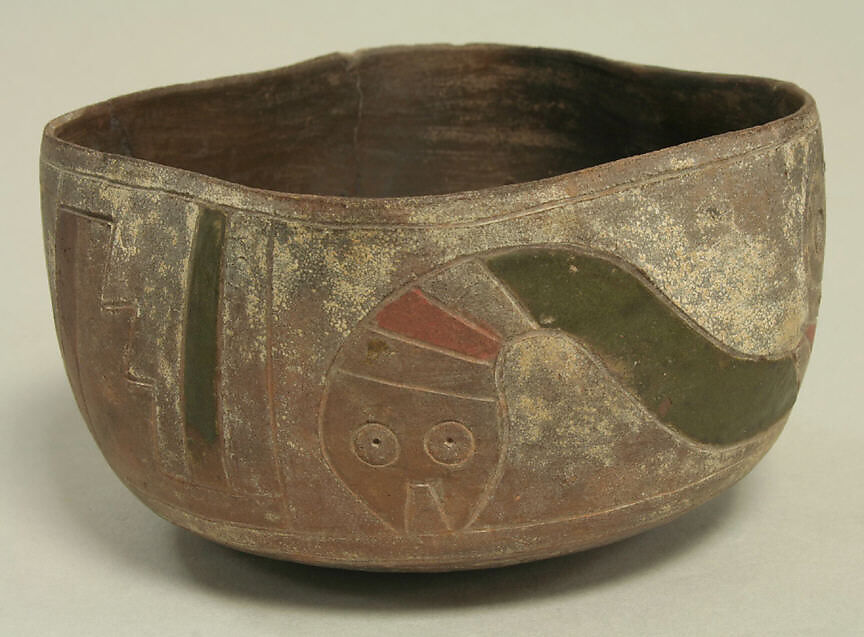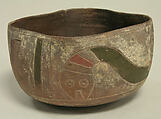 This artwork is meant to be viewed from right to left. Scroll left to view more.