Bottle with fox head
On view at The Met Fifth Avenue in Gallery 202
This ceramic stirrup-spout bottle in the shape of a fox head dressed in a turban was made by artists of the Moche culture of Peru's North Coast. The vessel is painted using red and white slip (a suspension of clay and/or other colorants in water). The fox wears a typical Moche turban that extends over the back of his neck and is held on by a band that goes over the top of the head and ties under the chin. The edge of the turban has a repeating, stylized catfish head design. The creature's face is painted with a broad, vertical white stripe in the center, flanked by two red stripes, emulating the type of face paint seen on ceramic portraits of human warriors.

Anthropomorphic animals, including fox warriors, are often depicted in Moche ceramics—both modelled and painted (for other examples in the Met's collection see 82.1.29 and 1983.546.4)—as well as in mural painting (Donnan and McClelland, 1999; Trever, 2017). The significance of this type of representation is unclear but it may illustrate the Moche's veneration of these animals, who may have been thought to possess have special powers. Foxes hunt and capture small prey, much as warriors would fight and capture prisoners. Foxes also may have been associated with the world of the dead, as they are primarily nocturnal and live in underground burrows.

The stirrup-spout vessel—the shape of the spout recalls the stirrup on a horse's saddle—was a much favored form on Peru's northern coast for about 2,500 years. Although the importance and symbolism of this distinctive shape is still puzzling to scholars, the double-branch/single-spout configuration may have prevented evaporation of liquids, and/or that it was convenient for carrying. Early in the first millennium A.D., the Moche elaborated stirrup-spout bottles into sculptural shapes depicting a wide range of subjects, including human figures, animals, and plants worked with a great deal of naturalism. About 500 years later, bottle chambers became predominantly globular, providing large surfaces for painting complex, often multi-figure, scenes.

The Moche (also known as the Mochicas) flourished on Peru's North Coast from 200-850 AD, centuries before the rise of the Incas. Over the course of some six centuries, the Moche built thriving regional centers from the Nepeña River Valley in the south to perhaps as far north as the Piura River, near the modern border with Ecuador, developing coastal deserts into rich farmlands and drawing upon the abundant maritime resources of the Pacific Ocean's Humboldt Current. Although the precise nature of Moche political organization is a subject of debate, these centers shared unifying cultural traits such as religious practices (Donnan, 2010).

Published reference

Sawyer, Alan R. Ancient Peruvian Ceramics: The Nathan Cummings Collection (New York: The Metropolitan Museum of Art, 1966), p. 44.

Wassermann-San Blás, Bruno John. Céramicas del antiguo Perú de la colección Wassermann-San Blás (Buenos Aires: Bruno John Wassermann-San Blás, 1938), p. 99.

References and further reading

Donnan, Christopher B. "Moche State Religion," in New Perspectives on Moche Political Organization, edited by Jeffrey Quilter and Luis Jaime Castillo (Washington D.C.: Dumbarton Oaks Research Library and Collection, 2010), pp. 47-69.

Donnan, Christopher B. and McClelland, Donna. Moche Fineline Painting: Its Evolution and Its Artists (Los Angeles: Fowler Museum of Cultural History, University of California, 1999).

Trever, Lisa. The Archaeology of Mural Painting at Pañamarca, Peru, with contributions by Jorge Gamboa, Ricardo Toribio, and Ricardo Morales (Washington, DC: Dumbarton Oaks Research Library and Collection, 2017).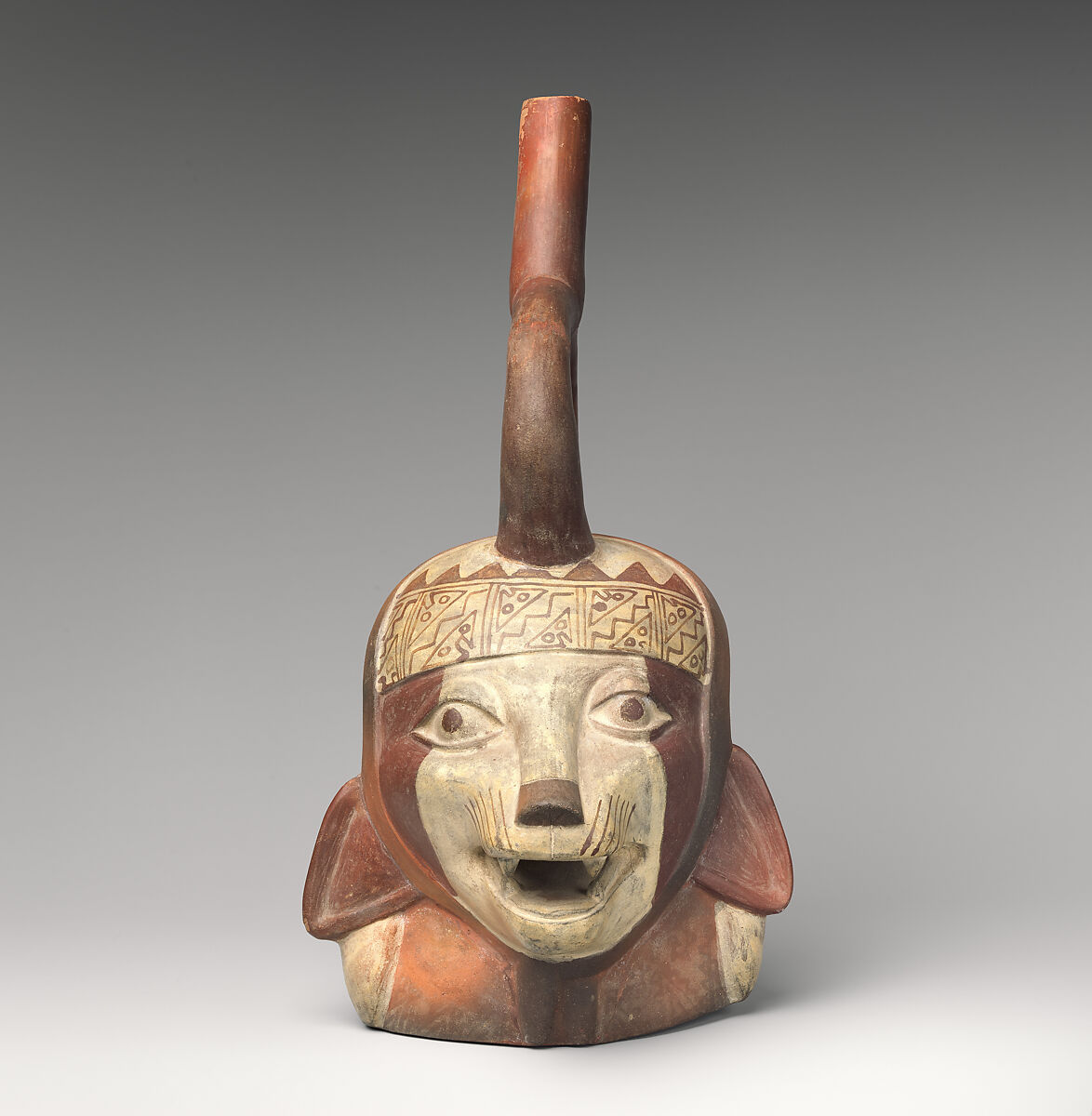 This artwork is meant to be viewed from right to left. Scroll left to view more.