Stirrup Spout Bottle with Cat
Not on view
This stirrup-spout ceramic vessel, depicting a pampas cat (Leopardus colocola), was made by potters of Peru's Moche culture in the middle of the first millennium A.D. Felines, including pumas, jaguars, and pampas cats, were a favorite subject in Moche ceramics, wood, and metal. These cats were the most powerful predators on Peru's North Coast, territory governed by the Moche, and the strength and agility of these mammals, as well as their ability to bring down much larger prey such as deer, may account for their numerous depictions on objects meant to represent power and domination. The present example, however, is somewhat unusual as the subject is shown in peaceful repose, as compared the more common image of a feline with fangs bared (see, for example, another work in the Met's collection, accession number 67.167.12). Some varieties of the pampas cats—small, wild felines somewhat larger than domestic cats—have distinctive pelage markings, including rings on their bushy tails, but this monochromatic depiction emphasizes the delicate shapes of the creature's head and body.

The stirrup-spout vessel—the shape of the spout recalls the stirrup on a horse's saddle—was a much-favored form on Peru's North Coast for about 2,500 years. Although the importance and symbolism of this distinctive shape is still puzzling to scholars, the double-branch/single-spout configuration may have prevented evaporation of liquids, and/or may have provided a convenient handle. Early in the first millennium A.D., the Moche elaborated stirrup-spout bottles into sculptural shapes depicting a wide range of subjects, including human figures, animals, and plants, all worked with a great deal of naturalism.

The Moche (also known as the Mochicas) flourished on Peru's North Coast from A.D. 200–850, centuries before the rise of the Incas (Castillo, 2017). Over the course of some six centuries, the Moche built thriving regional centers from the Nepeña River Valley in the south to perhaps as far north as the Piura River, near the modern border with Ecuador, developing coastal deserts into rich farmlands and drawing upon the abundant maritime resources of the Pacific Ocean's Humboldt Current. Although the precise nature of Moche political organization is a subject of debate, these centers shared unifying cultural traits such as religious practices (Donnan, 2010).

References and Further Reading
Castillo, Luis Jaime. "Masters of the Universe: Moche Artists and Their Patrons." In Golden Kingdoms: Luxury Arts in the Ancient Americas, edited by Joanne Pillsbury, Timothy Potts, and Kim N. Richter. Los Angeles: J. Paul Getty Museum, 2017, pp. 24–31.

Donnan, Christopher B. Moche Art of Peru: Pre-columbian Symbolic Communication. Los Angeles: Museum of Cultural History, University of California, 1978.

Donnan, Christopher B. Ceramics of Ancient Peru. [Exh. Cat., Fowler Museum of Cultural History, Los Angeles]. Los Angeles: University of California, 1992.

Donnan, Christopher B. "Moche State Religion." In New Perspectives on Moche Political Organization, edited by Jeffrey Quilter and Luis Jaime Castillo. Washington D.C.: Dumbarton Oaks Research Library and Collection, 2010.

Donnan, Christopher B. and Donna McClelland. Moche Fineline Painting: Its Evolution and Its Artists. Los Angeles: Fowler Museum of Cultural History, University of California, 1999.

Sawyer, Alan Reed. Ancient Peruvian Ceramics: The Nathan Cummings Collection. New York: The Metropolitan Museum of Art, 1966.

Publications
Wassermann-San Blás, Bruno John. Céramicas del antiguo Perú de la colección Wassermann-San Blás. Buenos Aires: Bruno John Wassermann-San Blás, 1938, no. 191, p. 108.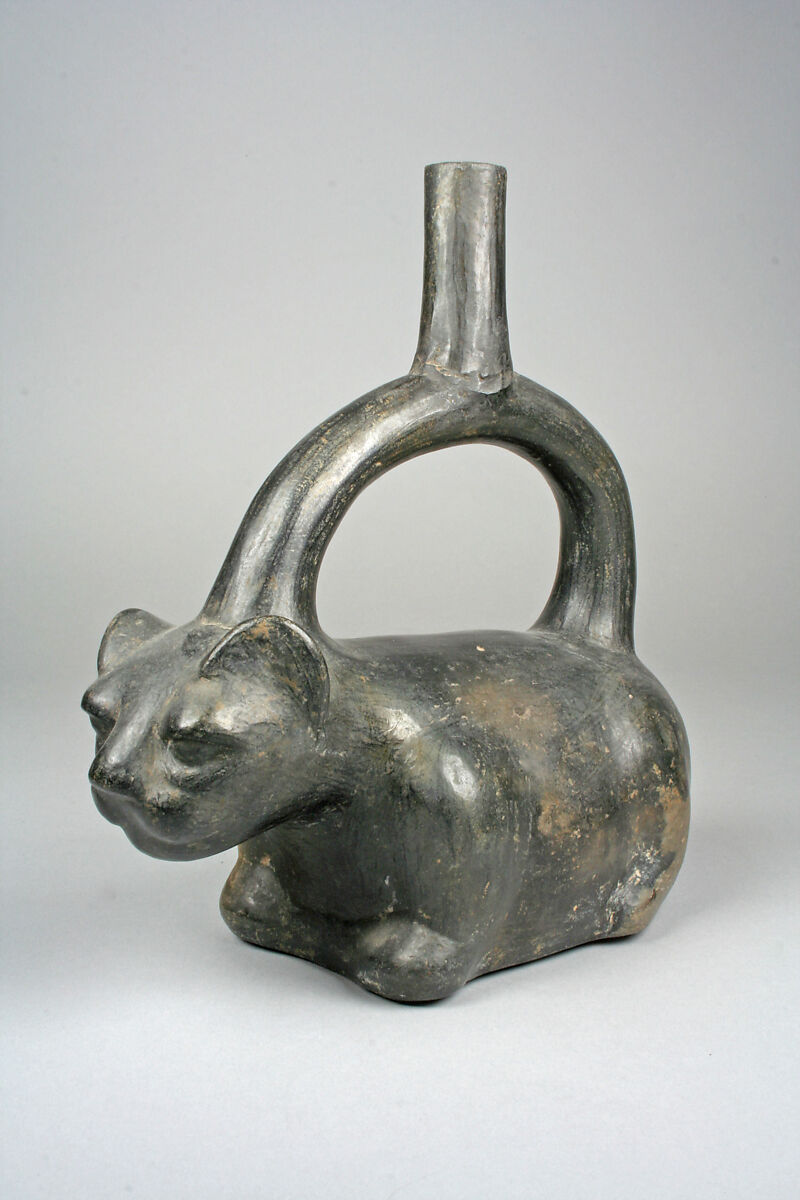 This artwork is meant to be viewed from right to left. Scroll left to view more.