Bird Warrior Bottle
Not on view
This ceramic bottle depicts two hawk warriors shown in profile, one on each side of the vessel. Created by artists of ancient Peru's Moche culture, the bottle was painted in a style known as "fineline," so-called for the detailed compositions delicately rendered in red slip (a suspension of clay and/or other colorants in water) on a white background. Dressed in warrior regalia, the two anthropomorphized hawks have arms and legs in addition to magnificent wings. The figures wear a helmet, tied under the chin, surmounted by a crescent finial and an element that extends down the back. One figure, pictured here, wears a tunic and helmet with a pattern suggesting feathers, and the comma-shaped designs on the belt may represent a type of fruit called ulluchu (McClelland, 2008). The other figure is similarly attired, but the helmet and the lower portion of his tunic are distinguished by a step design. Both figures wear circular ear spools, and, extending behind the body and secured to the waist by two straps, a type of body armor terminating in a crescent edge known as a backflap. The hawk warriors hold up a mace in the right hand and a shield with extensions in the left; the figure with the feather tunic brandishes a rectangular shield, the other a circular one. Stacked, V-shaped forms representing plants, one of which bears flowers, separate the two figures. These plants may be bromeliads, which grow in the arid deserts of Peru, suggesting that this scene takes place in the desert (Donnan and McClelland, 1999).

Warrior figures with animal attributes—or animals with warrior attributes—are often depicted in Moche art. As there was no tradition of writing in the ancient Andes, it is difficult to ascertain the meaning of such imagery. Two interpretations of this have been put forth: in one, the figures are thought to represent humans wearing animal costumes; in the other, the figures are believed to be mythological animals endowed with human characteristics (see Donnan and McClelland, 1999, for further discussion and comparative imagery). In either case, such imagery linked warriors with the swift and powerful attributes of raptors.

The Moche (also known as the Mochicas) flourished on Peru's North Coast from A.D. 200-850, centuries before the rise of the Incas (Castillo, 2017). Over the course of some six centuries, the Moche built thriving regional centers from the Nepeña River Valley in the south to perhaps as far north as the Piura River, near the modern border with Ecuador, developing coastal deserts into rich farmlands and drawing upon the abundant maritime resources of the Pacific Ocean's Humboldt Current. Although the precise nature of Moche political organization is a subject of debate, these centers shared unifying cultural traits such as religious practices (Donnan, 2010).



References and Further Reading

Donnan, Christopher B. "Moche State Religion." In New Perspectives on Moche Political Organization, edited by Jeffrey Quilter and Luis Jaime Castillo. Washington D.C.: Dumbarton Oaks Research Library and Collection, 2010, pp. 47–69.

Castillo, Luis Jaime. "Masters of the Universe: Moche Artists and Their Patrons." In Golden Kingdoms: Luxury Arts in the Ancient Americas, edited by Joanne Pillsbury, Timothy Potts, and Kim N. Richter. Los Angeles: J. Paul Getty Museum, 2017, pp. 24–31.

Donnan, Christopher B. Ceramics of Ancient Peru. Los Angeles: Fowler Museum of Cultural History, University of California, 1992. Donnan, Christopher B. Moche Portraits from Ancient Peru. Joe R. and Teresa Lozano Long Series in Latin American and Latino Art and Culture. Austin: University of Texas Press, 2003.

McClelland, Donna. "Ulluchu: An Elusive Fruit." In The Art and Archeology of the Moche, Steve Bourget and Kimberly l. Jones, eds., pp. 43-65. Austin: University of Texas Press, Austin, TX, 2008.

Wassermann-San Blás, Bruno John. Céramicas del antiguo Perú de la colección Wassermann-San Blás. Buenos Aires: Bruno John Wassermann-San Blás, 1938, no. 2, p. 4.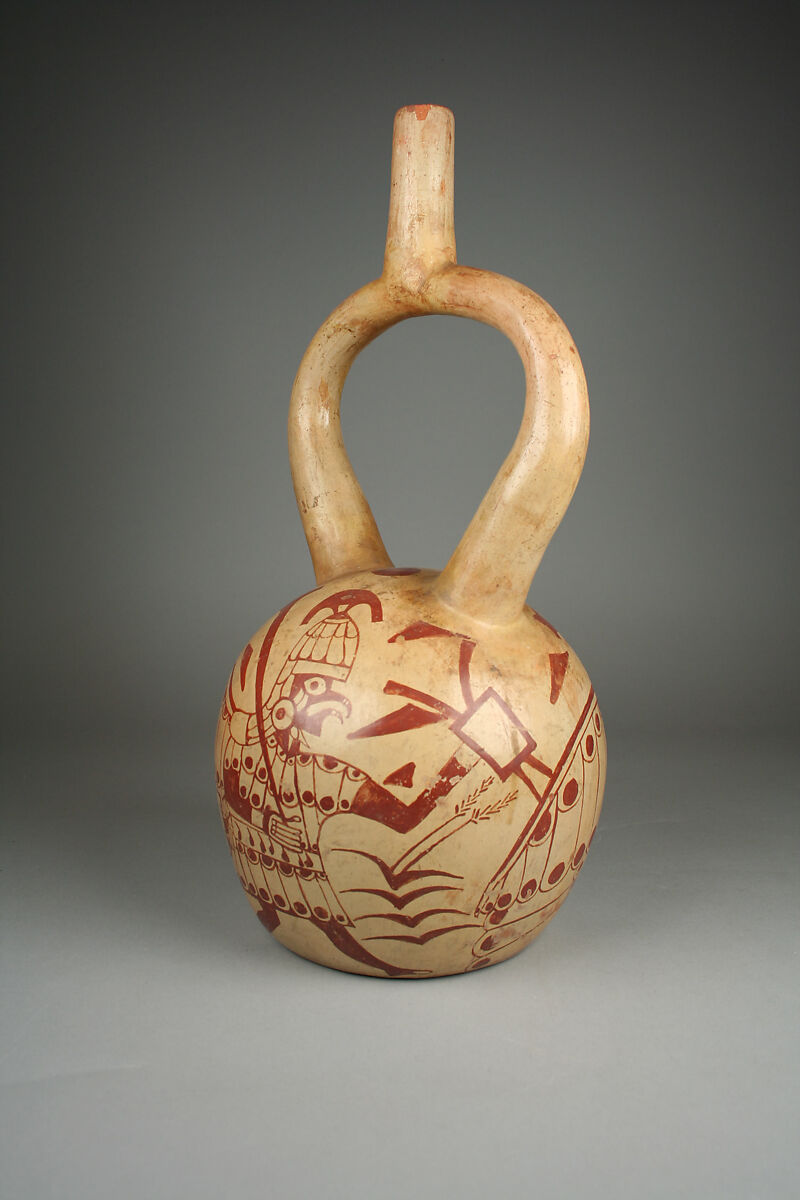 This artwork is meant to be viewed from right to left. Scroll left to view more.