Warrior Bottle
Not on view
Painted in a style called "fineline," so named for the detailed figures and scenes delicately painted in red slip (a suspension of clay and/or other colorants in water) on a white background, this bottle depicts four warriors, arrayed in pairs and standing on a red ground line that encircles the vessel. The flask-shaped bottle—a less-common vessel shape in Moche ceramics—includes a stirrup-spout, a characteristic feature of Moche bottles. So-called for their formal resemblance to stirrups, a device used to anchor a foot to the saddle of a horse (although entirely unrelated to that function), such spouts are usually located at the top of the vessel's body. On this bottle, the stirrup-spout is eccentrically located to the side, thereby permitting the placement of a central, cylindrical, sealed element that resembles a bottle spout but does not serve as one (Donnan and McClelland, 1999).

The warriors painted on the body of the vessel face their opponents in full battle regalia, including shields, clubs and, in one case, spears. Each warrior wears a backflap (a type of body armor, suspended from the waist and terminating in a curved edge), a conical helmet tied under the chin, and a tunic. The helmets and tunics worn by each warrior feature matching designs, but each warrior's vestments are unique. Three of the four helmets have detailing suggesting feathers; a fourth features an animal pelt. All of the helmets are surmounted by crescent-shaped finials. Each figure holds a small shield in one hand and a mace in the other hand. One combatant holds two darts and a throwing stick, which can be identified by the hook at one end and the thumb grasp at the other. Behind the pairs of warriors, there are several forms thought to represent flowering bromeliads, plants that live on Peru's coastal desert, perhaps suggesting a general location of the battle (Donnan and McClelland, 1999).

The stirrup-spout vessel was a much favored form on Peru's northern coast for about 2,500 years. Although the symbolism of this distinctive shape is still puzzling to scholars, the double-branch, single-spout configuration may have slowed the evaporation of its liquid contents. The shape may also have been convenient for carrying. Early in the first millennium A.D., Moche artists sculpted such bottles into a wide range of forms, including human figures, animals, and plants, all worked with a great deal of naturalism. About 500 years later, bottle chambers became predominantly globular, as in the present example, providing large surfaces on which to paint complex, multi-figure scenes.

The Moche (also known as the Mochicas) flourished on Peru's North Coast from 200850 A.D., centuries before the rise of the Incas. Over the course of some six centuries, the Moche built thriving regional centers from the Nepeña River Valley in the south to perhaps as far north as the Piura River, near the modern border with Ecuador, developing coastal deserts into rich farmlands and drawing upon the abundant maritime resources of the Pacific Ocean's Humboldt Current. Although the precise nature of Moche political organization is a subject of debate, these centers shared unifying cultural traits such as religious practices (Donnan, 2010).

Warriors, in battle and in procession, are a major theme in Moche art. Archaeological evidence of armed conflict in this period, however, is comparatively scarce (Arkush and Tung, 2013), and Moche sites are not fortified. Yet weapons such as clubs and lances have been found in some high-status burials, suggesting that there was at least some degree of violent interaction, although scholars do not agree on the nature of this engagement (Bourget, 2008; Castillo, 2017; Pillsbury, 2001; Scherer and Verano, 2014). Some scholars maintain that Moche warfare was primarily secular and expansionist, and that conflict occurred between members of different coastal or highland ethnicities in order to gain new territory and irrigable land. Other scholars argue that Moche warfare had a strong ritual character, and engagement would have involved Moche combatants from different valleys and led to the capture of prisoners, perhaps destined to be sacrificed during religious ceremonies. Both types of warfare might have existed in Moche society. Some scholars have suggested that distinct ethnicities can be identified in the fineline ceramics (Lau 2010), but most vessels, including the present example, would suggest that the protagonists are all Moche. Future study may reveal additional distinctions, however, and shed light on the question of Moche warfare.

References and Further Reading

Arkush, Elizabeth and Tiffiny A. Tung. "Patterns of War in the Andes from the Archaic to the Late Horizon: Insights from Settlement Patterns and Cranial Trauma." Journal of Archaeological Research 21 (4) (2013), pp. 307-369.

Bourget, Steve. Sacrifice, Violence, and Ideology Among the Moche. The Rise of Social Complexity in Ancient Peru. Austin, TX: University of Texas Press, 2016.

Castillo, Luis Jaime. "Masters of the Universe: Moche Artists and Their Patrons." In Golden Kingdoms: Luxury Arts in the Ancient Americas, edited by Joanne Pillsbury, Timothy Potts, and Kim N. Richter. Los Angeles: J. Paul Getty Museum, 2017, pp. 25-32.

Donnan, Christopher B. and Donna McClelland. Moche Fineline Painting, Its Evolution and Its Artists. Los Angeles: University of California, Los Angeles. Fowler Museum of Cultural History, 1999.

Donnan, Christopher B. "Moche State Religion." In New Perspectives on Moche Political Organization, edited by Jeffrey Quilter and Luis Jaime Castillo. pp. 47-69. Washington D.C.: Dumbarton Oaks Research Library and Collection, 2010. Lau, George F. "Fortifications as Warfare Culture: The Hilltop Centre of Yayno (Ancash, Peru) AD 400-800." Cambridge Archeology Journal 20 (2010), pp 419-448.

Pillsbury, Joanne, ed. Moche Art and Archeology in Ancient Peru. Washington, D.C.: Center for Advanced Study in the Visual Arts, National Gallery of Art, 2001. Scherer, Andrew K. and John W. Verano. "Introducing War in Pre-Columbian Mesoamerica and the Andes." In Embattled Bodies, Embattled Places, War in Pre-Columbian Mesoamerica and the Andes, edited by Andrew K. Scherer and John W. Verano, pp. 1-24. Washington D.C.: Dumbarton Oaks Research Library and Collection, 2014.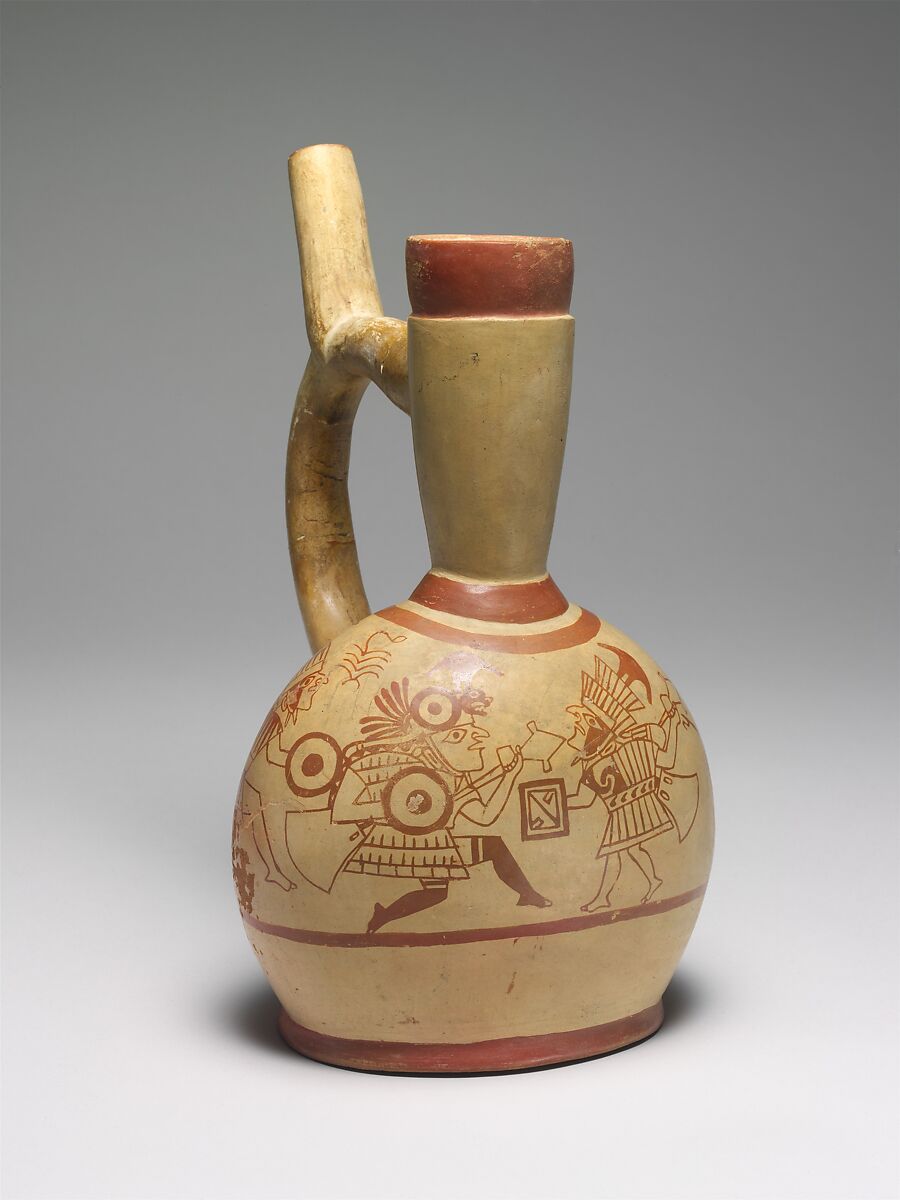 This artwork is meant to be viewed from right to left. Scroll left to view more.