Staff: Seated Male Figure
Not on view
A large male figure in full regalia, seated on a spool-shaped stool, forms the finials of this bronze and iron staff. Details of dress and body ornamentation-including the elaborate headdress and stylized beard, complex patterns on the skin, heavy pendant, armlets, bracelets, and anklets, and the decorated wrappers around the chest and waist-reveal an individual of high status. The figure holds a spear in his right hand and bears a dagger in a decorated sheath on his left arm, conveying the impression of success in the hunt as well as in battle.

Cast as one piece, the finial's decorative features reveal the high degree of skill that the craftsman devoted to producing this flawless object. The scalloped edges of the beard, the textured surfaces of the chest band and waist cloth, and the zigzag patterns on the jewelry and knife sheath imbue the work with a visual richness that attracts and dazzles the eye.

The origins of this accomplished work of sculpture, likely the insignia of an important political leader, are not entirely understood. Its rigid posture, prominent facial features, and the attenuated, tubular torso and limbs relate it stylistically to the art traditions of the peoples of the western Sudan, such as the Bamana, Bozo, and Dogon. Although its age is undetermined, the figure bears an aesthetic kinship to a tradition of terracotta statuary dating from the twelfth to the fifteenth centuries centered at the ancient city of Jenne. It also resembles, in style if not in scale, a corpus of monumental wooden sculpture associated with the Bamana Jo society.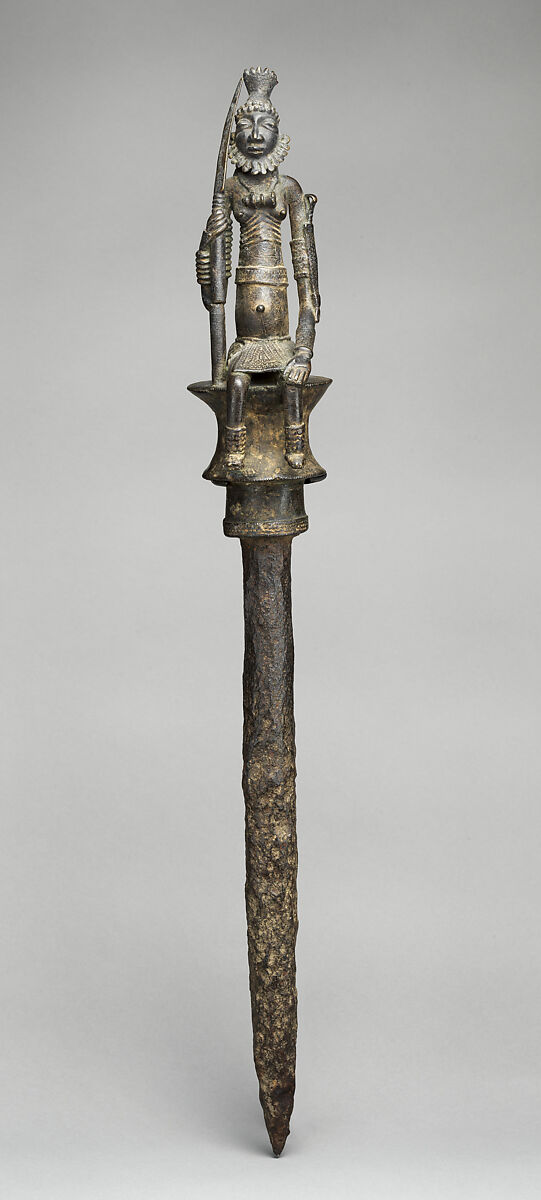 This artwork is meant to be viewed from right to left. Scroll left to view more.