Male Figure with Raised Arms
On view at The Met Fifth Avenue in Gallery 305
The Dogon live in the elevated rocky heights of Mali's Bandiagara Escarpment. They rely on agriculture and manage to wrest subsistence crops from poor soil in an area that receives little rain. This monumental figure is one of the largest Dogon sculptures known. The region's dry climate has preserved Dogon works far longer than is usual for African wood sculpture, and radiocarbon testing of this work suggests that it may date as far back as the fifteenth century.

Dogon sculpture is primarily concerned with the spirits responsible for the fertility of both land and people. These include a family's real and mythical ancestors, the souls of women who died in childbirth, and water spirits. While the exact functions and meanings of individual works often remain obscure, scholars agree that Dogon sculptures were created for shrines.

The most distinctive subject rendered by Dogon sculptures is that of a single figure standing with raised arms. This posture has usually been interpreted as a gesture of prayer—an effort to link earth and heavens—and it has been suggested that it may represent an appeal for rain. This masterpiece of Dogon figurative art depicts a man with a well-modeled body in a naturalistic stance. The artist has carefully rendered the figure's musculature, anatomical detail, and body ornament. His stylized beard identifies him as an elder and an individual whose age and experience entitle him to participate in the most important religious, political, and social affairs of Dogon society. The figure wears wristlets, armlets, and anklets that indicate his status, as well as a belt and neck pendants resembling leather talismans that also suggest his spiritual importance.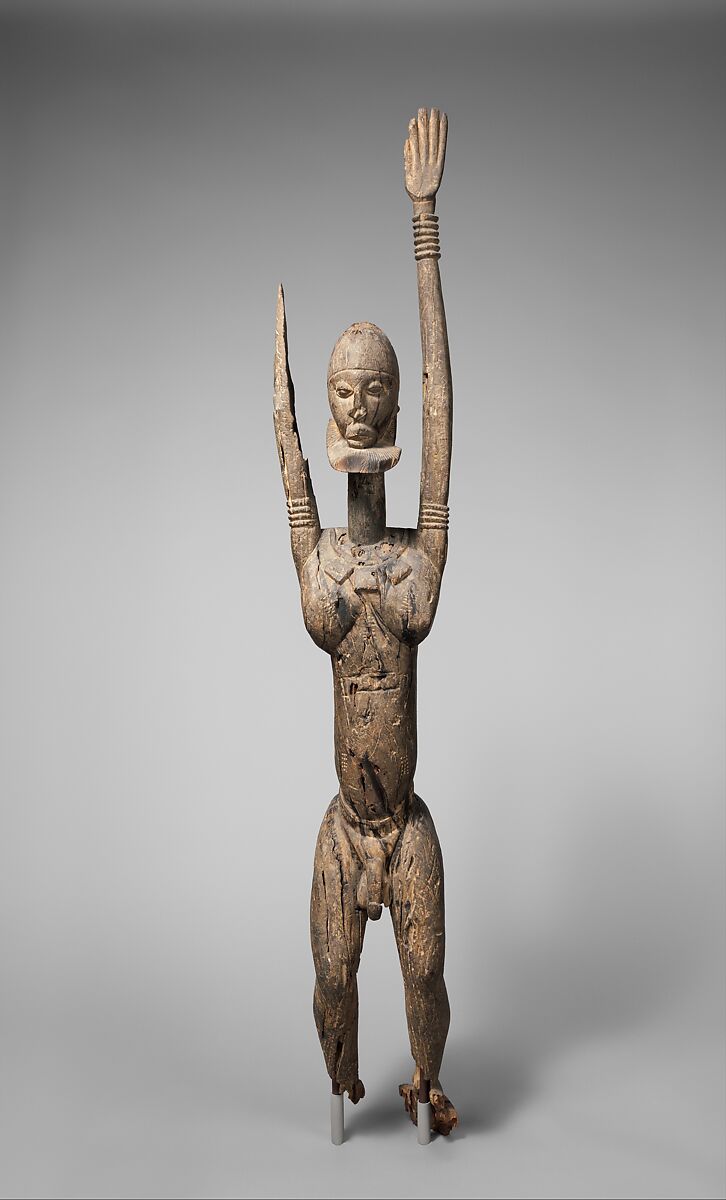 This artwork is meant to be viewed from right to left. Scroll left to view more.