Royal Seat (Lupona): Female Caryatid
On view at The Met Fifth Avenue in Gallery 136
The Luba peoples occupy a land of rivers and savanna in the southeast of what is today The Democratic Republic of the Congo. As early as the seventeenth century, Luba society consisted of an extensive, centrally organized state structured on the principles of divine kingship and rule by council.

This ornate and impressive seat of leadership belonged to a Luba chief. Luba leaders trace their ancestry to a dynasty of sacred kings, and Luba royal seats are intended to replicate an original seat of office owned by the progenitor of this divine lineage. Such works associate their owner with the source of his legitimacy.

Despite their functional form, royal stools are never used for sitting but, rather, are sacred insignia preserved within a king's palace. They serve as metaphorical, not literal, seats of kingship. The design of Luba seats of leadership may either be abstract or figurative. Those incorporating female caryatids give expression to the Luba conception of the female body as a spiritual receptacle that supports divine kingship. The aesthetic refinement of the female body through elaborate skin ornamentation and coiffure serves as a metaphor for the civilization and refinement that Luba rulers disseminate within society. This particular caryatid displays filed teeth, a practice of beautification thought to render spoken language more "sweet" by weaving words and sentences into utterances of admirable clarity and beauty.

Blue and white beads such as those that embellish this caryatid are worn by important members of the court and provide spiritual protection for their owners. Here, the beads emphasize the caryatid's high social status and shield both the king and the stool itself from supernatural harm.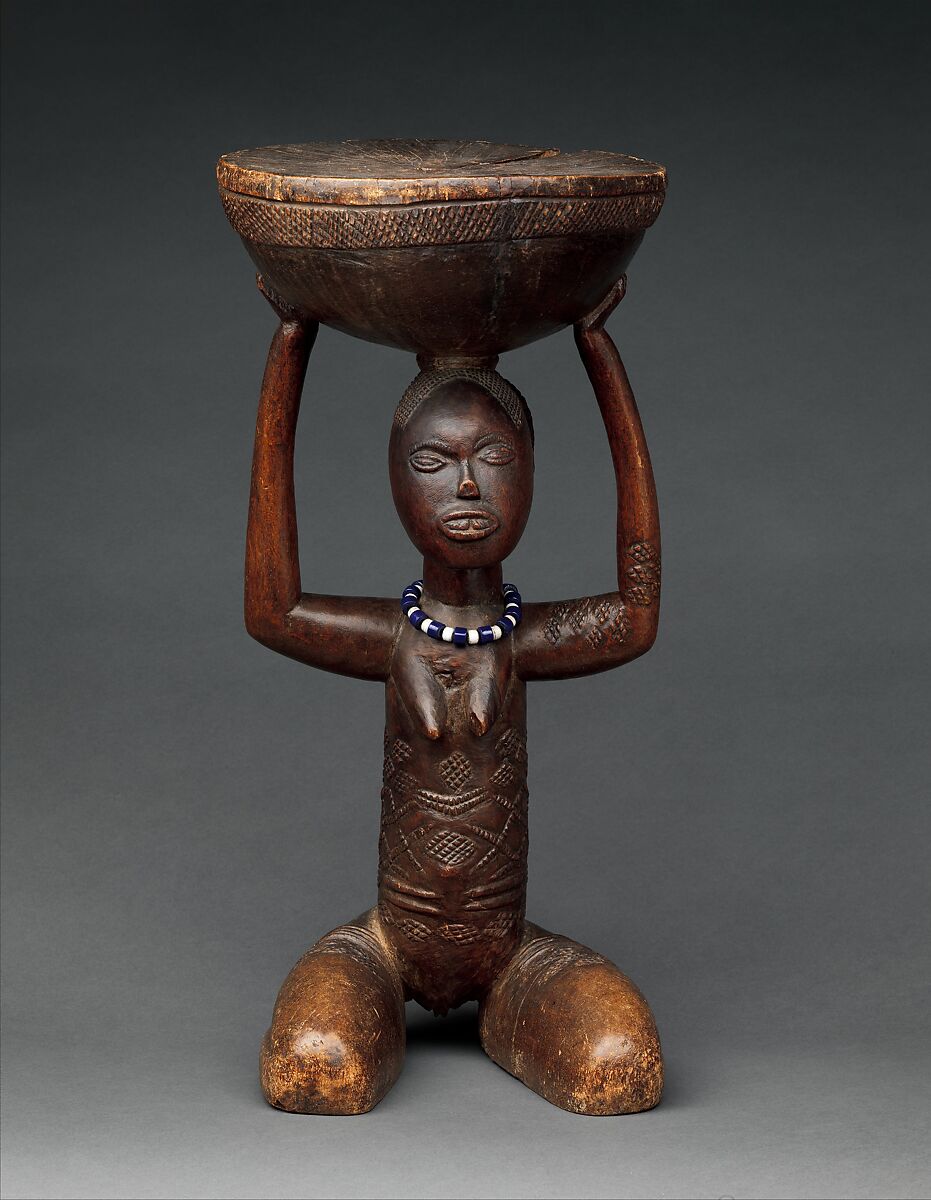 This artwork is meant to be viewed from right to left. Scroll left to view more.