Male Figure
Not on view
The ancient wood sculptures of the Inyai-Ewa and neighboring groups of the upper Korewori River, a southern tributary of the Sepik, are the earliest Melanesian woodcarvings to survive in any substantial numbers. Kept in rock shelters, which protected them from the elements, the figures were primarily created between the sixteenth and nineteenth centuries. They occur in several forms and portray a variety of supernatural beings. Broad, flat female images are, at times, identified as representations of two primordial sisters who helped to shape the world or as the female ancestors or founders of
particular clans. Two-legged male figures also likely portray primordial clan ancestors. The most abundant Inyai-Ewa carvings are the one-legged male figures, known as aripa. Kept in the men's ceremonial house during the owner's life and placed in a rock shelter as a memorial after his death, aripa represented spirits that resided within the images and served as hunting helpers, aiding in the capture of game such as wild pigs and cassowaries (large ostrich-like birds).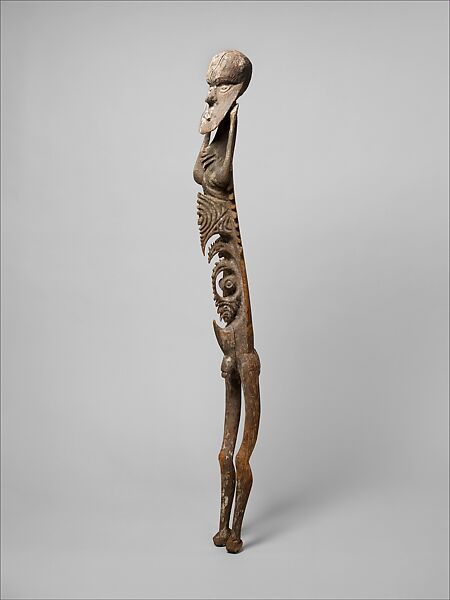 This artwork is meant to be viewed from right to left. Scroll left to view more.