Head for Yam ceremony (Yena)
Not on view
The Kwoma, Nukuma, and Yessan-Mayo are closely related peoples living in the hills north of the middle Sepik River in northern New Guinea. These groups share a unique art tradition associated with a religious cult centered on the cultivation of yams. A sequence of three rituals, called "yena," "minja," and "nokwi," each involving a different type of figure, is performed in honor of the yam harvest.
Carved wooden heads such as this one are created for yena, the first of these harvest rituals. With bulging eyes and pendulous noses, yena heads represent ancient and powerful spirits. During the ritual, village men assemble a pile of yams within the ceremonial house. The sticklike bases of the yena are inserted into the yam pile and the heads are decorated with brightly colored leaves, feathers, and other ornaments. The men then dance and sing to honor the yena spirits. At the conclusion of the ritual, the display is dismantled, the heads stored away, and preparations for the next ritual begun.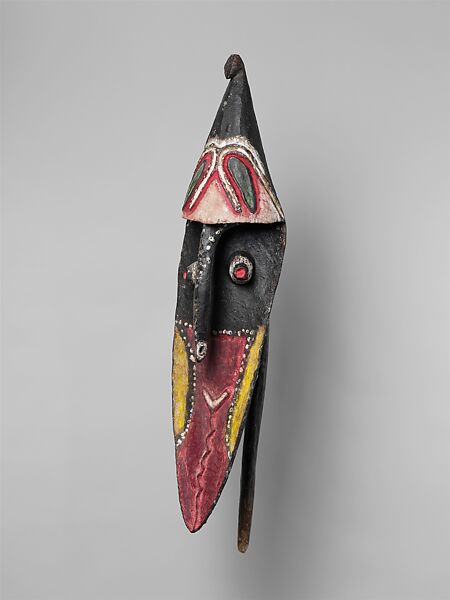 This artwork is meant to be viewed from right to left. Scroll left to view more.