Ancestor Figure
Not on view
The Sawos people of the Middle Sepik River region of New Guinea are divided into a number of clans, each of which is associated with specific ancestors and totemic species. These ancestral and totemic beings are represented by wooden figures kept in the men's ceremonial houses. Wooden figures such as this represent a category of powerful and dangerous ancestral beings called wan or waken and each figure owned by a specific clan is named for an important clan ancestor.

This figure which bears the name Minjemtimi and is reputed to be ten generations old. It is said to have been made in the village of Kwalunggei. When warriors from neighboring Yamok village raided Kwalunggei, the figure is said to have come to life and fought the invaders until hit by a spear, which broke off its left arm (the wound is still visible as a repair). The wounded Minjemtimi fell to the ground and turned back into a wooden figure that was carried off by the raiders. In Yamok the figure was kept by the Ainggun clan in a ceremonial house in the hamlet of Wolembi. The marks on the abdomen represent rooster heads joined by a length of intestine and are similar to the ritual scarifications made on the bodies of initiated Sawos men.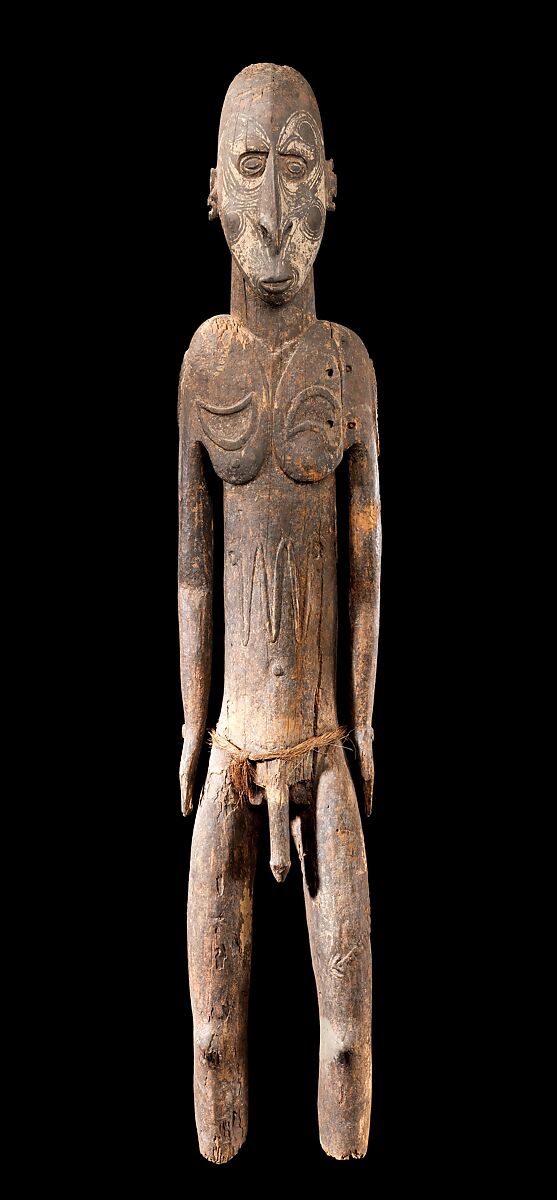 This artwork is meant to be viewed from right to left. Scroll left to view more.