Tripod Vessel
Not on view
Three cylindrical feet support this large brown vessel, the surface of which was carved in low relief and accented with red pigment. Around the body of the vessel, there are three icons that scholars have interpreted as a type of hieroglyphic construction, although its content remains undeciphered. The motif resembles a large feathered headdress, with a medallion in the center crowned with a half-star-like shape atop a symbol known as the "reptile-eye." These symbols may represent royal titles or place names in the visual language of Teotihuacan.

A widespread style of cylindrical bowls with three sturdy feet and straight walls seems to have originated in the central highland metropolis of Teotihuacan. They are found elsewhere in Mexico and even into the Maya Lowlands, where contemporary city-states claimed political or commercial connections to the faraway city. Teotihuacan tripods were made in a wide range of size, color, and surface treatment, and were widely disseminated by trade or emulated by local potters. The present example is reported to be from a burial site in the Basin of Mexico called Santiago Ahuizotla, which is known to have been dug in the 1940s by local inhabitants.

Further reading

Berrin, Kathleen, and Esther Pasztory. Teotihuacan: Art from the City of the Gods. The Fine Arts Museums of San Francisco, 1993.

Carballo, David M., Kenneth G. Hirth, and Barbara Arroyo. Teotihuacan: The World Beyond the City. Dumbarton Oaks, 2020.

Cowgill, George L. State and Society at Teotihuacan. Annual Review of Anthropology, Vol. 26, pp. 129-161, 1997.

Headrick, Annabeth. The Teotihuacan Trinity: The Sociopolitical Structure of an Ancient Mesoamerican City. University of Texas Press, 2007.

Manzanilla, Linda R. Cooperation and tensions in multiethnic corporate societies using Teotihuacan, Central Mexico, as a case study. Proceedings of the National Academy of Sciences of the United States of America, Vol. 112, No. 30, pp. 9210-9215, 2015.

Murakami, Tatsuya. Entangled Political Strategies: Rulership, Bureaucracy, and Intermediate Elites at Teotihuacan. In Sarah Kurnick and Joanne Baron, eds., Political Strategies in Pre-Columbian Mesoamerica, pp. 153-179. University Press of Colorado, 2016.

Pasztory, Esther. Teotihuacan: An Experiment in Living. University of Oklahoma Press, 1997.

Robb, Matthew. Teotihuacan: City of Water, City of Fire. Berkeley: University of California Press, 2017.

Ruiz Gallut, María Elena, and Jesús Torres Peralta, eds. Arquitectura y urbanismo: pasado y presente de los espacios en Teotihuacan: Memoria de la Tercera Mesa Redonda de Teotihuacan. Mexico City, Instituto Nacional de Antropología e Historia, 2005.

Schaeffer, D. Bryan. Reframing the Tripod: A Foreign Form Adopted by the Early Classic Maya. In Joshua D. Englehardt and Michael D. Carrasco, eds., Interregional Interaction in Ancient Mesoamerica, pp. 149-175

The Metropolitan Museum of Art. Art of Oceania, Africa, and the Americas from the Museum of Primitive Art. New York: The Metropolitan Museum of Art, 1969, no. 578.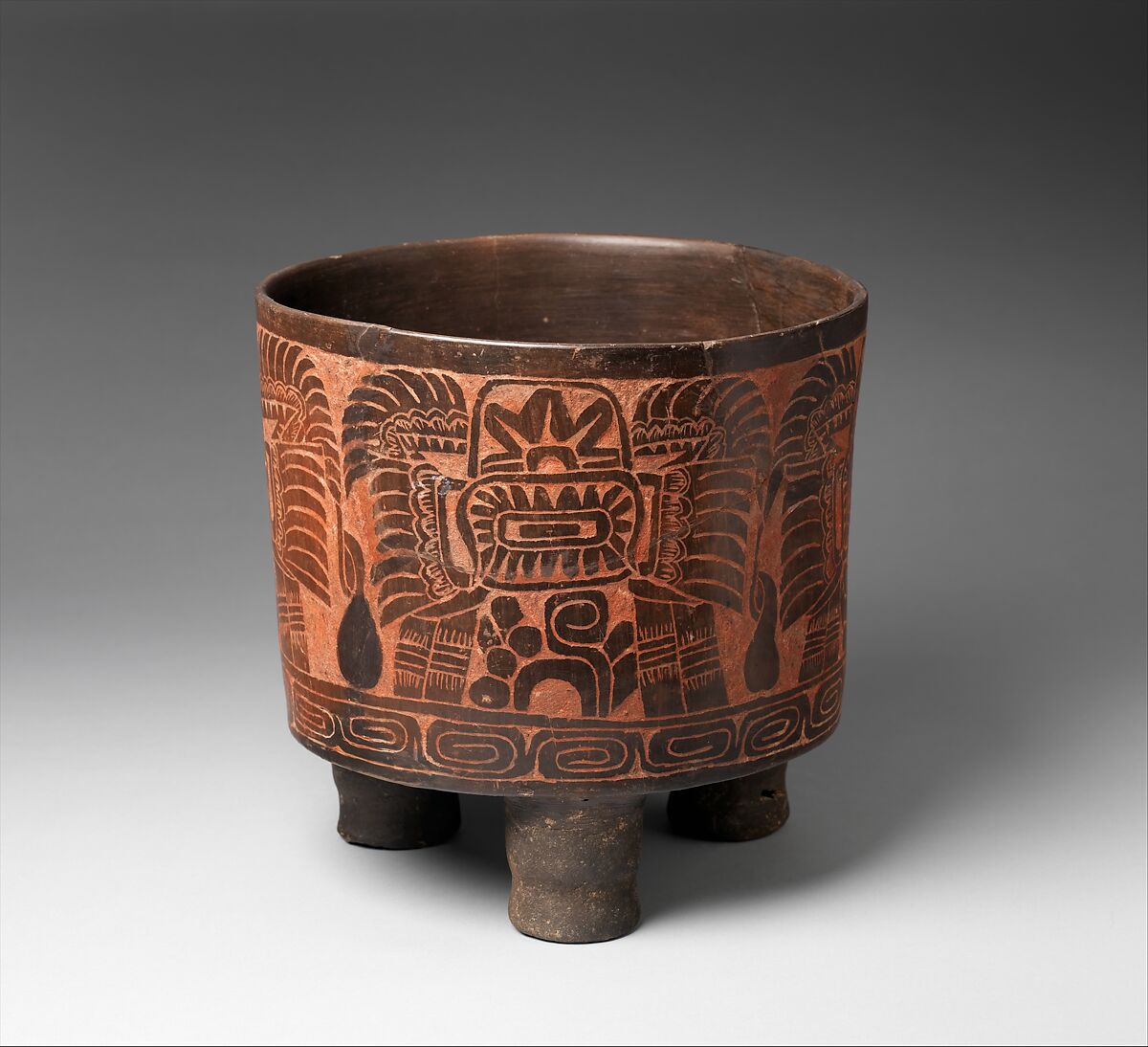 This artwork is meant to be viewed from right to left. Scroll left to view more.