Bird Headed Figure Vessel
Not on view
This ceramic bottle depicting a seated figure with the head of a bird and the body of a human was created on the North Coast of Peru by artists of the Moche culture (A.D. 200–850). Moche potters are well known for their fine ceramics revealing a close observation of flora and fauna, as well as imaginative creations that combine features of humans and animals. Here the artist has sculpted a vessel into an avian-headed form dressed in Moche women's attire of long tunic and sash. The figure itself holds a ceramic jar, decorated with a simple design at the neck. The exterior of the entire bottle was painted with cream and red-ochre slips (suspensions of clay and/or other colorants in water) and polished with a smooth stone or other implement before firing.

The significance of this anthropomorphic depiction is unclear, but the Moche often showed animals in battle, hunting, and ritual scenes. Birds garbed in a manner similar to this example are illustrated in several Moche ceramics painted in a style known as fineline (Donnan and McClelland, 1999: 100, 125). In these scenes anthropomorphic avians appear to be ritual attendants, interchangeable with female attendants.

It is difficult to identify the bird's species. Although Moche artists were often quite precise in their representation of specific animals, this example appears to be a generic bird. Inspection of other Moche renditions of attendant birds reveals a great deal of latitude in the representation of features such a beak shape and coloration. Birds may have been important in Moche ceremonies, but it is possible that no specific type was required.

Over the course of some six centuries, the Moche built thriving regional centers from the Nepeña River Valley in the south to perhaps as far north as the Piura River, near the modern border with Ecuador, developing coastal deserts into rich farmlands and drawing upon the abundant maritime resources of the Pacific Ocean's Humboldt Current. Although the precise nature of Moche political organization is a subject of debate, these centers shared unifying cultural traits such as religious practices (Donnan, 2010).

Further reading and references

Castillo, Luis Jaime. "Masters of the Universe: Moche Artists and Their Patrons." In Golden Kingdoms: Luxury Arts in the Ancient Americas, edited by Joanne Pillsbury, Timothy Potts, and Kim N. Richter. Los Angeles: J. Paul Getty Museum, 2017, pp. 24–31.

Donnan, Christopher B. Moche Art of Peru: Pre-Columbian Symbolic Communication. Los Angeles: Museum of Cultural History, 1978.

Donnan, Christopher B. "Moche State Religion." In New Perspectives on Moche Political Organization, edited by Jeffrey Quilter and Luis Jaime Castillo. Washington D.C.: Dumbarton Oaks Research Library and Collection, 2010.

Donnan, Christopher B. and Donna McClelland. Moche Fineline Painting: Its Evolution and Its Artists. Los Angeles: Fowler Museum of Cultural History, University of California, 1999.

Lapiner, Alan C. Pre-Columbian Art of South America (New York: H. N. Abrams, 1976).

Sawyer, Alan Reed. Ancient Peruvian Ceramics: The Nathan Cummings Collection. New York: The Metropolitan Museum of Art, 1966.

Published references

The Metropolitan Museum of Art. Art of Oceania, Africa, and the Americas from the Museum of Primitive Art. New York: The Metropolitan Museum of Art, 1969, no. 496.

Newton, Douglas. Masterpieces of Primitive Art: The Nelson A. Rockefeller Collection. New York: Alfred A. Knopf, 1978, p. 191 (bottom).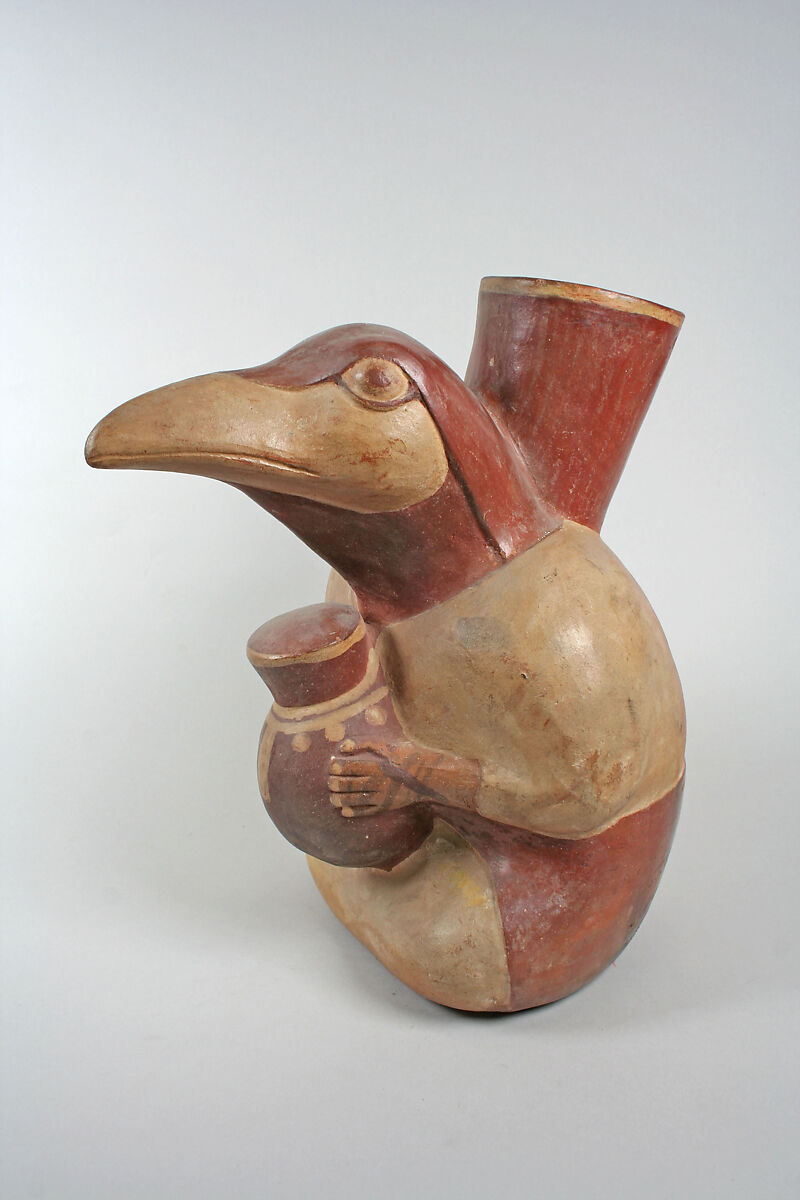 This artwork is meant to be viewed from right to left. Scroll left to view more.