Bird Staff Head
Not on view
Perched atop a thimble-shaped cap, a bird figure adorns this gold staff finial, a decorative element that would have once crowned a wood staff. The bird's tail bears a chevron design, and the chest is ornamented with a series of nine open spirals that emulate elaborate plumage. Its wings are understated, as if folded at its sides, alluded to only by a small outward curve on either side of the chest. Braided wire lines the base of the finial cap, while simpler wire elements frame the bulging eyes. The beak is defined by two deep grooves at the base, and is slightly open with a widening near the center. The three rows of spiral crests on the bird's head is a common Zenú decorative motif in avian figures inspired by the helmeted curassow (Paujil de Copete) bird. While Zenú artwork is renowned for its naturalism, particularly in the representation of local fauna, artists often emphasized the most beautiful elements in the animal, sometimes even incorporating prized traits from related species. The entire work, including the false-filigree detail ("false" because it only mimics the filigree technique), was cast using the lost-wax technique.

The staff finial is designed to fit on the head of a long, thin wooden staff. Small nails would have been driven in to the two orifices at the base of the finial to affix it to the staff. Only the gold finial survives, since the wooden staff would have deteriorated in the humid tropical climate of the Caribbean lowlands in northwestern Colombia.

Finials functioned as emblems of rank and office in Zenú society. Priests and chiefs had primary rights to gold, a mineral that played an important role in structuring social hierarchies by reinforcing the prestige of elite members of society. The figures of animals and humans on the finials may have functioned as family emblems or as other means of social identification. While a few examples of carved bone finials have been found in the nearby Tairona region, staff finials are a predominantly Zenú art form.

Andrés A. Bustamante, 2015

Technical Details

On the present example, there are a few additional technical details to note. In the process of lost wax casting, ceramic cores likely would have been present in the beak, head, neck, and body of the bird, and in the base, but the artists removed these cores after casting. (For more information on lost wax casting, please see Metropolitan Museum of Art 2008.569.13a, b). At present, the body is hollow, as are the beak, head, and neck, though it is uncertain whether any core material remains inside.

At the back edge of the staff head's base, there is a braided design. In this case, it appears that each row of this design was created by plaiting two wax threads. It is possible that two rows were created simultaneously by plaiting four wax threads, but the lengths of the turns of the threads show some variability that suggest each was done separately. Each of the bird's feet is made of five toes that grasp the front edge of the finial's base. The bird's underside shows five rows of circles (three, three, and three at the front and then two and one behind the legs)—each circle is made of a spiral of wax thread, coiled but with the center open.

The bird's tail, when the wax model was constructed, would have been made of around 21 pieces of wax, designed in a similar fashion to the tail seen on Metropolitan Museum of Art 1979.206.920, but larger in size. In both cases, it appears that, in the wax model construction, the tail was inserted into the back of the bird's body. The bird depicted on this staff head bears some resemblance to those on other staff heads including Museo del Oro (Bogotá) O6378 and O6404, both of which Legast (1980, 66) identifies as representations of ducks. Among the three similar objects, there are three rows of spirals that comprise the bird's crest, although in the present example, there are five spirals in each row, while the other two show three spirals in each row. Interestingly, there are also two smaller spirals on the beak, in front of the larger rows of spirals, on the two comparative objects in the Museo del Oro (Bogotá), but these are not present on the example in the Metropolitan. Unlike other staff heads, in this case, the artists originally carved into the wax model to remove material and form three depressions between the beak and the rest of the head. The tip of the bird's beak may have broken off as a direct result of the casting or at a later stage in the object's itinerary. There is a circular opening at the top of the base at the back that may have been used to secure the object to a wooden staff. Ana María Falchetti (1995, 37) has proposed that pins may have been inserted through these openings to help facilitate the object's attachment. In addition, there is an elliptical opening on the bottom of the base, at back, diametrically opposed to the circular opening, that could have played a role in fastening this object to the staff.

This staff head is part of the group of Zenú metalwork defined by Falchetti (1995, 37, figs. 1-4) as "staff heads" ("remates de bastón") and specifically Type 1, which tend to show animal figures, particularly single birds, and are between 6 and 12 cm high, two features that align with the present example. Staff heads of this type tend to be made of gold or an alloy of gold and copper with high gold content and may show depletion gilding. In this process, copper is oxidized from the surface of the alloy with the application of a corrosive paste or solution, and then the object is pickled to remove the oxide scale, thereby enriching the surface in gold. Type 1 staff heads have been recovered from a range of locations in the Zenú landscape, from the basins of the San Jorge, lower Cauca, and Nechí Rivers (Falchetti 1976, map 14; Falchetti 1995, table 1), suggesting the importance of birds in Zenú iconography. Zenú settlements and the production of metalwork appear to have been concentrated in the Momposina Depression between A.D. 500 and A.D. 1000 but there is early Zenú metalwork between A.D. 1 and A.D. 500 (Falchetti 2000, 136).

Recognizing that Spanish colonists raided Zenú settlements starting in A.D. 1515 (Falchetti 1995, 14), Spanish chronicles offer accounts of these contexts and reference some of the metalwork found in them. For example, with respect to staff heads, there are references to "spears with tips of gold" ("dardos con hierros de oro") that were buried with people and found in temples and to wooden human sculptures, set up in temples, that depict some of the people also shown on staff heads (Falchetti 1995, 37-38). Considering these colonial sources, it is possible to infer these metal staff heads, or at least the iconography that is often a part of them, as Falchetti suggests, thus played a role in configuring funerary settings and other sacred locations in Zenú settlements. Some Zenú people today, especially in San Andrés de Sotavento, conceive of the universe as being comprised of three layers, with humans in the middle layer and spirits related to animals above and below (Turbay and Jaramillo 1998). Water birds, one of which may be shown in the present example, are thought to travel between different layers, as Falchetti (2000, 138) notes, though they also are intimately related to the ancestral Zenú territories that were regularly flooded and that people managed by creating a network of canals. With the suggestion that the braided design (seen on the staff head's base) may evoke feathers (Sáenz 2008, 118), it is important to consider how manifestations of birds may appear in other Zenú metal objects, even when the avian form is inconspicuous to people unversed in local traditions and practices. How did the presence of these birds, in staff heads, and perhaps buried with people, or displayed in other important locations, transform the people with whom they were associated? What visual or tactile (given the ridged texture of the braided designs on many Zenú metal objects) clues did artists incorporate to evoke fauna and other living beings?

For further context on the archaeology of the Zenú region, please see Metropolitan Museum of Art 1979.206.542 and 2005.409.1a, b.

Bryan Cockrell, Curatorial Fellow, Arts of Africa, Oceania, and the Americas, 2017

Published References


Bennett, Wendell Clark. Ancient Art of the Andes: The Museum of Modern Art, New York, in collaboration with the California Palace of the Legion of Honor, San Francisco, and the Minneapolis Institute of Arts. New York: Museum of Modern Art by Arno Press (1966), p. 144, illus.

Further Reading

Falchetti, Ana María. El oro del Gran Zenú: Metalurgia prehispánica en las llanuras del Caribe colombiano. Bogotá: Banco de la República, Museo del Oro (1995).

_______. The Goldwork of the Sinu Region, Northern Colombia. MPhil diss., University of London, (1976).

_______. "The Gold of Greater Zenú: Prehispanic Metallurgy in the Caribbean Lowlands of Colombia." In Precolumbian Gold: Technology, Style and Iconography, edited by Colin McEwan. London: British Museum Press (2000).

Jones, Julie, ed. The Art of Precolumbian Gold: The Jan Mitchell Collection. New York: Metropolitan Museum of Art (1985).

Jones, Julie, and Heidi King. "Gold of the Americas." The Metropolitan Museum of Art Bulletin, v. 59, no. 4 (Spring, 2002).

Legast, Anne. La fauna en la orfebrería sinú. Bogotá: Fundación de Investigaciones Arqueológicas Nacionales, Banco de la República (1980).

Sáenz Samper, Juanita. "Llanuras del Caribe – Tradición Zenú." In Museo del Oro, 108-123. Bogotá: Banco de la República (2008).


Sánchez Cabra, Efraín. Zenú/Urabá. Bogotá: Banco de la República, Museo del Oro (2008).

Turbay, Sandra and Susana Jaramillo. "Los indígenas Zenúes." In Geografía humana de Colombia: Región Andina Central IV, 3. Bogotá: Instituto Colombiano de Cultura Hispánica (1998).

Exhibition History

Cambridge, Mass., Harvard University, "Tercentenary Exhibition," 1936

Cleveland, The Cleveland Museum of Art, "Art of the Americas," Nov. 8, 1945 - Jan. 6, 1946, ill. (front cover of catalogue)

Cleveland, The Cleveland Museum of Art, "Summer Exhibition," July – Sept. 1950

Cleveland, The Cleveland Museum of Art, "Summer Exhibition," July - Sept. 1951

New York, Century Association, "Primitive Sculpture from the Collection of Nelson A. Rockefeller," Jan. 7 - Mar. 1, 1953

New York, Museum of Modern Art, "Ancient Arts of the Andes," Jan. 26 - Mar. 21, 1954

Minneapolis, Minneapolis Institute of Arts, Apr. 20 - June 15, 1954

San Francisco, San Francisco Palace of the Legion of Honor, July 15 - Sept. 15, 1954, cat. p. 144, fig. 168

New York, Museum of Primitive Art, "Precolumbian Gold Sculpture," Oct. 29, 1958 - Feb. 8, 1959, cat. no. 5., checklist no. 40, ill.

New York, Museum of Primitive Art, "Selected Works," Feb. 18 - Sept. 6, 1959, checklist no. 53

Palm Beach, FL, The Society of the Four Arts, Mar. 7 - 29, 1964, catalogue no. 73, ill.

New York, Museum of Primitive Art, "Masterpieces from the Americas," May 20 - Nov. 11, 1964

New York, Museum of Primitive Art, "Techniques and Materials of Primitive Art," July 22 – Oct. 23, 1966

Boston, Museum of Fine Arts, "The Gold of Ancient America," Dec. 5, 1968 - Jan. 12, 1969; Chicago, Chicago Art Institute, Feb. 1 - Mar. 9, 1969; Richmond, VA, Richmond Museum of Fine Arts, Mar. 24 - Apr. 20, 1969, cat. no. 69, ill.

New York, Metropolitan Museum of Art, "Art of Oceania, Africa, and the Americas from the Museum of Primitive Art," May 10 - Aug. 17, 1969, cat. no. 464, extended to Sept. 1

New York, Museum of Primitive Art, "Birds, Beasts, and Fantastic Creatures from the Museum Collection," June 17 - Sept. 13, 1970

Leningrad, Hermitage Museum, "Gold of Precolumbian America," Aug. 4 - Oct. 1, 1976; Moscow, The State Museum of Representational Arts, Oct. 15 - Dec. 15, 1976; The Kiev State Historical Museum, Jan. 5 - Mar. 1, 1977, p. 123, cat. no. 93, ill.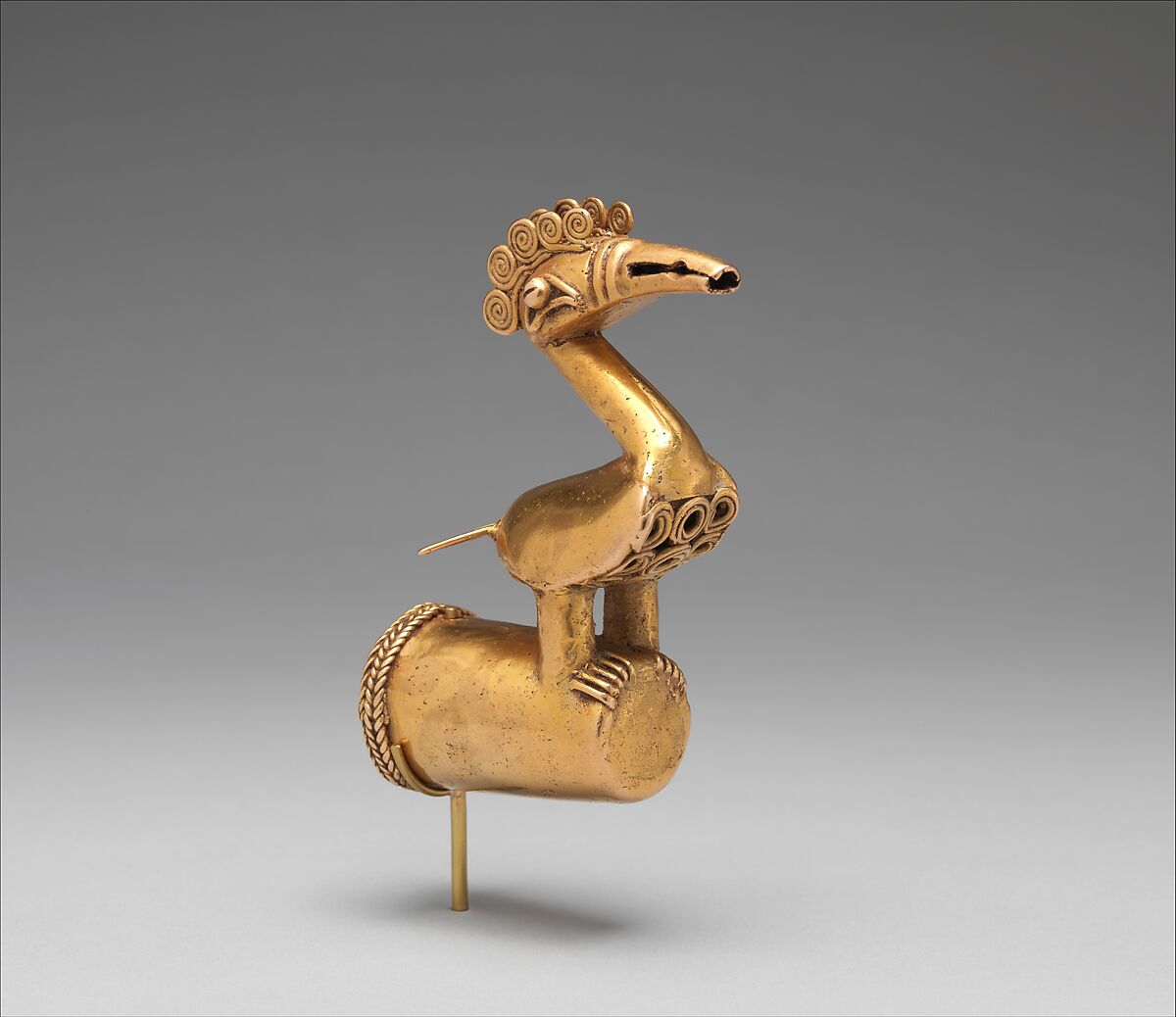 This artwork is meant to be viewed from right to left. Scroll left to view more.