Hacha in the Shape of Bound Hands
Not on view
This sculpture, made of volcanic stone, takes the form of two larger-than-life-size hands with clenched fists. The hands are placed back to back, with fingers facing outward. On each side, fingers descend to the palm in an even line, while incised lines delineate the pad of the palm and the joints of the thumb. Although the hands look naturalistic, the artist has chosen to stress uniformity and symmetry rather than depict the irregularities of human hands; the pinkies and thumbs, for example, bend toward the palms in an exaggerated "U" shape rather than at distinct joints.

This work is an "hacha," a type of sculpture associated with the ballgame in ancient Mesoamerica. Named after the Spanish term for "axe," hachas are representations of gear worn in the ballgame. Imagery from Veracruz and the Maya area depicts ballplayers wearing hachas on top of yokes, U-shaped stone objects worn around the waist (see MMA 1979.206.423 and MMA 1978.412.15). The indentation or "notch" on the back of this hacha is slightly concave and marks the place where the hacha would have been attached to a yoke, presumably with cloth or rope binding. Together, the stone yoke and hacha would have weighed so much that scholars presume they were ceremonial in nature, perhaps stone versions of cloth or wood originals worn in actual play.

Hachas are a distinctive form associated with art from the Classic Veracruz culture, which flourished along the coast of the Gulf of Mexico between A.D. 300 and 900. In addition to appearing in Veracruz iconography, hachas have been recovered from archaeological excavations, where they were discovered with yokes in elite tombs. Over the course of the Classic period (ca. A.D. 300–900) in Veracruz, artists began to create hachas that were more slim and blade-like; the term "hacha" refers to these later iterations (see MMA 1978.412.18 for an example of a blade-like hacha). In some parts of Veracruz, hachas were eventually replaced by palmas, large, fan-like stone sculptures that also attached to yokes (see MMA 2007.215.9 and MMA 1978.412.16). However, as art historian Rex Koontz has noted, the use of yokes, hachas, and palmas varied from place to place in Classic Veracruz culture; at some sites, palmas replaced hachas, while at other sites, palmas are not part of the material record. While the hacha form originated in Veracruz, archaeologists have recovered hachas from the Maya area. Hachas also appear in Maya art from the Classic period (ca. A.D. 250–900). Tonina Monument 171, for example, features two ballplayers carved in low relief, one of whom wears a yoke and hacha to strike the ball.

The imagery on carved stone hachas represents a wide array of subject matter, from animals to narrative scenes. Hachas in the shape of human heads are particularly common (see MMA 2004.551.2, and MMA 1979.206.371), and some scholars have connected these hachas to decapitation rituals associated with the ballgame in Veracruz. The ballgame was a central focus of sculptural programming at sites like El Tajin. At this site in Veracruz, the South Ballcourt featured a number of narrative panels carved in low relief. Some of these panels depict sacrifices taking place in or around a ballcourt. Based on these panels, scholars have suggested that hachas in the shape of human heads represent severed heads—the end result of the rites of decapitation depicted in the panels. The closed eyes and open mouths of many head hachas support this interpretation, hinting that the depicted individuals are dead.

Hachas depicting human hands, like this example, are rare. The position of the hands on this hacha—with palms and fingers facing outward—is also unusual, and suggests these are captive hands, bound behind the back or crossed at the wrist and bound in front of the body. Captives were a common theme in art from Veracruz and the Maya area, and would have been closely associated with the ballgame and its themes of sacrifice and regeneration. Used in ceremonies or performances related to the ballgame, this hacha would have been a striking reference to the captive body—and perhaps to the consequences of loss.

Caitlin C. Earley, Jane and Morgan Whitney Fellow, 2016–17

Further reading

Arnold III, Philip J. and Christopher A. Pool, editors. Classic Period Cultural Currents in Southern and Central Veracruz. Dumbarton Oaks Research Library & Collection: Washington, DC, 2008.

Koontz, Rex. Lightning Gods and Feathered Serpents: The Public Sculpture of El Tajin. University of Texas Press: Austin, 2009.

Orr, Heather, and Rex Koontz, editors. Blood and Beauty: Organized Violence in the Art and Archaeology of Mesoamerica and Central America. Los Angeles: Cotsen Institute of Archaeology Press, 2009.

Scarborough, Vernon L. and David R. Wilcox, editors. The Mesoamerican Ballgame. University of Arizona Press: Tucson, 1991.

Shook, Edwin M. and Elayne Marquis. Secrets in Stone: Yokes, Hachas and Palmas from Southern Mesoamerica. American Philosophical Society: Philadelphia, 1996.

Taladoire, Eric. "El Juego de Pelota Mesoamericano: Origen y Desarrollo." Arqueología Mexicana 44.8 (2000): 21.

Whittington, E. Michael, editor. The Sport of Life and Death: the Mesoamerican Ballgame. Thames & Hudson: New York, 2001.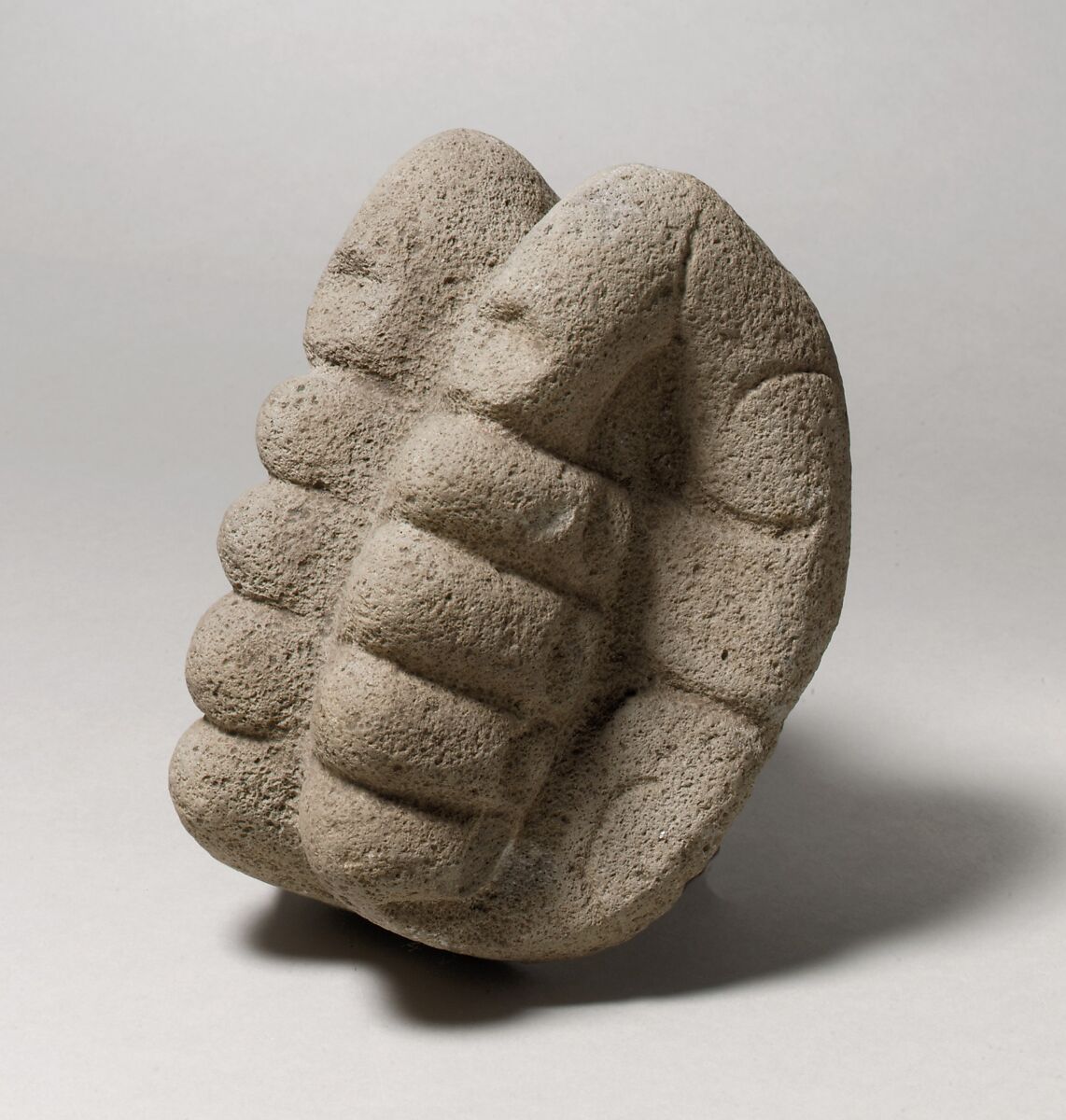 This artwork is meant to be viewed from right to left. Scroll left to view more.