Pendant or Head Ornament (Kapkap)
Not on view
The kapkap is a form of adornment found throughout Solomon Islands, Island New Guinea and parts of mainland Papua New Guinea. The term kapkap originates from New Ireland, where this example was made, but has also become widely adopted in museums for related adornments from across the region. Kapkap are comprised of a polished disk of giant clamshell (Tridacna gigas) overlaid with a delicate fretwork of carved turtle shell. Throughout Oceania, the luminosity, hardness, and durability of the giant Tridacna clamshell are highly valued. While the grinding of the clamshell into a perfectly round disk is undertaken by a group of men, the carving of the turtle shell is performed by a single specialist (the aitak) who works alone and in seclusion. The turtle shell and clamshell are then tied together using string that is threaded through a hole in the center of the disk. Some kapkap incorporate an additional element of a colorful seed pod or glass trade bead at its center. The materiality and manufacture of kapkap both indicate the prestige of these adornments. It takes immense skill to carve the turtle shell into such intricate and symmetrical geometric designs. The circular form and solid permanence of the clam shell disks also refers to the cyclical and eternal nature of time.

Kapkap would primarily be worn by men as a marker of status. The larger the kapkap, and the larger the fretwork design, the higher the status bestowed. In New Ireland they are most often worn as a chest ornament, suspended from the neck, though in Solomon Islands they are commonly worn on the forehead. The wearer of a kapkap in New Ireland is known as a maimai, or one who has the right to speak on behalf of the clan. In some dialects, the name kapkap is itself translated as knowledge. Kapkap are formally presented to a new maimai during the feasts that accompany malangan mortuary ceremonies. The wearing and ownership of kapkap signifies the maimai's authority and proximity with the powerful forces associated with the ancestral domain.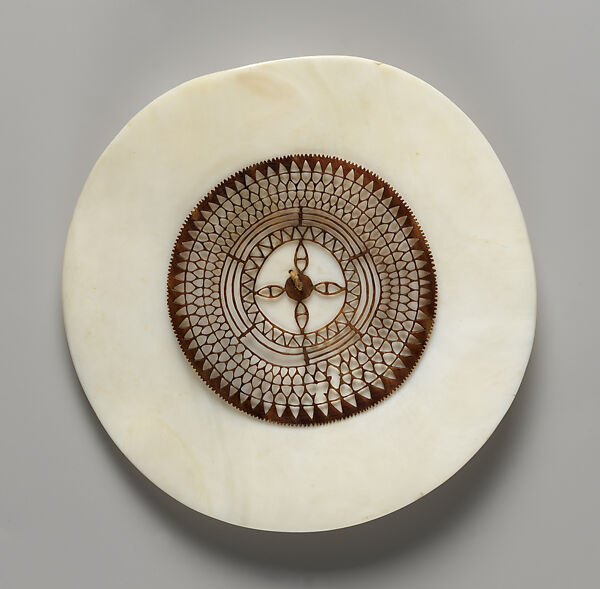 This artwork is meant to be viewed from right to left. Scroll left to view more.