Funerary Carving (Malagan)
Not on view
The ephemeral malagan carvings of northern New Ireland, the northeasternmost province of Papua New Guinea, are among the most intricate sculptures in Oceania. The term malagan refers to a complex series of ceremonies and the visual art forms associated with them. Malagan rites mark nearly all important stages of an individual's life. Possession of rights, similar to copyrights, to specific malagan images and the rituals associated with them confers status and prestige. Men, in particular, compete to obtain rights to the greatest number of malagan.

The most spectacular malagan carvings, including the type seen here, are created and displayed during the final memorial ceremony honoring the deceased, which, due to the great expense and extensive preparations involved, often occurs months or years after a person's death. The carvings constitute a visual résumé of the deceased's achievements in obtaining malagan rites. The human and animal images in the malagan—here a human figure surrounded by a group of flying fish—depict supernatural beings associated with specific clans. Each of the figures and other elements represents a different manifestation of the single life-giving force that sustains the clan. Performance of the final malagan rites frees the living from their obligations to the dead. Afterward, the carvings, having served their purpose, are either destroyed, allowed to rot, or sold to outsiders.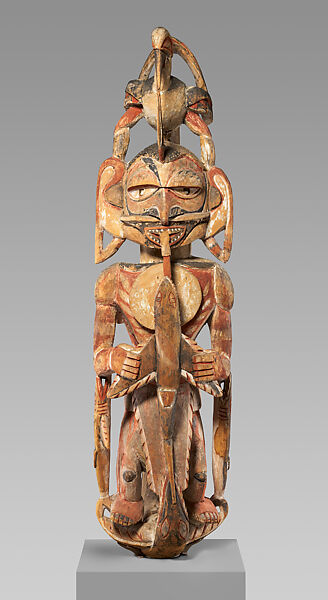 This artwork is meant to be viewed from right to left. Scroll left to view more.