Headdress (Kapurei)
Not on view
In their ceremonial arts, the Sulka people of northern New Britain consciously seek to achieve magnificence, striving to maximize the visual impact on the viewer. Brightly colored and ephemeral, Sulka ritual arts are created for one-time use in dances and ceremonies, during which their fleeting beauty allows the audience to briefly glimpse the divine. Afterward, the objects are destroyed.

This work is a headdress worn on top of the head like a helmet. It portrays a praying mantis (kovio), possibly a clan emblem. Although its exact use is uncertain, it was probably a kapurei, a conical headdress that formed the base for a large ceremonial dance wand (rei) as much as nine feet (3 meters) high that was attached to the undecorated projection at the top.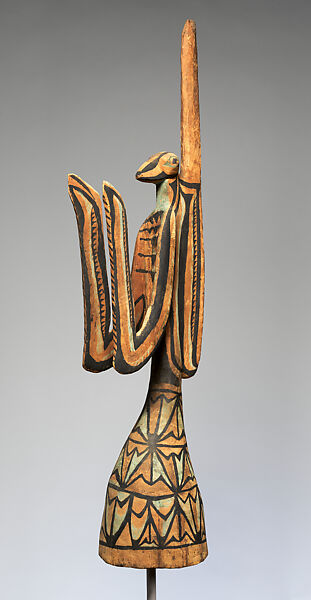 This artwork is meant to be viewed from right to left. Scroll left to view more.