Double Prestige Panel
Not on view
Textiles, whether worn on the body as clothing or displayed independently, were central to Kuba cultural expression. Cloth was woven from the fibers of the raffia palm by Kuba men and then given to Kuba women, who stitched the separate pieces together, dyed them, and decorated them. Wrappers for both men and women were created from several panels of cloth and embellished with appliquéd cloth or with embroidered geometric designs. Wrapped several times around the waist, the gathered edges (which were often decorated with pom-poms or cowry shells) formed luxurious pleats and ruffles that accentuated the bodily curves and movements of its wearer.

Another form of Kuba textile art was created from single panels of cloth embroidered with dyed raffia thread that was then cut to create a plush pile cloth. Similar textiles were made to the west by the Pende and Kongo peoples, and it is possible that Kuba artisans acquired this art form through trade with these peoples. These panels were not worn but displayed, and served as currency and markers of prestige. The work featured here is one such prestige panel. Composed of a series of interlocking knotted designs in tan and black, its visual complexity and geometrical structure are typical of this type of textile. Like almost all so-called Kasai "velvets," the overall composition is asymmetrical and irregular, and it is impossible to predict the appearance of the entire panel from one section alone.

An important mandate of Kuba leaders was to commission innovative works and design motifs emblematic of their individual legacies. In the seventeenth century, for instance, the founder of the Kuba dynasty identified so closely with the patronage and promotion of lavish woven and embroidered textiles that he adopted the term for raffia palm, shyaam, as his name: Shyaam aMbul a Ngoong, or Shyaam "the Great." This spirit of invention has led to a proliferation of textile designs. Literally hundreds exist, many of which are named after individuals such as the king or the textile artists who first created them. Other patterns bear names referring to elements that range from eyebrows to smoke, or the scaly backs of crocodiles.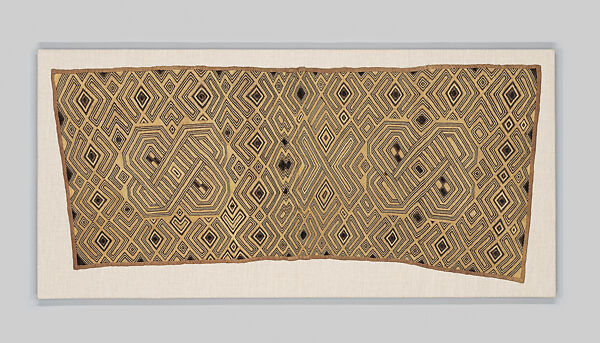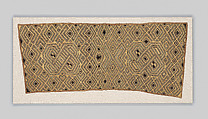 This artwork is meant to be viewed from right to left. Scroll left to view more.