Snuff tablet
Not on view
Snuff inhaled through tubes from small trays or tablets was common in the southern Andes where hallucinogen use was widespread. Wooden snuff trays have a shallow rectangular cavity at one end and human or animal motifs or a combination of both at the other. This snuff tablet is presumed to have come from the San Pedro de Atacama area and its overall form is consistent with Atacama works, but stylistic features relate it to more northern areas. Embellished with open latticework topped by a crouching creature known as the "moon animal," it is associated with the art of Recuay in central highland Peru. From the top of the animal's head—it has big, round eyes and a gaping mouth—descends a flowing, manelike appendage with two large curls that meet the rounded-up tail. The animal holds a trophy head in its massive front paws. Although trophy head imagery is common on Atacama snuff trays, this tray may be an import into the region rather than a local variant.

In the Atacama region of northern Chile, the highest concentration of wooden snuff trays has been found in burials in association with other paraphernalia, such as inhaling tubes, spatulas, small mortars and pestles, and snuff powder containers. The snuff, prepared from leaves, resin, and seeds of various plants dried and finely ground, was used to cure various ailments, to alleviate pain and conditions associated with high altitudes, to provide alertness in war and hunting, and to induce trances during rituals and ceremonies.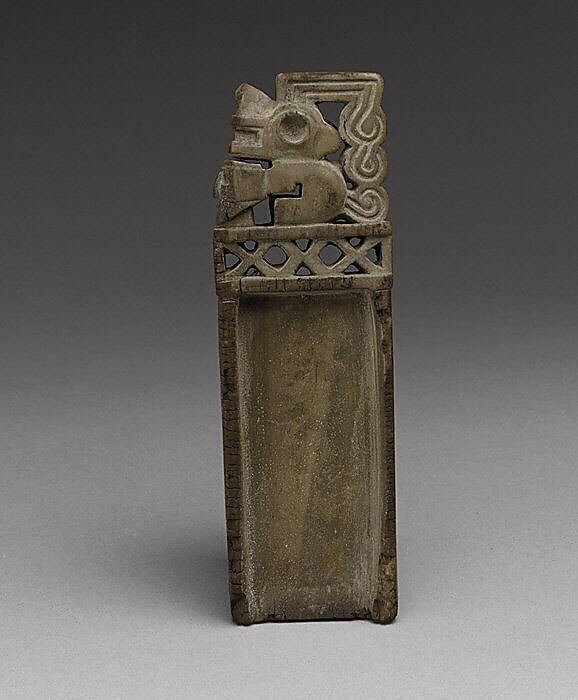 This artwork is meant to be viewed from right to left. Scroll left to view more.