Double-chambered bottle
Not on view
This double-chambered spout-and-bridge bottle combines elements from Indigenous ceramic traditions with new materials and aesthetics that arrived with Spanish colonization. The shape of this vessel had a long tradition in the Andes, but this specific variation—with a wide handle and straight spouts—is a product of the hybrid ceramic style that emerged in the North Coast after the Inca conquest of the region in the fifteenth century (see MMA 64.228.54). The vessel bodies may represent two lúcumas (Pouteria lucuma), a fruit native to the temperate Andean valleys. This bottle generates sound when the vessel is tilted, and the chambers are partially filled with liquid, forcing air out and activating the bird-shaped whistle crowning one of the spouts.

The glossy surface was achieved with a lead-rich glaze, a silicaceous mixture containing lead oxides that vitrify on the surface during firing. The Spaniards brought Iberian ceramic kiln technology that is capable of reaching the very high temperatures needed for most of the glazes. A recent study, however, indicates that this kind of early green colonial glaze was often finished in open fires, a traditional and widespread Andean technology (VanValkenburgh et al. 2017). The lead acts as a flux that fuses below 800 C, a temperature within reach of Indigenous technology. The copper in the mixture produces green hues that have no precedent in Indigenous traditions of the Andes. Small differences in glazes' recipes and firing conditions may explain color variation, such as this more yellowish example. The green-glazed ware was widely distributed during the early colonial era, but especially among Indigenous families who used them in their houses and sometimes put them in their graves.





Hugo C. Ikehara-Tsukayama, Senior Research Associate, Arts of the Ancient Americas, 2023





References and Further Reading

Hayashida, Frances. "Leyendo el registro arqueológico del dominio inka: Reflexiones desde la Costa Norte del Perú." Boletín de Arqueología PUCP No 7 (2004): 305-319.

Ikehara-Tsukayama Hugo C., Dawn Kriss, and Joanne Pillsbury. "Containing the Divine: Ancient Peruvian Pots." Metropolitan Museum of Art Bulletin vol. 80, no 4 (Spring 2023).

Stastny, Francisco. Las artes populares del Perú. Madrid: EDUBANCO, 1981.

VanValkenburgh, Parker, Sarah J. Kelloway, Karen L. Privat, Bill Sillar, and Jeffrey Quilter. "Rethinking Cultural Hybridity and Technological Transfer: SEM Microstructural Analysis of Lead Glazed Ceramics from Early Colonial Peru." Journal of Archaeological Science 82 (2017): 17-30.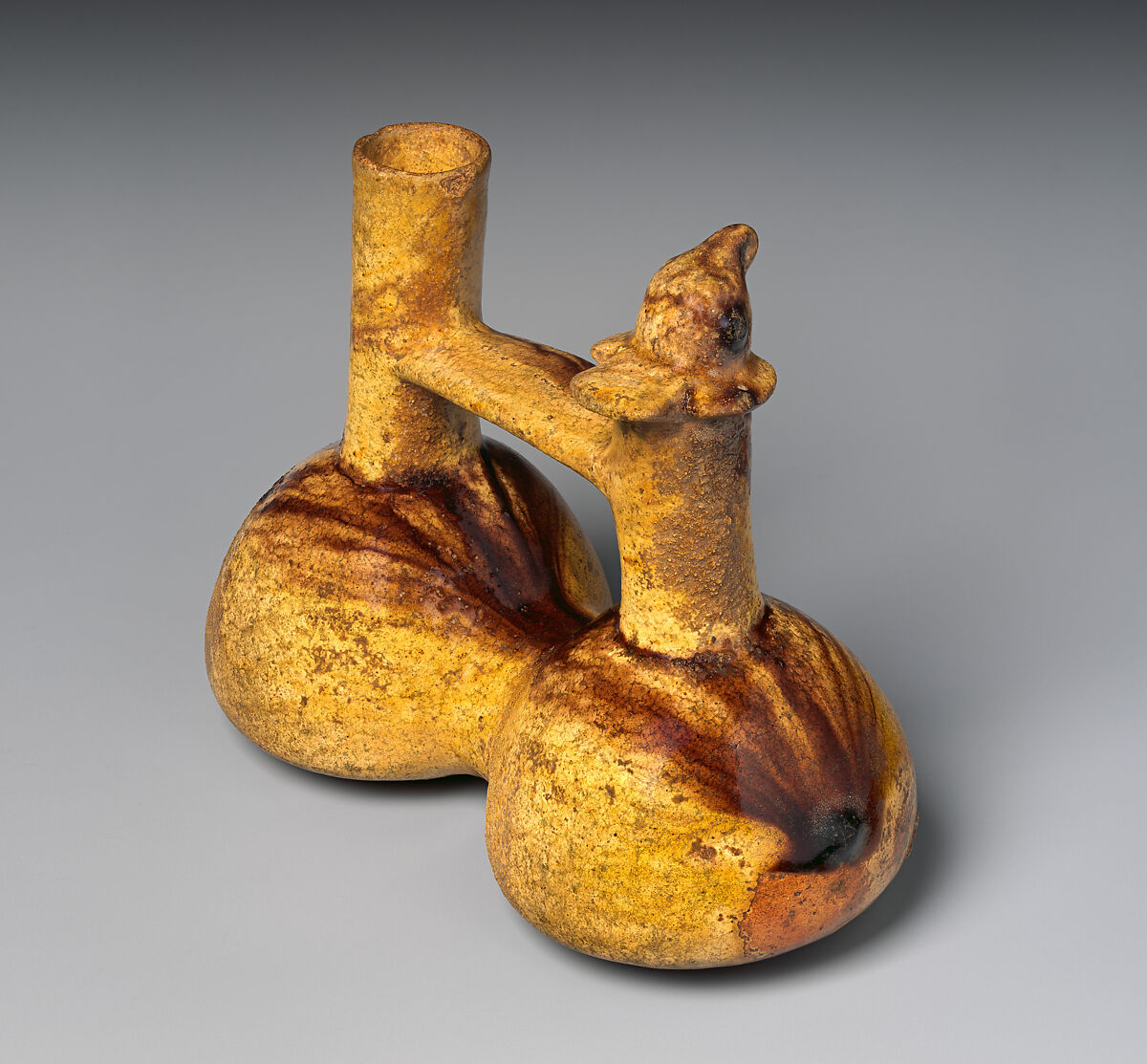 This artwork is meant to be viewed from right to left. Scroll left to view more.