Standing Male Figure
Not on view
This imposing male figure stands with his legs apart, his right arm at his side, and his left arm raised in order to rest an implement on his shoulder. He wears a conical hat with an incised, or stamped, checkered basket-weave pattern, and with a band along the bottom edge. The checkered part of the hat is folded and wraps around to tie in the back. An appliqued red cord with two white shells crosses the crown of the hat and another red cord dangles from the back, where incised hair is visible. His face features a modeled brow and cheekbones, and his nose is adorned with a four-looped, appliqued nose ring. The mouth opens enough to reveal the incised white teeth separated by black lines, and the carved eyes show traces of white and black slip. The face and arms were painted in a rich ocher slip that suggests a natural skin color. In each ear, the figure wears eight to nine earrings, featuring appliqued tabs and disks. He is clothed in a long, cream-colored tunic with a V-neck and short sleeves. His upper arms each have appliqued and decorated red cord bracelets; the mini-conch shell attached to the left one would seem to be emblematic of a specific lineage or kin group. The legs are plain, with sienna slip on the thighs and black slip, likely representing body paint, from the thighs to the ankles. The feet, which rest on small platforms, have sculpted joints, toes, and toenails.

This figure may be part of a group created by the same artist or workshop, and appear to represent members of an important ancient West Mexican lineage or social group (Butterwick 2004: 83-87). Shared features and craftsmanship suggest that one artist made all three figures, and they may have been deposited in the same shaft tomb in the Nayarit village where they originated (see 2018.443.2, 2018.443.3). If the similarities between the two females were intended to show kinship, the figures might represent mother and daughter, or sisters in the same lineage. Alternatively, the two may portray a female of high status in two stages of her life: young (perhaps pregnant) and mature. The features shared by the male and the elder female, especially the emblematic conch bracelet, suggest that they belong to the same lineage and are either an ancestral brother and sister or a married couple. Lastly, the unusual fact that all three wear black leg paint may further indicate a common genealogy.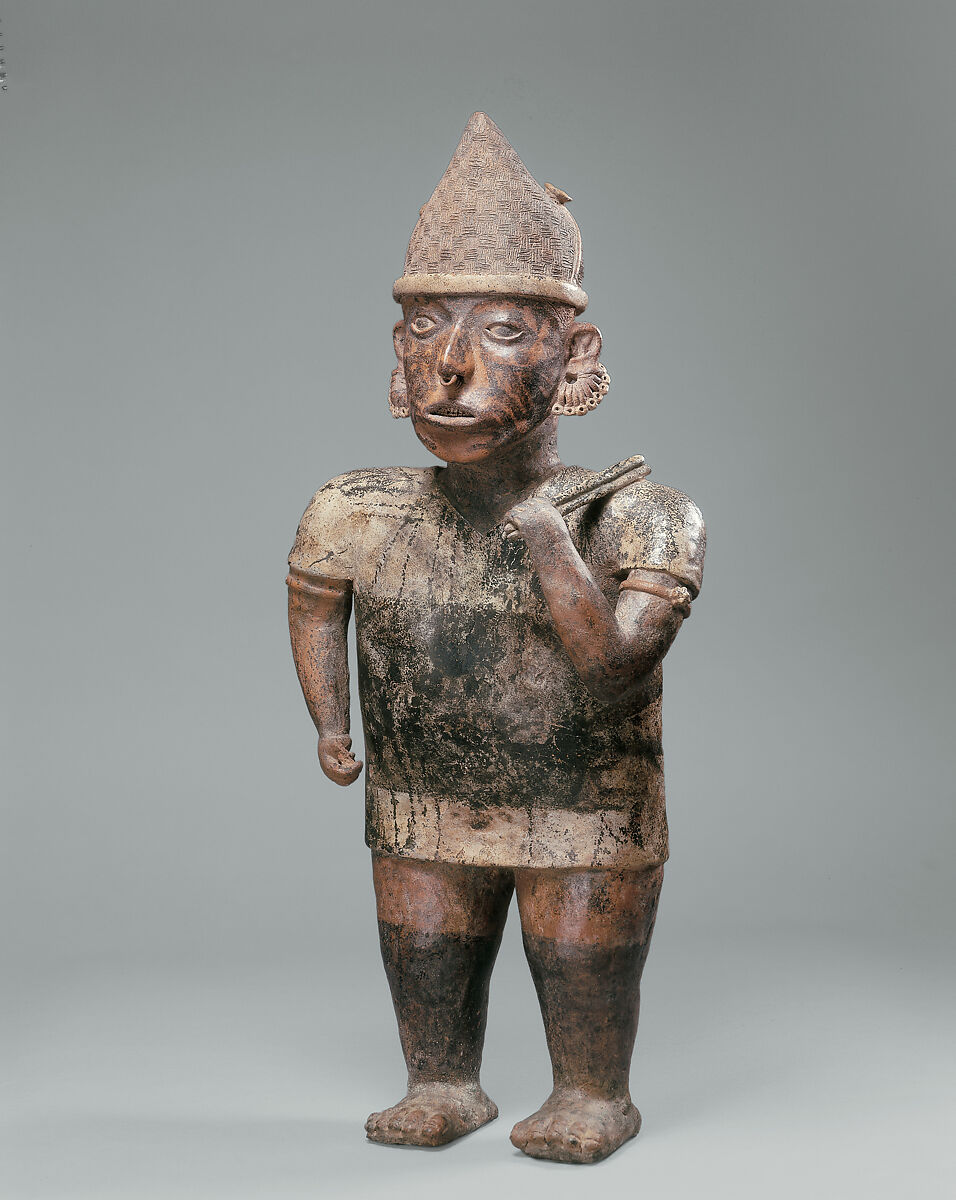 This artwork is meant to be viewed from right to left. Scroll left to view more.