House Model
Not on view
Nayarit house and village models are, on one level, snapshots of village life, easily read as renderings of the everyday. Highly narrative, they depict lively gatherings in plazas and houses, including feasts like the one shown here, dances, and the ballgame, complete with spectators gesturing and placing bets (see Pillsbury, Sarro, Doyle, and Wiersema, fig.42). Placed in tombs they also served as a village, and a world, where life could continue after death.

Perhaps more than any other tradition in ancient Mesoamerica, these scenes give the viewer a clear idea of ancient West Mexican building types and features that do not appear in the archaeological record. This model and another in the museum's collection (see MMA 2015.306), for example, show the complex woven and painted designs of the sloping, peaked thatched roofs that cover both rooms and porticoes.

These models also provide a privileged view of the activities that occurred inside such structures, as these masterful constructions are populated with numerous figures engaged in a vast array of tasks and pleasures. Formed individually, the figures were then lightly fired into place. While their faces are generalized, they gesture in ways that suggest various types of interactions, from conversation to the communal preparation and consumption of food.

Far from simple representations of the everyday, however, these scenes document major community events, such as death of an important personage, or the installation of a new village leader. In this example, we see an open portico and lower room filled with activities surrounding the preparation and enjoyment of a feast. Based on the fact that the Nayarit sometimes buried their dead beneath their houses, and that house models were intended to be funerary offerings, Kristi Butterwick suggests that the lower rooms may represent tombs and the world of the dead, and the gatherings above mortuary feasts. Alternatively, such lower-level spaces may simply depict domestic activities such as cooking. Here, a woman grinds corn on a metate, a type of grinding stone still in use today. Two other adults have set out prepared food on a plate, ready for delivery to the banquet upstairs. A dog, perhaps destined to become an eventual meal himself, sits at the entryway waiting for precious crumbs to fall. Both dogs and birds, like the two perched along the edges of the upper level, were sources of food in Ancient Mesoamerica. Dogs were also believed to accompany the dead into the underworld.

Upstairs, the feast is in full swing. Food from the kitchen below has been set before four adults and drawn the attention of two curious birds. The scene includes a rare representation of a pregnant woman who leans back against one of the posts supporting the roof of the portico. A man, wearing a large collar, stands at the top of the steps. A couple occupy pride of place, resting against the back wall of the roofed portico as plates of food are lined up before them. The man is likely the head of the family or lineage, or the pair may represent an ancestral couple.

Patricia J. Sarro, 2023

Further Reading
Butterwick, Kristi. Heritage of Power: Ancient Sculpture From West Mexico: The Andrall E. Pearson Family Collection. New York, New Haven, London: The Metropolitan Museum of Art, 2004.

Hers, Marie-Areti, ed. Miradas renovadas al occidente indígena de México. Mexico: Universidad Autónoma de México, 2013.

Pillsbury, Joanne, Patricia Joan Sarro, James Doyle, and Juliet Wiersema. Design for Eternity: Architectural Models from the Ancient Americas. New York: The Metropolitan Museum of Art, 2015, pp. 36–37, figs. 35–37.

Schávelzon, Daniel. Treinta siglos de imágenes: Maquetas y representaciones de arquitectura en México y América Central prehispánica. Buenos Aires: Fundación Centro de Estudios para Políticas Públicas Aplicadas, 2004, p. 121.

Townsend, Richard F., ed. Ancient West Mexico: Art and Archaeology of the Unknown Past. Chicago, Art Institute of America, 1998. von Winning, Hasso. Anecdotal Sculpture of Ancient West Mexico. Los Angeles: Ethnic Arts Council of Los Angeles, 1972, no. 28, p. 54.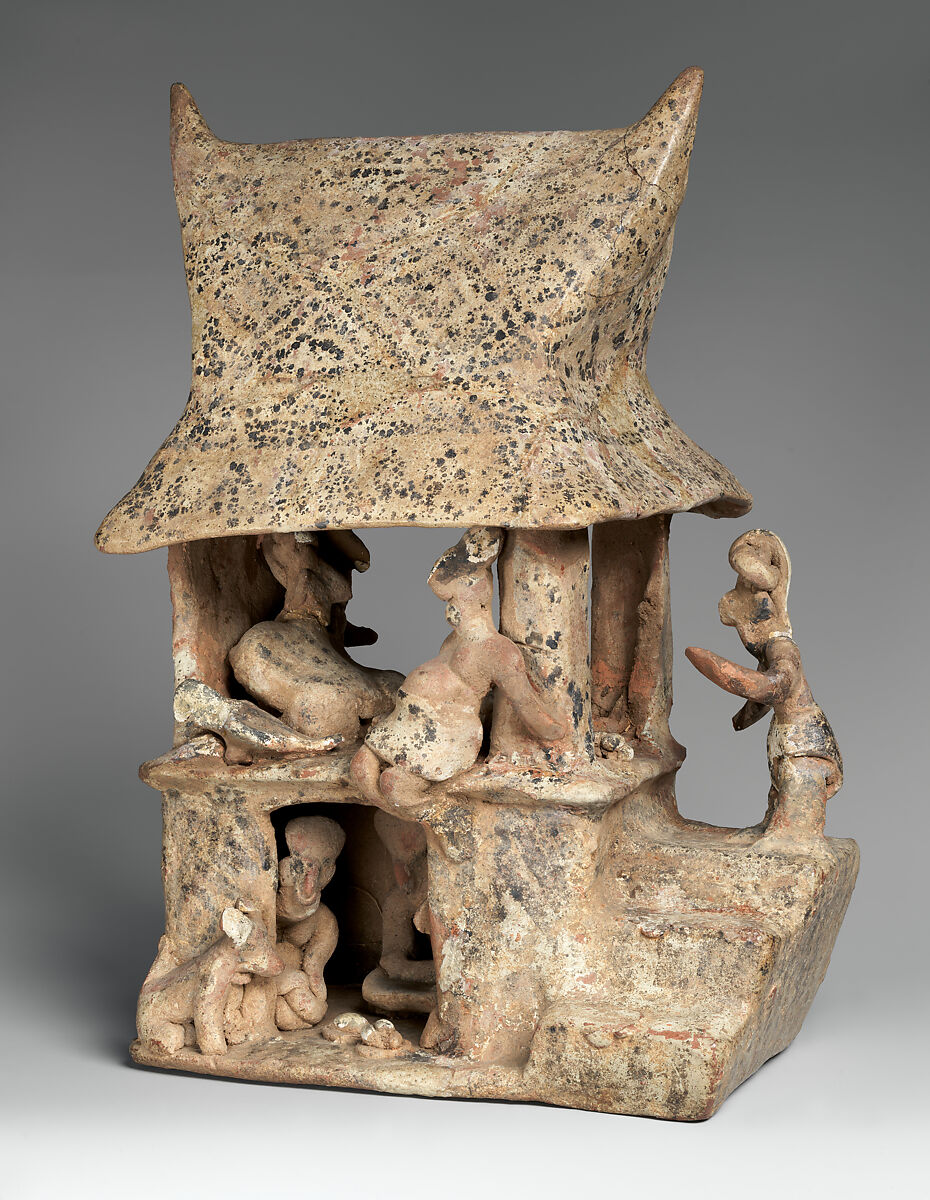 This artwork is meant to be viewed from right to left. Scroll left to view more.