Weather Charm (Hos)
Not on view
The Caroline Islands in Micronesia are home to some of the most accomplished long-distance voyagers in the Pacific. Among the greatest hazards facing Carolinian sailors are powerful storms, which can destroy a sailing canoe, drowning the crew or leaving them adrift far from land. To avert such disasters, canoe navigators employ weather magic, believed to have the ability to prevent or alter the path of approaching storms. An indispensable element of weather magic is the hos, a potent charm frequently consisting of a stylized human image whose "legs" are formed from the daggerlike spines of stingrays, which are the source of its supernatural power.

Before beginning a voyage, the navigator grasps the hos and, sounding a shell trumpet to invoke the spirits, recites a chant to drive away any approaching storms. The charm is then carried aboard, where, in the past, it was often kept in a small spirit house set atop the booms connecting the hull to the outrigger. If bad weather threatens, the navigator takes the charm and holds it into the wind, reciting incantations. Once the storm has passed, the hos is returned to the spirit house. Back on land, the potent charms are kept in the canoe house and cannot be stored in ordinary dwellings.

With its subtle facial features and stylized angular torso, this hos embodies the spare, minimalist approach to the human figure typical of Micronesian sculpture. Though relatively small in scale, its compact, understated form nonetheless emanates an aesthetic power that echoes its supernatural potency.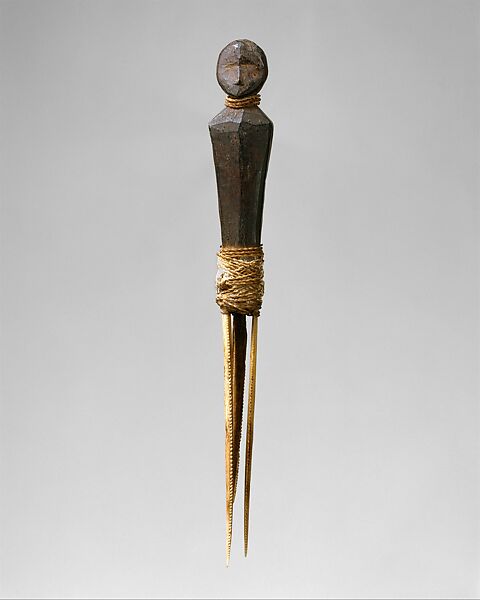 This artwork is meant to be viewed from right to left. Scroll left to view more.