Dohr (Ceremonial Belt)
Not on view
Said to have been given to humanity by divine beings, the art of loom weaving is highly developed among the women of the Caroline Islands, who employ a simple backstrap loom to create textiles of consummate aesthetic sophistication. The loom initially was introduced to the islands from the great weaving center of the Pacific, Island Southeast Asia, probably by Carolinian voyagers, who, in their far-ranging ocean journeys, reached the islands of eastern Indonesia. Among the most complex and colorful of Carolinian weavings are the large men's sashes formerly produced on the islands of Pohnpei and Kosrae in the eastern Caroline Islands.

The present work is from Pohnpei, where the sashes were known as tor. Reserved exclusively for high-ranking men, tor were ceremonial regalia, worn as belts over grass skirts during dances and feasts. The sashes were woven from fiber obtained from the tough, stringy trunks of banana trees, either left in its natural light tan color or tinted red, black, or light purple with vegetable or mineral dyes. Adorned with intricate geometric motifs, the ornamentation of the sashes varied greatly and the right to use some patterns and colors belonged exclusively to particular families. In the late nineteenth and early twentieth century, weavers frequently, as here, embellished the indigenous banana fiber by interweaving it with red yarn obtained from European traders.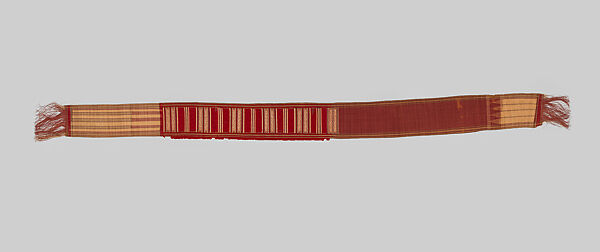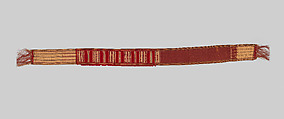 This artwork is meant to be viewed from right to left. Scroll left to view more.