Woman's Ceremonial Skirt (Lawo Butu or Lawo Ngaza)
Not on view
Worn by women on only the most sacred ceremonial occasions, the lavishly beaded ikat skirts called lawo butu of the Ngada people of Flores were treasured clan heirlooms. Unlike virtually all other Indonesian textiles, which are produced exclusively by women, both sexes participated in the creation of lawo butu. The intricately patterned ikat cloth was dyed and woven by women while men created and applied the elaborate beadwork. Lawo butu were precious objects commissioned by a clan leader of high status; after his death, the skirt was known by his name. For this reason lawo butu are sometimes referred to as lawo ngaza, "named skirts." When not in use, lawo butu were carefully preserved in the clan house along with other treasures such as gold ornaments.

Among the Ngada, the beads used to adorn lawo butu were highly valued and reused for generations. According to oral tradition, beads, along with other forms of wealth, originally grew on a single tree planted by two orphans. Cut down by greedy villagers, the tree fell in such a way that nearly all the wealth it carried was lost to the island of Java and only the beads remained on Flores. The beadwork on this example includes depictions of humans, birds, and stylized quadrupeds that may represent horses, which were highly esteemed by the Ngada. The ikat designs are organized into the typical banded pattern seen in textiles throughout the Lesser Sunda Islands.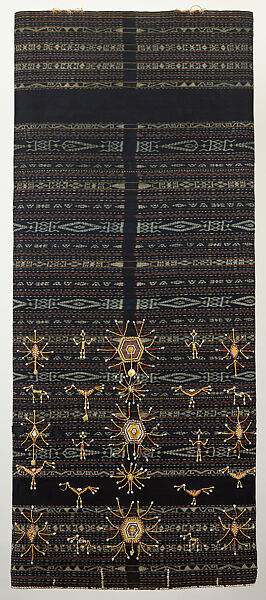 This artwork is meant to be viewed from right to left. Scroll left to view more.