Commemorative Figure (Lefem)
Not on view
Each Bangwa chiefdom is led by the sacred person of the fon who is responsible for rites concerned with the well-being and fertility of both the land and his people. Bangwa chiefs commissioned representations of themselves as supremely commanding potentates. Artists strove to capture this degree of personification through emphasizing expressive qualities of the sitter's character through representations impressive not only from the front but also the back and sides. The vital connection between an individual and his or her sculptural counterpart was further reinforced through its pairing of the figures with relics that took the form of crania and intimate possessions in royal shrines.
This artistic landmark has been attributed to the Bangwa master sometimes referred to as the Master of the Berlin Tanyi. Its author's sensibility imparts to his subjects a regal majesty and carefully poised serenity. This depiction and two other related ones of seated chiefs hold forth calabash palm wine vessels in their right hands with the base of the gourd balanced on their thigh. The contours of their elongated bodies are gently rounded and their features delicately articulated.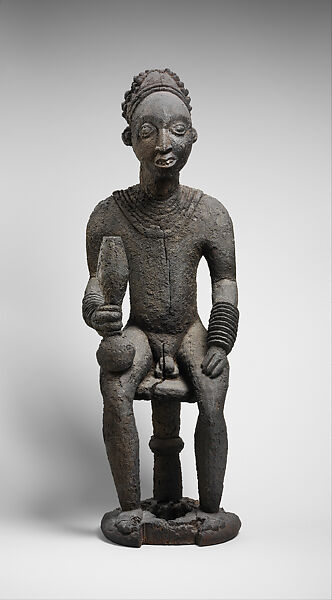 This artwork is meant to be viewed from right to left. Scroll left to view more.