Curved Ear Ornament (Kapeu)
Not on view
Highly prized ornaments such as this pendant carved from greenstone were markers of wealth and status (mana) for Māori. Fashioned and shaped by specialist carvers known as tohunga tarai pounamu, these experts aimed to reconcile the natural forces of the stone both within and without. This style of pendant is known as kapeu due to the subtle curve of its rounded lower tip. Thin and flattened in cross section, it has emerged from a section of dark green, yet translucent stone which has been polished and smoothed by meticulous grinding with natural abrasives. Given the extreme mobility of Māori, small items of value were often perforated and worn as a safeguard until they were next needed. This was particularly true of the nephrite blades used in small chisels but chips or offcuts of greenstone might also be shaped and polished before being attached to woven flax fiber cords and worn suspended from the ear, or around the neck, as pendants. A single suspension hole was created by drilling separate, conically shaped holes into either side until these reached the middle to fully pierce it.

Pounamu (or greenstone) — the hardest known material in a biodegradable world of wood, fiber and bone — was as much prized by Māori for its durability and strength as for the beauty revealed in its interior landscape. An entire vocabulary describes the variety and quality of greenstone, the subtle nuances of each acknowledged with appropriate names. While geologically the rock falls into distinctly named categories (nephrite jade or bowenite), Māori classify according to visual appearance, recognizing four principal types based on color, shade and hue:


Inanga, named after the native freshwater whitebait fish (Galaxias maculatus), shoals of which can turn the rivers a cloudy, grey-green;

Kahurangi, rare and translucent, this vivid shade of green is named after the clarity and openness of the sky;

Kawakawa, the most common variety, flecked with inclusions which evoke the leaves of the native medicinal plant (Macropiper excelsum);
Tangiwai, a form of bowenite, clear like glass which achieves a luminous quality when held against the light; its name evokes the flow of tears.


This remarkable and rare stone is found buried within boulders found only in rivers specific to New Zealand's south island, where it has lent its name to the land: Te Wai Pounamu, "the land of greenstone water." Local tribes (iwi) of the Ngai Tahu people remain the custodians of the stone, ensuring it travels along appropriate pathways for distribution among the wider population. Māori valued pounamu in the same way Europeans valued gold. In the 1870s, Te Otatu, a Māori elder from Coromandel, remarked: "Let the gold be worked by the white men. It was not a thing known to our ancestors. My only treasure is the pounamu. Kati ano taku taonga nui i te pounamu." (Best, 1974:175)

Sources

Best, Elsdon. Stone implements of the Māori. Wellington: Government Printer, 1974.


Maia Nuku

2015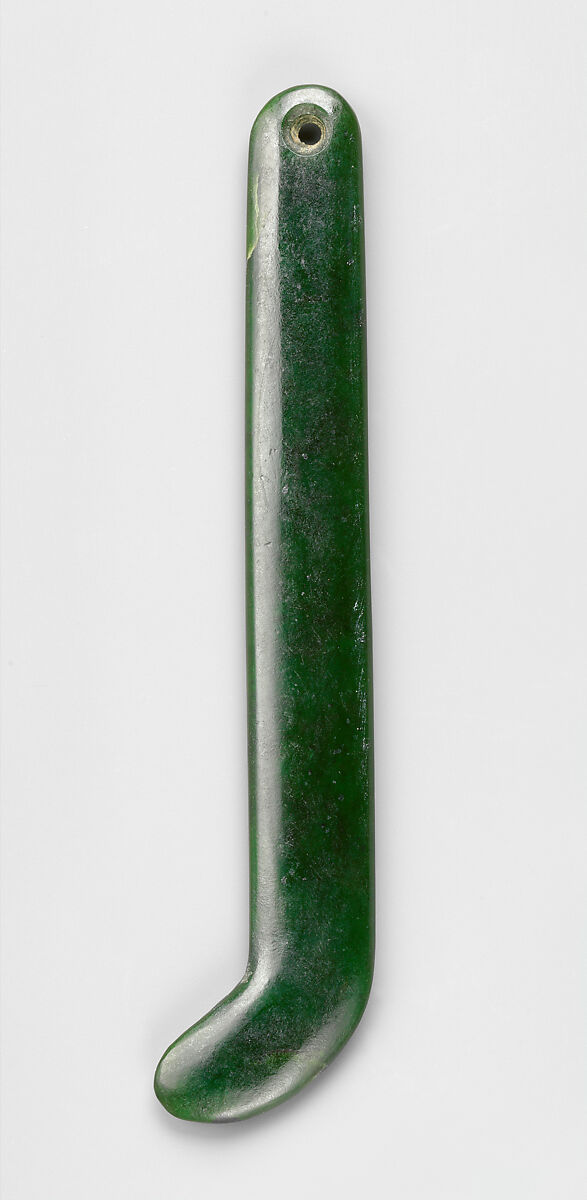 This artwork is meant to be viewed from right to left. Scroll left to view more.