Cuneiform tablet case impressed with cylinder seal in Anatolian style
Not on view
Kültepe, the ancient city of Kanesh, was part of the network of trading settlements established in central Anatolia by merchants from Ashur (in Assyria in northern Mesopotamia) in the early second millennium B.C. Travelling long distances, and often living separately from their families, these merchants traded vast quantities of goods, primarily tin and textiles, for Anatolian copper and other materials. Although the merchants adopted many aspects of local Anatolian life, they brought with them Mesopotamian tools used to record transactions: cuneiform writing, clay tablets and envelopes, and cylinder seals. Using a simplified version of the elaborate cuneiform writing system, merchants tracked loans as well as business deals and disputes, and sent letters to families and business partners back in Ashur. At Kültepe, thousands of these texts stored in household archives were preserved when fire destroyed the city in ca. 1836 B.C. Because the tablets document the activities of Assyrian merchants, they provide a glimpse into the complex and sophisticated commercial interactions that took place in the Near East during the beginning of the second millennium B.C.

This clay envelope or case would have once contained a tablet with cuneiform writing. Traces of this text are visible on the inside surface of the case. The obverse of the case is not preserved. The reverse of the case is sealed with a cylinder seal rolled twice. The seal impressions shows a scene in which four main figures appear. Two figures with horned crowns face each other: one is seated and the other stands upon a bull. Behind them, a kilted figure with a beard treads upon the body of a nude male and a beardless kilted figure grapples with an overturned bull. Between and around the four figures, small filler motifs were interspersed. Although the use of the cylinder seal, rather than the stamp seal, was typically Mesopotamian, and the poses of the figures evoke the imagery of Mesopotamian seals, this seal was carved in an Anatolian style that emphasized features such as the large eyes of the figures and used filler motifs. The resulting visual hybridity is characteristic of many Kültepe seals and offers further evidence for the cultural interaction between the two areas.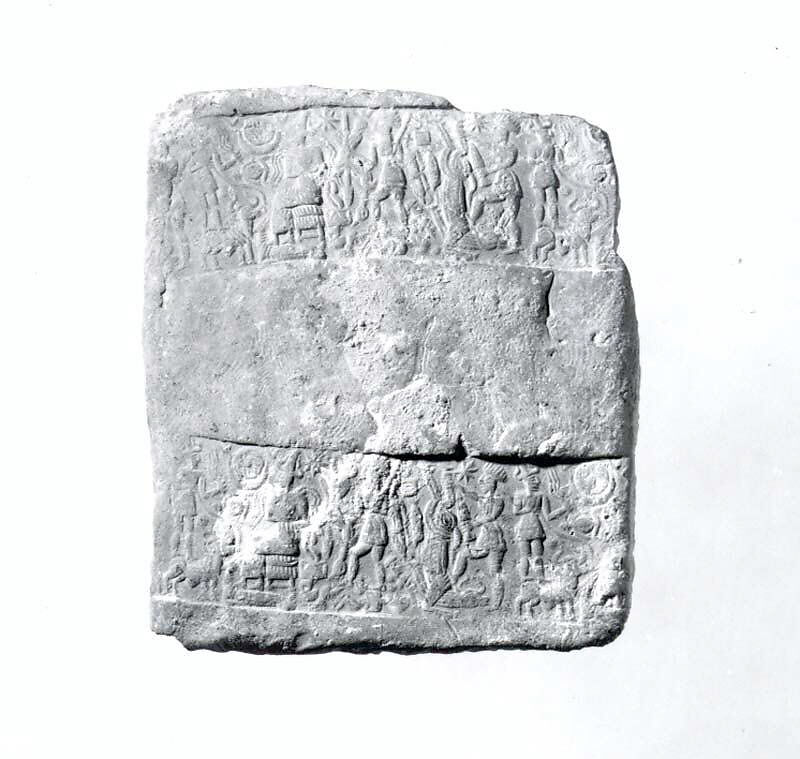 This artwork is meant to be viewed from right to left. Scroll left to view more.