White-Robed Guanyin
Not on view
According to Buddhist belief, Guanyin (Avalokiteshvara, in Sanskrit), Bodhisattva of Infinite Compassion, reveals himself in many forms. In one such manifestation, known simply as the White-Robed Guanyin, the Bodhisattva sits on the rocky island of Putuo (Potalaka, in Sanskrit), believed by the Chinese to be located offshore from Ningbo, in Zhejiang Province.

The poem was inscribed (from left to right) by Quanshi Zongle:

The body is as small as specks of dust and as ephemeral,
So is the doctrine ephemeral and small as specks of dust;
The world of all living things is but emptiness,
And so Guanyin's compassionate heart is at rest.

Quanshi Zongle, appointed by the first Ming emperor to the highest administrative position governing Chan institutions, served as abbot of the Tianjie temple, near Nanjing, first about 1375 and later from 1388 until his death in 1391. The painting, inscribed at the Tianjie temple, is datable to the end of the fourteenth century.
#7718. White-Robed Guanyin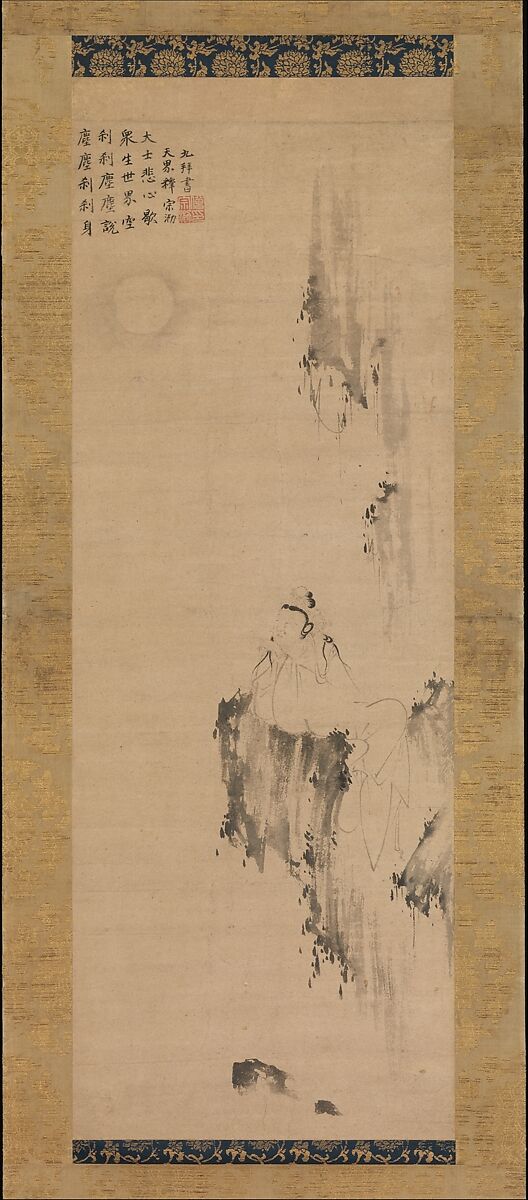 This artwork is meant to be viewed from right to left. Scroll left to view more.