Landscapes with the Chinese Literati Su Shi and Tao Qian
Nagasawa Rosetsu 長澤蘆雪 Japanese

Not on view
The forbidding precipice painted on the left screen suggests a site on the Yangzi River where the Chinese poet Su Shi, also known as Dongpo (1037–1101), composed his famous "Ode on the Red Cliff." The gentler scene on the right screen, depicting a scholar and attendants in a hut in a willow grove, is meant to represent the Chinese poet-recluse Tao Qian, or Tao Yuanming (365–472), at his country retreat. The artist seems to have set up an explicit contrast between the two scenes—Su's forced exile (wild) against Tao's self-imposed exile (calm). Born to a samurai-class family near the capital, Nagasawa Rosetsu chose the life of a painter, studying in the Kyoto studio of Maruyama Ōkyo (1733–1795). Labeled one of the "Three Eccentrics" of the Edo period, he often exhibited a turbulent, bravura brush style and unconventional treatment of subject matter.
#8920. Landscape with Chinese Figures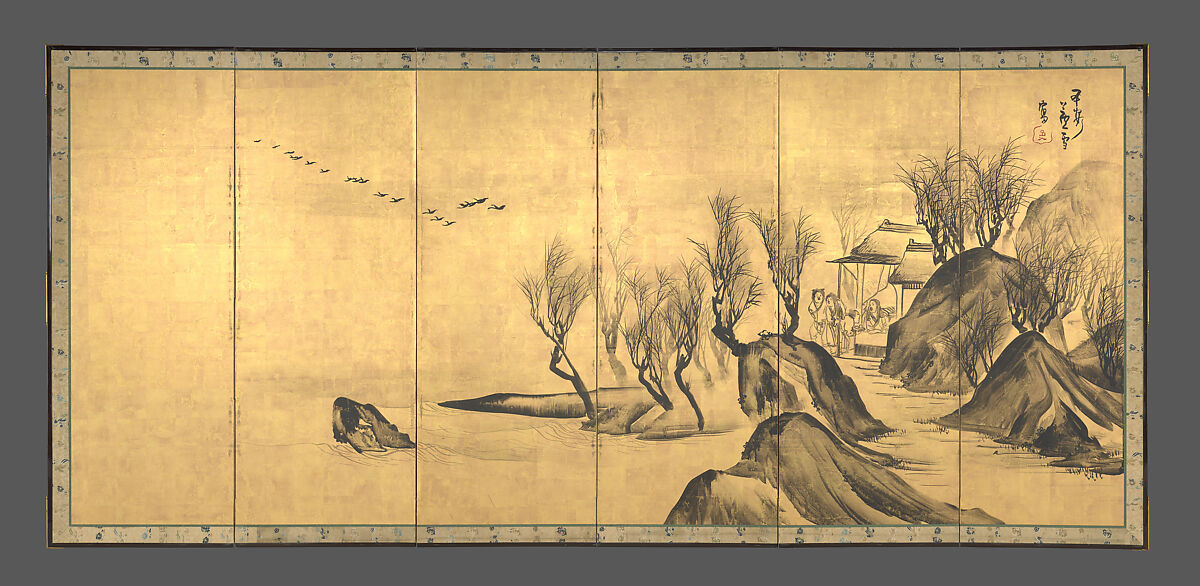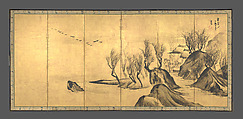 This artwork is meant to be viewed from right to left. Scroll left to view more.