Poem Written in a Boat on the Wu River
Calligrapher Mi Fu Chinese

Not on view
Sun Guoting's Manual on Calligraphy (687) states that calligraphy reveals the character and emotions of the writer. Few works demonstrate this principle as clearly as this handscroll by Mi Fu, the leading calligrapher of late Northern Song. Mi wrote Sailing on the Wu River with a suspended arm, working from the elbow rather than the wrist. It was not his aim to form perfect characters; instead, he entrusted his writing to the force of the brush, giving free reign to idiosyncratic movements, collapsing and distorting the characters for the sake of expressiveness. Su Shi (1036–1101) likened Mi's writing to "a sailboat in a gust of wind, or a warhorse charging into battle." Traditionally, calligraphy has been more highly esteemed in China than painting. In the 1950s when John Crawford began collecting it, most American scholars were unaware of its importance and the authenticity of many Crawford pieces was questioned. Today, these works are regarded as national treasures and the Metropolitan is the only leading museum in the West able to present major examples of this quintessential Chinese art form.
#7455. Poem Written in a Boat on the Wu River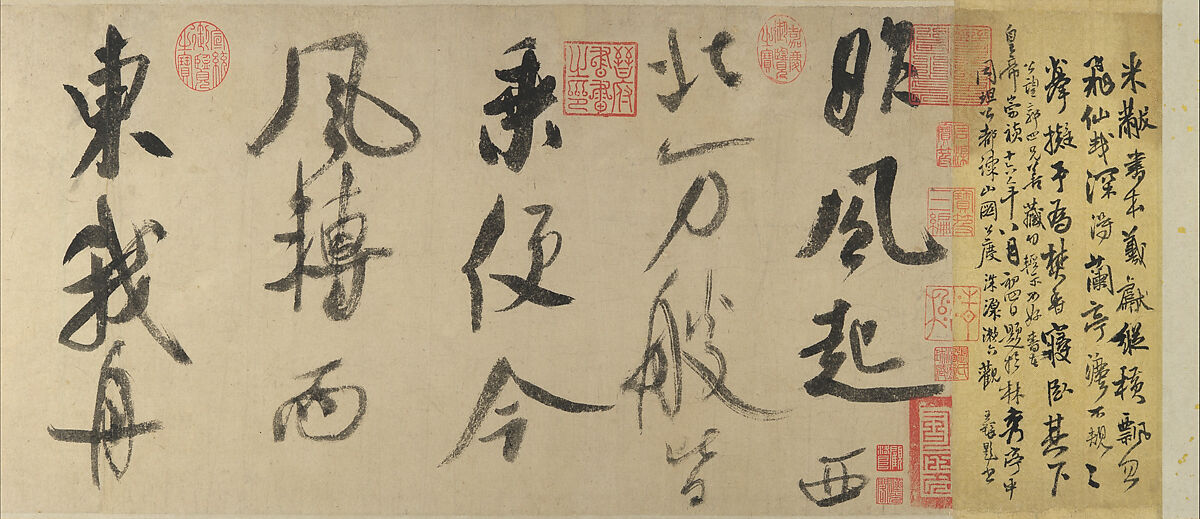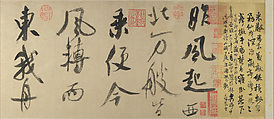 This artwork is meant to be viewed from right to left. Scroll left to view more.