Death of the Historical Buddha (Nehan-zu)
On view at The Met Fifth Avenue in Gallery 226
Essential tenets of Buddhism are explicit in paintings of the Buddha Shakyamuni's nirvana, his passing from earthly life to the ultimate goal of an enlightened being: release from the bonds of existence through negation of desires that cause life's intrinsic suffering. Facing westward in a final trance after a long life of teaching, the golden body of the Buddha bears the marks of his enlightened nature. Short curls covering his head indicate his ascetic life, while elongated earlobes adorned with heavy jewelry reflect his birth as a prince. A cranial protuberance and a circle of light between his brows attest to his penetrating wisdom.

Those witnessing the Buddha's passing from earthly life reveal their own imperfect level of enlightenment in the extent of their grief. Bodhisattvas, who have achieved the spiritual enlightenment of Buddhahood, show a solemn serenity. Except for the Bodhisattva Jizō, who appears as a monk holding a jewel near the center of the bier, these deities are envisioned in princely raiment covering their golden bodies. Shaven-headed disciples weep bitterly, as do the multi-limbed Hindu deities and guardians who have been converted to the Buddha's teaching. Men and women of every class, joined by more than thirty animals, grieve in their imperfect understanding of the Buddhist ideal. Even the blossoms of the sala trees change hue, as Queen Maya, mother of the Buddha, descends weeping from upper right.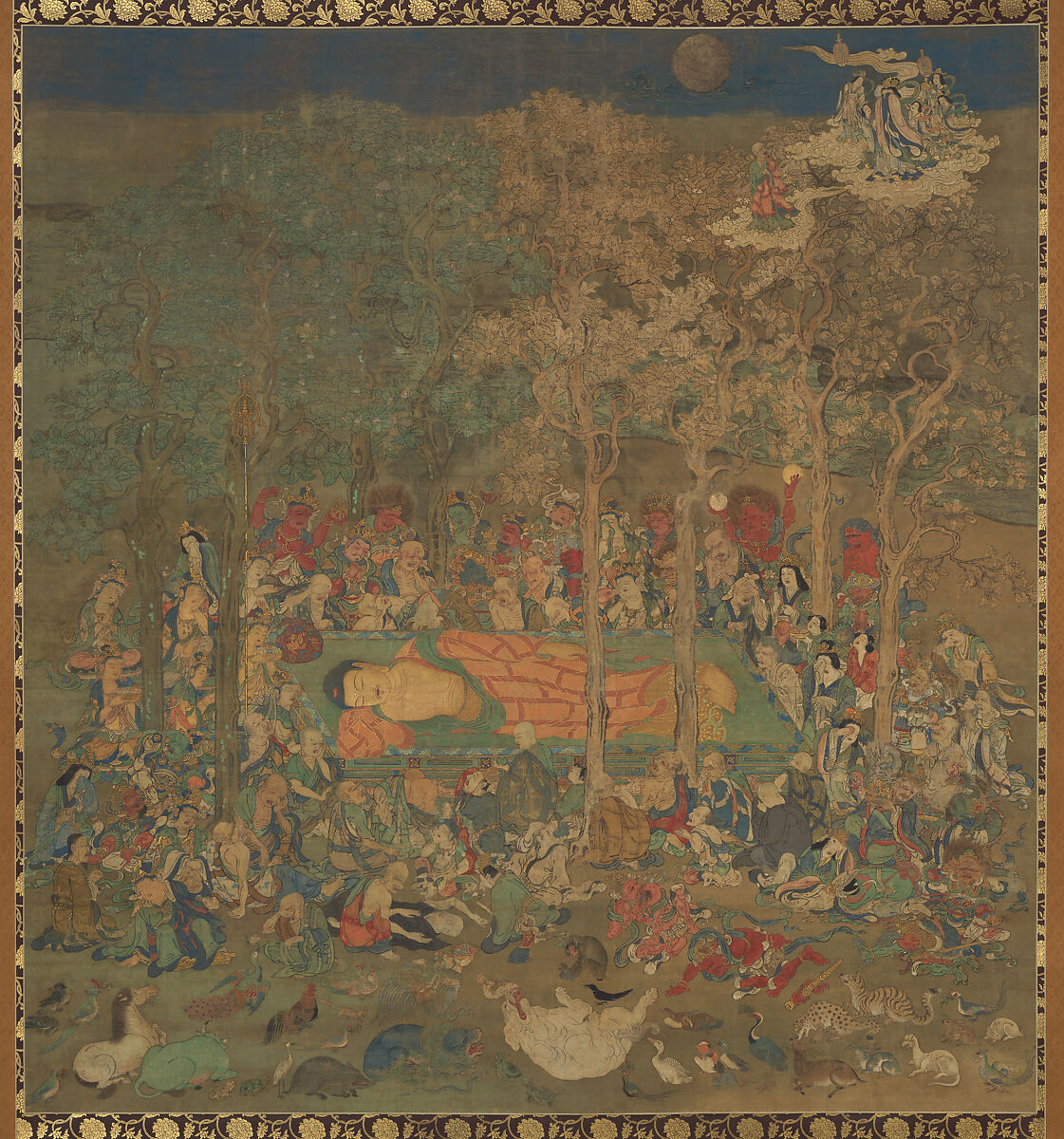 This artwork is meant to be viewed from right to left. Scroll left to view more.