Great Wisdom Sutra from the Chūsonji Temple Sutra Collection (Chūsonjikyō)
Not on view
The frontispiece of this sutra chapter illustrates the Buddha's first sermon, at the Deer Park near Sarnarth in India. The Buddha and the two bodhisattvas who flank him are seated on lotus platforms. Behind the bodhisattvas sit the five ascetics, dressed in simple robes, who became the Buddha's disciples. Several dappled deer set the scene.

This chapter of the Great Wisdom Sutra (Daihannyakyō; Sanskrit: Mahaprajnaparamita) is one of more than five thousand scrolls of Buddhist scripture that were dedicated in 1176 to the northern Japanese temple Chūsonji by the nobleman Fujiwara Hidehira (died 1187) for the salvation of his father, Motohira (died 1157).

An inscription notes that the text follows the translation by the Chinese monk Xuanzang (602–664). The execution of the calligraphy is of a high quality consistent with works produced for wealthy temples in the capital of Kyoto.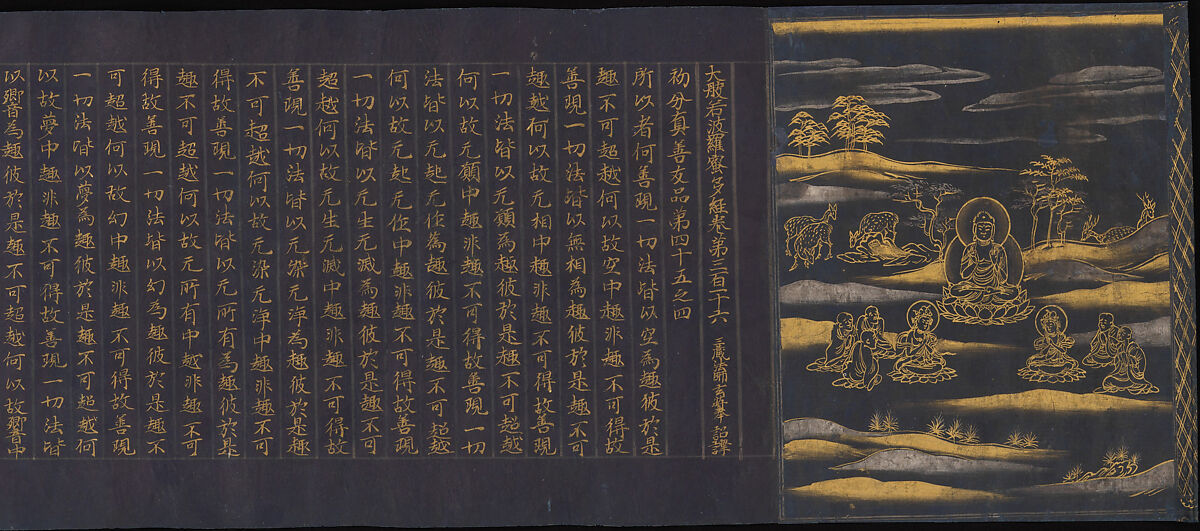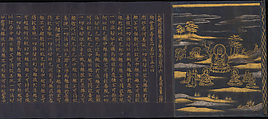 This artwork is meant to be viewed from right to left. Scroll left to view more.