Button or Bead
On view at The Met Fifth Avenue in Gallery 453
This object was excavated at the site of Qanat Tepe in Nishapur.

Nishapur was a vital city in the early and middle Islamic periods, located along one of the main trajectories that connected Iran and West Asia Islamic lands with Central Asia and China. The term "Silk routes" often refers to these itineraries, but these were, in fact, crucial to the movement of constellations of materials and objects, as well as people and ideas. The diverse population of Nishapur and its surroundings, from the better-researched elite groups of merchants, land-owning aristocracy, and literates, to the lesser-known artisans, farmers, miners, and servants, were instrumental to adapting global cultural trends that led to the creation of a distinctive visual language. This is seen in the material remains of everyday life in medieval Nishapur – from pots and pans to lighting devices, inkwells, textiles and trimmings, jewelry, games and toys, talismanic devices, weapons, coins, and architectural fragments.

Nishapur lost its political prominence due to a series of earthquakes and invasions that peaked in the thirteenth century. Today, the medieval city is a vast archaeological area, while the relatively small modern city is situated to its north. Instead, Mashhad, a major pilgrimage site, emerged as a significant prosperous metropolis in the region. Between 1935 and 1948, the "Persian Expedition" of the Metropolitan Museum of Art excavated at several sites at Nishapur under an agreement with the Iranian authorities. The recovered artifacts were divided in half between the two countries, resulting in a repository of over four thousand objects at the Met today.

As part of the larger "Persian Expedition" project at Nishapur, American archaeologists and hundreds of Iranian workers excavated a mound they named Qanat Tepe, where an accidental finding of painted plaster solicited further investigation. The area showed several centuries of occupation, which the excavators were unable to fully explain. Most of the uncovered buildings were medium-sized residential structures, rooms with plain, plastered floors, and fireplaces and wells. In three of these rooms semi-circular niches puzzled the archaeologists, who associated them with mihrabs. They may have been used as wall storage or to display objects. Archaeologists also discovered a multi-period mosque in the northwestern area of the Qanat Tepe. It had a square mihrab flanked by engaged columns with colorful painted patterns of rosettes and quatrefoils, for which a very tentative tenth-century dating was suggested.

Both the northern and the southern areas of the Qanat Tepe provided more reliable evidence of its twelfth-century function. On the north, production debris such as wasters and glass slags indicated the presence of a kiln (likely disappeared due to modern activities at the site). The presence of stone paste, including high relief, glazed architectural tiles, and sphero-conical vessels support this suggested function. To the south of the mound, a bathhouse with multiple rooms, pools, and hot water areas, bore evidence of constant repainting of its walls, which were made with a hydraulic plaster suitable for such a humid environment. Amongst the many sophisticated and large-sized depictions were those of a horseman, a fox, or a dog, as well as innumerable fragments depicting animals and human figures.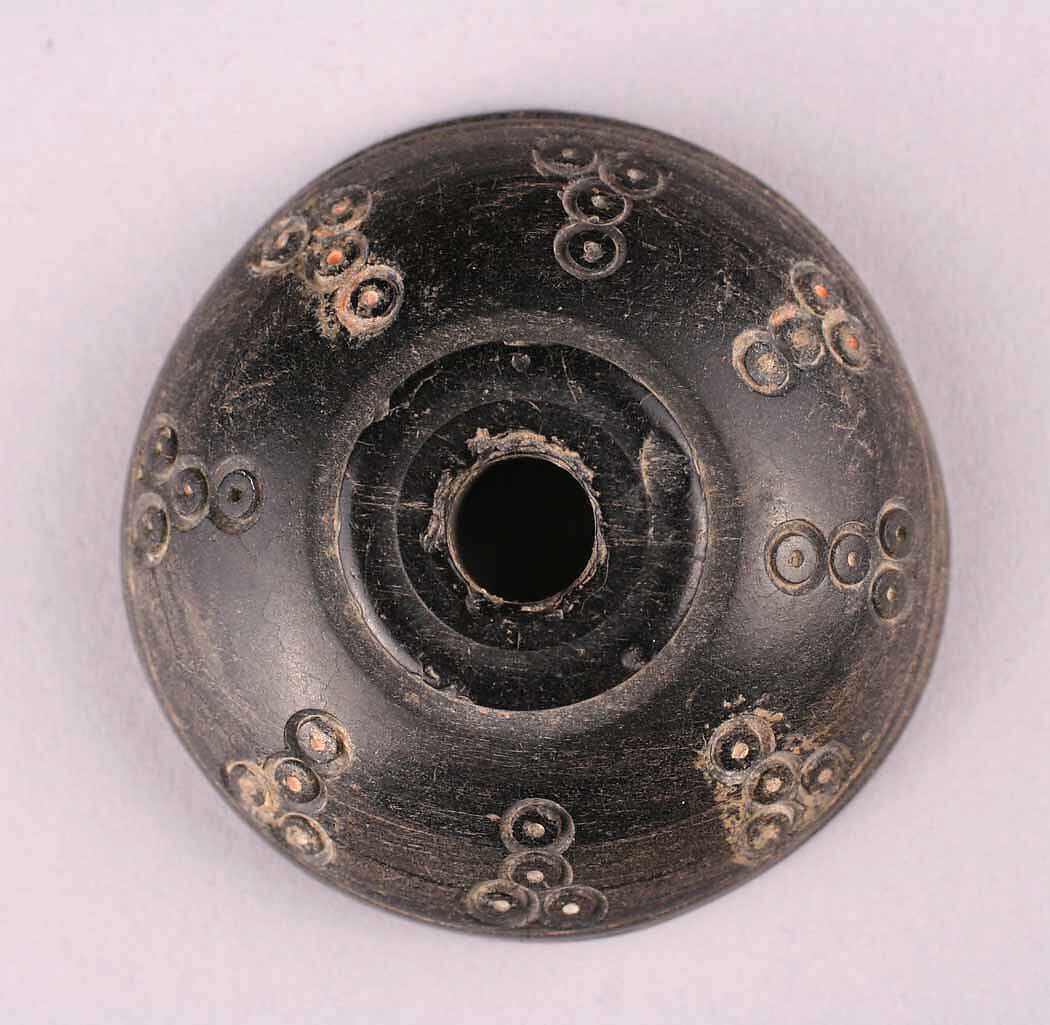 This artwork is meant to be viewed from right to left. Scroll left to view more.