Saint Catherine of Siena Receiving the Stigmata
Giovanni di Paolo (Giovanni di Paolo di Grazia) Italian

On view at The Met Fifth Avenue in Gallery 956
This panel along with another in the Lehman Collection (1975.1.33) belong to a narrative cycle depicting scenes from the life of Catherine of Siena, a fourteenth-century Dominican saint, who was a minister to the poor as well as a mystic. The panels, based on a biography of Saint Catherine written in 1385 by her confessor Raymond of Capua, represent the first complete pictorial cycle of her life. This series, which also includes three panels in European Paintings (1997.117.2; 1997.117.3, 32.100.95), may have been produced following Saint Catherine's canonization in 1461 and added as a predella (base) to a preexisting altarpiece. Two additional panels portraying standing male figures in the Lehman Collection (1975.1.55, 1975.1.56), also belonged to the same complex, which may have been commissioned by the guild of the Pizzicaiuoli (purveyors of dry goods) in 1447 for their new chapel in the church of the hospital of Santa Maria della Scala in Siena.
Additional panels that are conjecturally associated with the Pizzicaiuoli altarpiece are: the Purification of the Virgin (Pinacoteca Nazionale, Siena), Saint Catherine Invested with the Dominican Habit (Cleveland Museum of Art), Saint Catherine and the Beggar (Cleveland Museum of Art), Saint Catherine Dictating Her Dialogues to Raymond of Capua (Detroit Institute of Arts), Saint Catherine before a Pope (Thyssen-Bornemisza Foundation), Death of Saint Catherine (private collection), Crucifixion (Rijksmuseum Het Catharijneconvent, Utrecht, on deposit at the Rijksmuseum, Amsterdam), and pilaster figures representing Saint Galganus and Blessed Peter of Siena(?) (both Aartbischoppilijk Museum, Utrecht).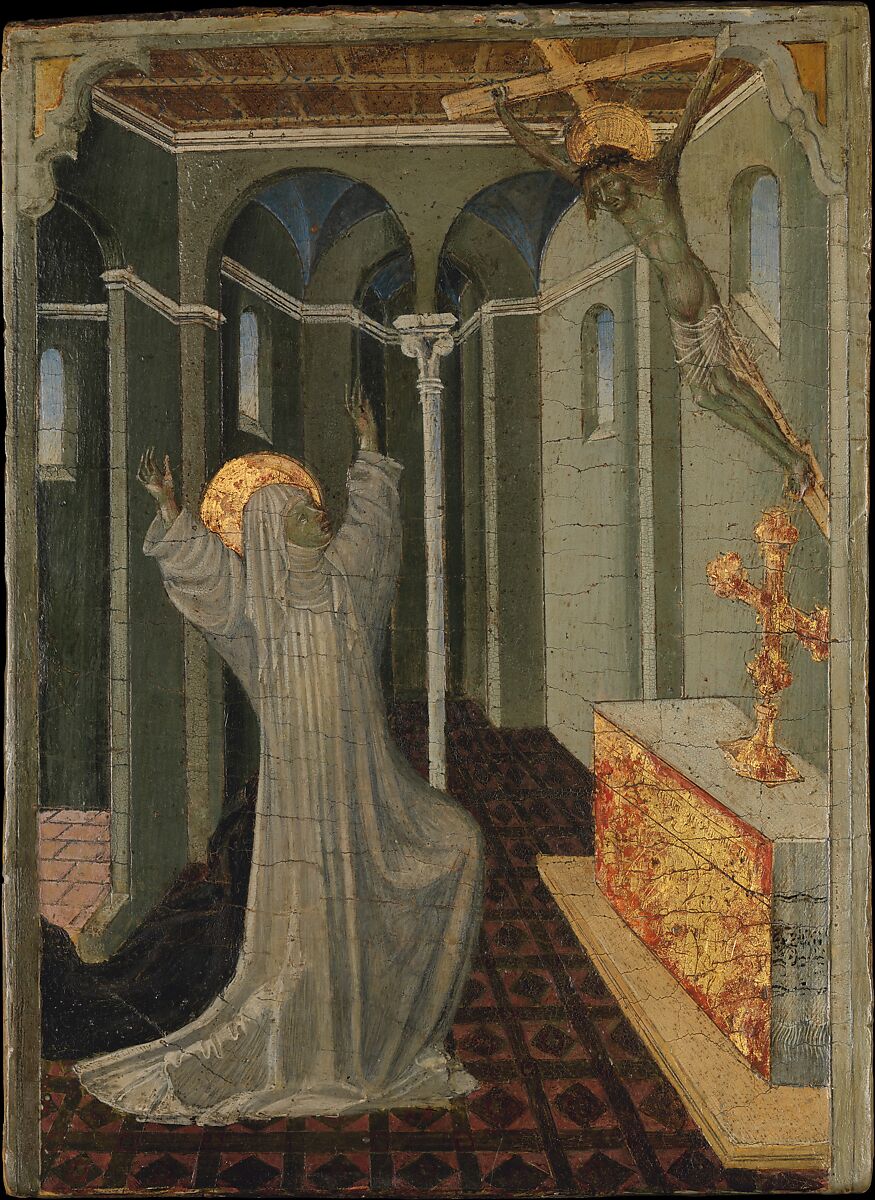 This artwork is meant to be viewed from right to left. Scroll left to view more.