The Last Supper
Designed by Bernard van Orley Netherlandish
Probably woven by Pieter de Pannemaker Netherlandish

On view at The Met Fifth Avenue in Gallery 959
This splendid Last Supper is part of a series of four tapestries, designed about 1520, illustrating the Passion of Christ and possibly woven for the duke of Alba. Designed by Bernaert van Orley, who was court painter to Margaret of Austria, the scene is set in an elaborate Italian Renaissance loggia, through which other classically inspired building are visible in the background. The love of decorative detail evident in the marble piers, the patterned tablecloth, and the fictive wall hangings signal the Flemish taste for rich surface ornament. With his enormous nimbus, Christ is shown at the center of the composition with his right arm around the sleeping Saint John and his outstretched left arm directing the viewer's eye toward Judas, who rises to leave in the lower right, his purse already filled with the payment he has received for his promised betrayal.

Several details in the Last Supper suggest it was conceived with a Protestant interpretation. The paschal lamb is absent and the dish at the center of the table that would have held it supports the large chalice filled with wine, reflecting the beliefs of Martin Luther, who repudiated the notion of the sacrifice of the Mass, symbolized by the slaughtered lamb, as an abomination, but supported the partaking of bread and wine. Bread has been placed on the table before the disciples, and a conspicuously placed, lavishly dressed innkeeper pours wine from a ewer into the cup of one of the apostles in the foreground. On the neckline border of Christ's robe is inscribed "MEI," a fragment of his words spoken at the breaking of bread and drinking of wine, "This do in remembrance of me." The composition as well as the poses and gestures of some of the figures are inspired by a 1510 woodcut of the Last Supper by Albrecht Dürer. Raphael's cartoons for the tapestry series Acts of the Apostles, commissioned for the Sistine Chapel and sent to Brussels to be woven, were significant models for van Orley and other Flemish artists, providing a paradigm of the grand, heroic narrative style of contemporary Roman art. In the Last Supper, populated by muscular, rhetorically gesturing figures engaged in a moment of high drama, van Orley fully realized tapestry's potential for emulating monumental painting.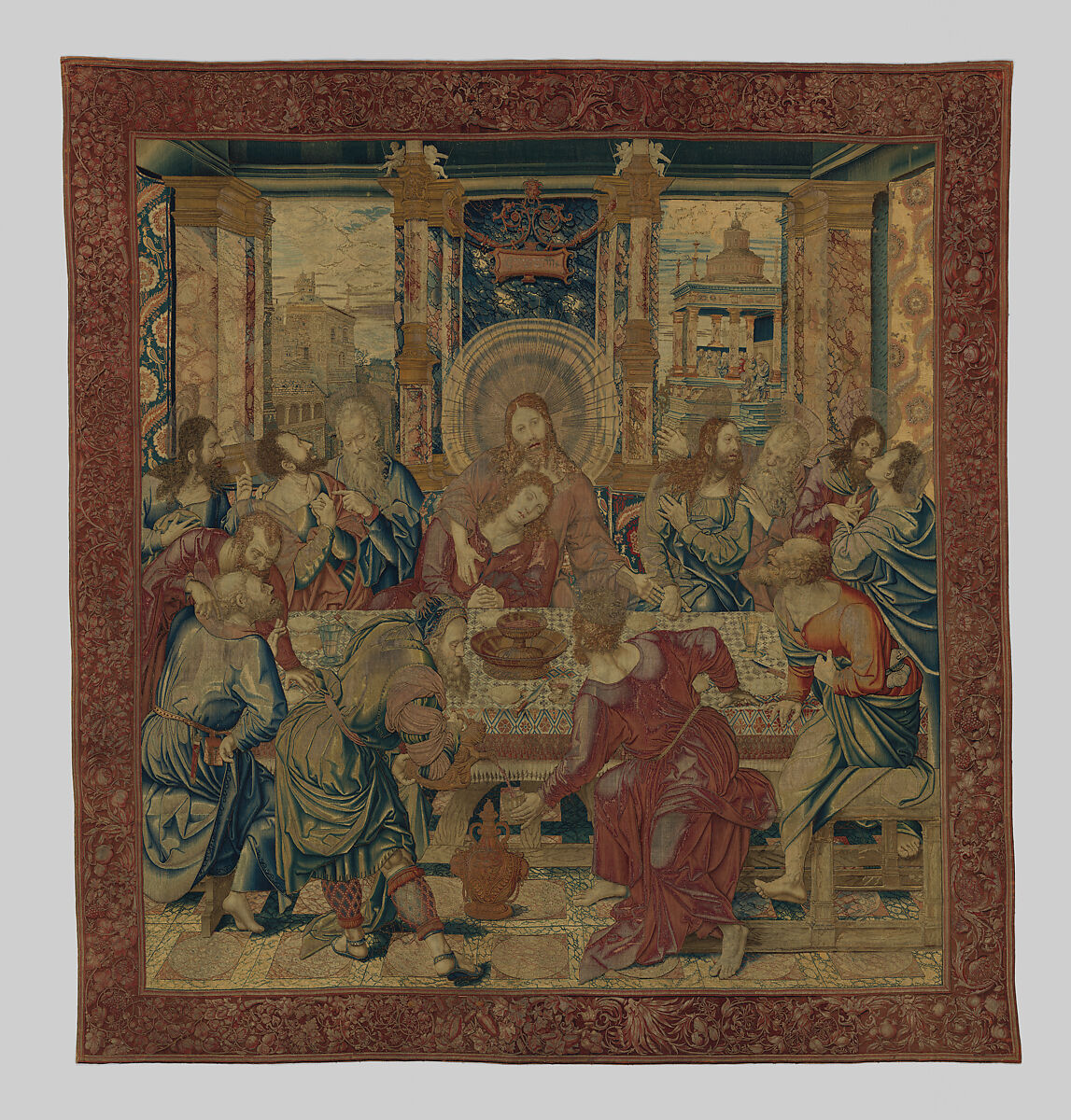 This artwork is meant to be viewed from right to left. Scroll left to view more.