Plate with the Arming of David
On view at The Met Fifth Avenue in Gallery 301
In 628–29 the Byzantine emperor Herakleios (r. 610–41) successfully ended a long, costly war with Persia and regained Jerusalem, Egypt, and other Byzantine territory. Silver stamps dating to 613–29/30 on the reverse of these masterpieces place their manufacture in Herakleios's reign. The biblical figures on the plates wear the costume of the early Byzantine court, suggesting to the viewer that, like Saul and David, the Byzantine emperor was a ruler chosen by God. Elaborate dishes used for display at banquets were common in the late Roman and early Byzantine world; generally decorated with classical themes, these objects conveyed wealth, social status, and learning. This set of silver plates may be the earliest surviving example of the use of biblical scenes for such displays. Their intended arrangement may have closely followed the biblical order of the events, and their display may have conformed to the shape of a Christogram, or monogram for the name of Christ.

David is shown receiving Saul's armor for his battle with Goliath (1 Samuel 17:38). He stands under an arcuated lintel. In late Roman and early Byzantine art, this architectural structure, suggesting a palace, was used to distinguish the emperor and here implies David's future role as king. The armor is Roman, a metal breastplate over a short tunic. To David's right is Saul, who wears a chlamys, or cloak, over a short-sleeved tunic, which covers another tunic with embroidered cuffs, a standard feature of Byzantine courtly dress.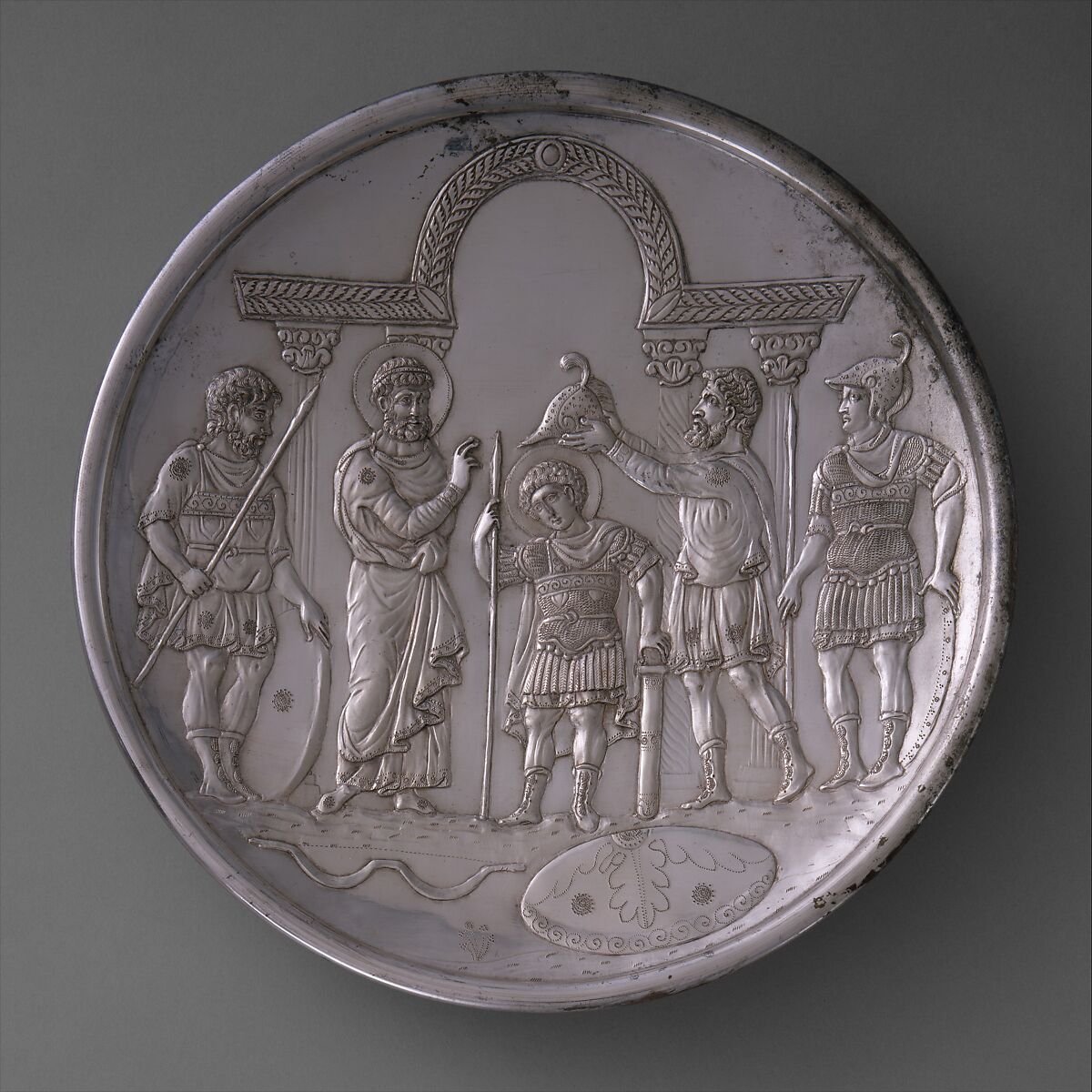 This artwork is meant to be viewed from right to left. Scroll left to view more.