Game Piece with a Scene from the Life of Apollonius of Tyre
On view at The Met Fifth Avenue in Gallery 304
This piece, from the medieval game of tables (a precursor to backgammon), illustrates the Late Antique legend of Apollonius of Tyre, whose wife was miraculously resurrected after being buried at sea. Here two men lower her coffin while two others watch. The scene is conceived in spatial layers: coffin, figures lowering it, onlookers, and sail. The illusion of deep space is enhanced by almost three-dimensional carving, with some areas in the round, a rare feature in walrus-ivory reliefs. While the subject is unique in Romanesque art, the plastic style of figure carving and the fine detail have parallels in Cologne ivories of the second half of the twelfth century. The figures and acanthus border can be related to an ivory reliquary in Brussels and to a cupola reliquary in Berlin produced in Cologne between 1170 and 1190. The Brussels reliquary has nearly identical borders, indicating that a single workshop produced ecclesiastical and secular objects.

Another gamepiece, depicting the Entombment of Christ (Burrell Collection, Glasgow), is so similar that it may be from the same set, one divided thematically between the life of Christ and typological parallels based on classical literature. Frequently, pieces would depict feats of strength, such as those of Hercules (from mythology) pitted against those of Samson (from the Old Testament).
#3120. Gamepiece with Episode from the Life of Apollonius of Tyre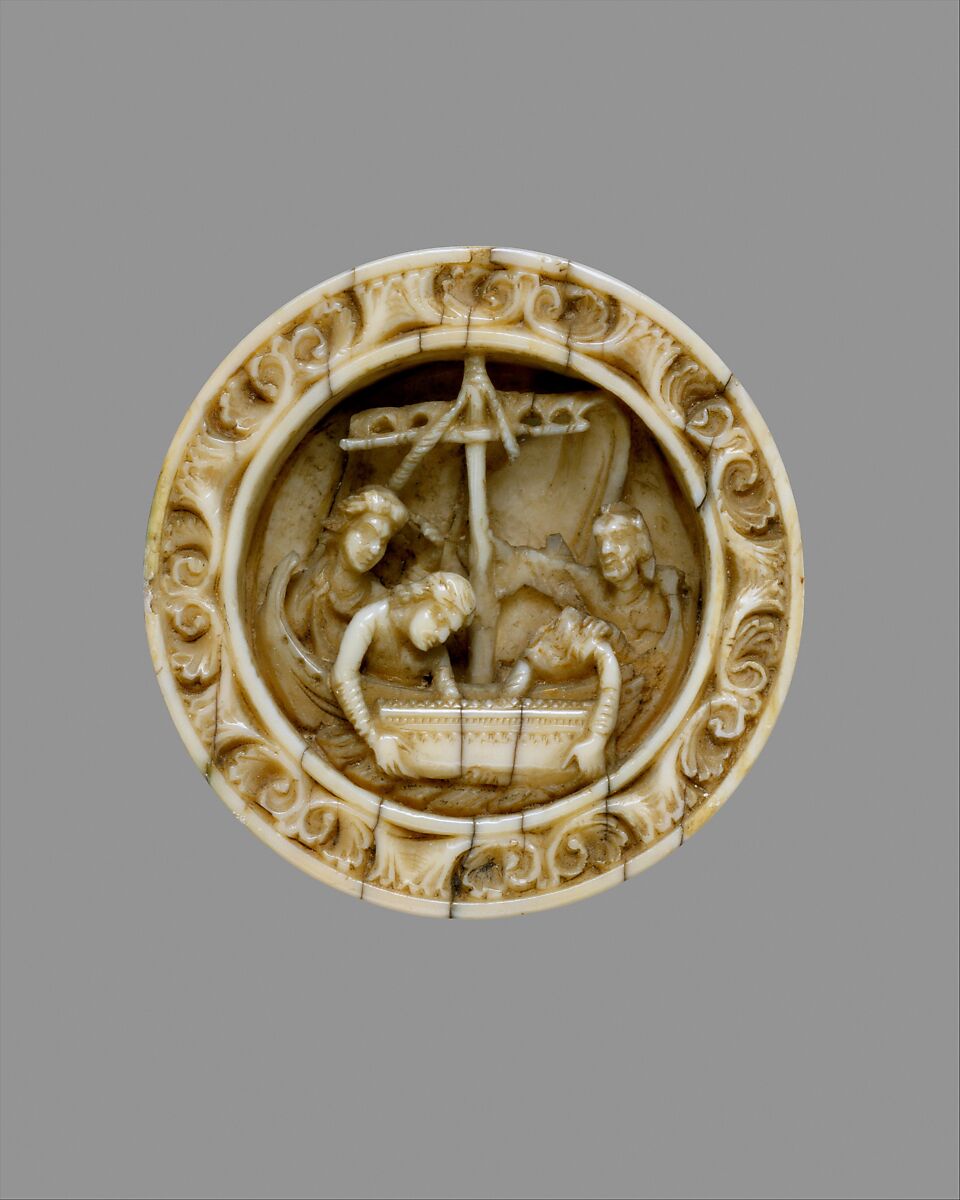 This artwork is meant to be viewed from right to left. Scroll left to view more.