African Magus, one of the Three Kings from an Adoration Group
On view at The Met Cloisters in Gallery 20
One of a group of wooden sculptures representing the Adoration of the Magi, this figure initially stood behind an altar in a German church. The New Testament account tells of wise men offering gifts to the infant Jesus, but it gives neither the number of individuals nor their ethnicities. Medieval literature and art, however, depict the Magi as three kings from far corners of the known world, including Africa. Trade routes, diplomatic excursions, and increased contact between Europe and Africa in the medieval period led to more images of people of African descent in art, particularly in scenes of this subject. The Magus' elegant pose and contemporary attire are reminiscent of a medieval royal courtier. For its original audience, this figure represented an imagined African ruler and a reverent, wise man from a distant world.

These three kings (see 52.83.1–.3) along with a seated Virgin and Child formed the central shrine of a large altarpiece with painted wings. The attenuated, elegant figures and the broad drapery patterns are characteristic of Late Gothic sculpture in Swabia. The Virgin and Child are still in the convent for which the altar was made, and the two painted wings-representing, on the outer sides, the Annunciation and the Visitation and, on the inner sides, the Birth and Dormition of the Virgin-are in the Staatliche Kunsthalle Karlsruhe. One of the wings is dated 1489 and bears the name of the donatrix, Margarethe, daughter of the margrave Karl I of Baden and abbess of Lichtenthal from 1477 until her death in 1496.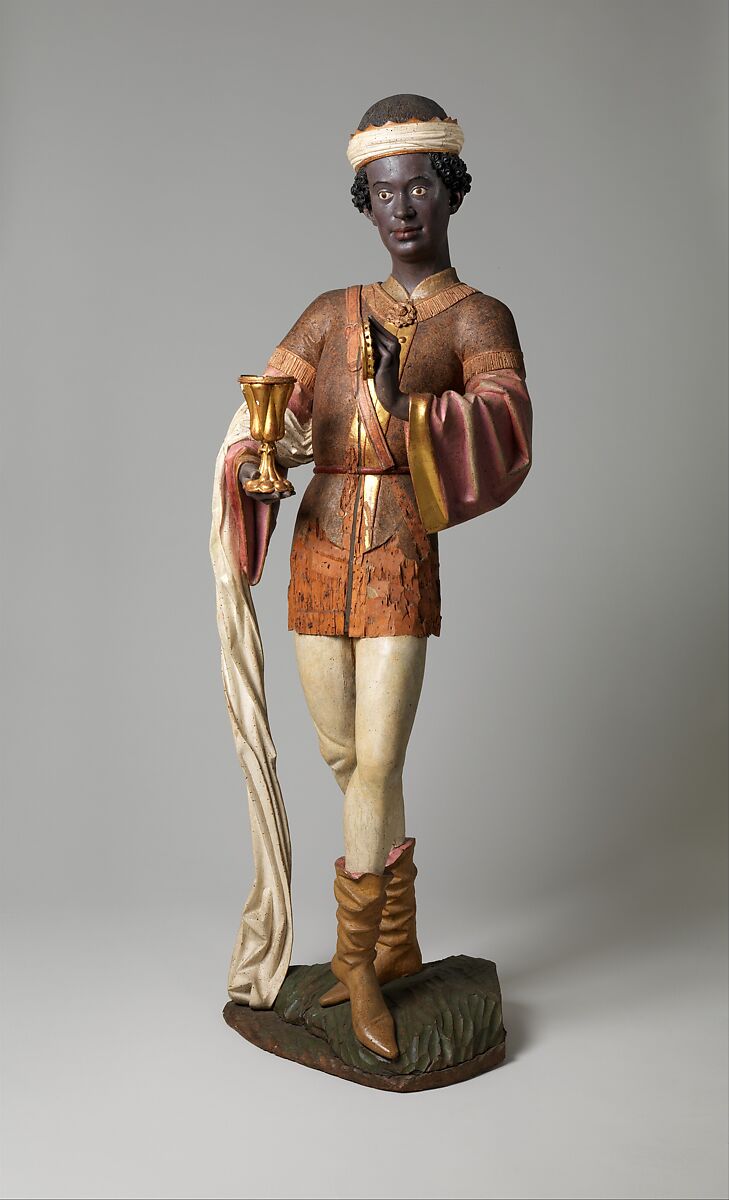 This artwork is meant to be viewed from right to left. Scroll left to view more.