Apostle Spoon
On view at The Met Cloisters in Gallery 10
Apostle spoons – spoons which bear the figure of one of the apostles accompanied by his apostolic emblem – are first mentioned in a will made in York in 1494, which described them as "xiji cocliaris argenti com Apostolis super eorum fines" ("13 silver gilt spoons with apostles on the top of their ends"). It would appear from the number "xiji" (13) that this set also included a "master" spoon, on which the image of the Savior holding the orb and cross would have appeared.

Sometime during the Tudor period it became customary in England for a wealthy godparent to give such a set of spoons to his godchild at his christening. When Shakespeare's Archbishop Cranmer demurs to the honor of standing as the godfather at the baptism of the "fair young maid" Elizabeth, King Henry VIII responds, "Come, come, my lord, you'd spare your spoons" (V, 4) – thus suggesting that is was the expense of such a gift that caused the archbishop to refuse. More generally, however, a single spoon was given instead, the terminus of which was in the form of the apostle who shared the name of the child being christened or of the godfather. There are instances in which the figure on the finial was not an apostle but merely a saint – St. Nicholas being one of the more commonly represented.

The apostle on the spoon exhibited here cannot, unfortunately, be securely identified. Holding a broken staff, is could be either St. Jude (whose symbol was the halberd by which he suffered martyrdom) or St. Thomas (whose symbol is the spear by which he was pierced during his missionary work in India). The spoon bears unidentified silver maker's marks.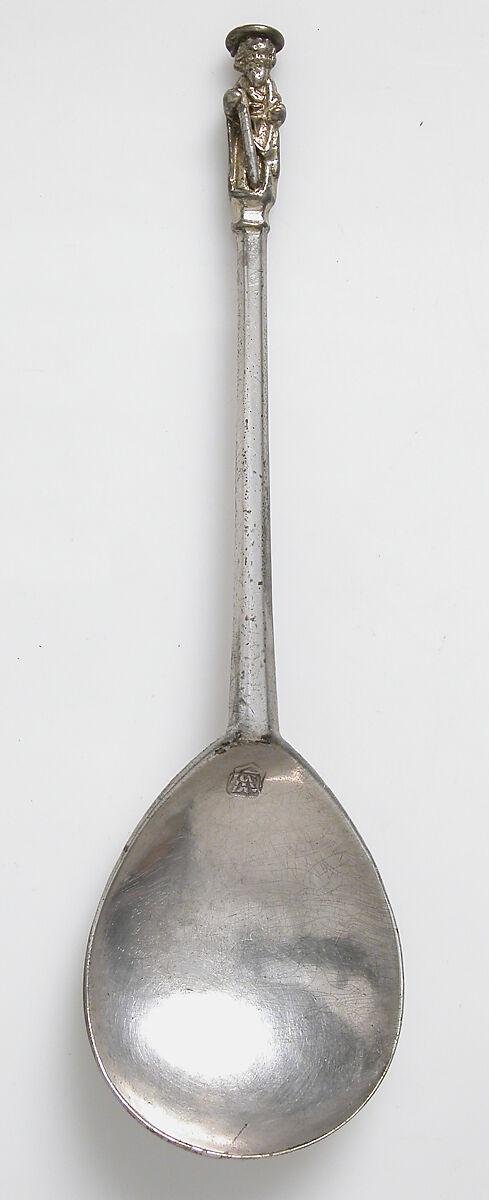 This artwork is meant to be viewed from right to left. Scroll left to view more.