Unidentified Object
Isamu Noguchi American

On view at The Met Fifth Avenue on Fifth Avenue
In a career spanning over six decades, the American sculptor and designer Isamu Noguchi worked in a range of materials from stainless steel, clay, and concrete to different kinds of wood and marble. His later works were executed almost exclusively in stone, most often granite and basalt. These stone works, of which Unidentified Object is a monumental example, were made in the village of Mure on the island of Shikoku in Japan. From the 1960s onwards, the New York-based Noguchi began visiting Mure on an annual basis for several months and would also establish a studio there where he would collaborate with stone carver Masatoshi Izumi (1938–2021) on large sculptures.

This monolithic vertical form brings together a range of sculptural references that Noguchi had studied in his many travels across the world, from menhirs and obelisks to totems and lingams. It also references the strategic placement of particularly shaped rocks in Zen gardens, the study of which especially deepened when Noguchi returned to Japan for inspiration and materials in the 1950s, most notably for a commission for the UNESCO Secretariat garden in Paris. The relationship between sculptural forms in activating civic spaces had long interested Noguchi, and over his career, he designed numerous public gardens, monuments, memorials, and playgrounds, although only some would actually be realized.

These sensibilities can be seen in Unidentified Object, an early commission by the Public Art Fund in 1979. It was initially installed near the southeast corner of Central Park—itself a manufactured landscape complete with imported boulders and even an Egyptian obelisk—before being presented to The Met as a gift from the artist and subsequently placed at 80th Street and Fifth Avenue. Since its first installation, Noguchi's sculpture has been mounted on a 15-ton, 6-feet-tall circular granite base carved from stone quarried in upstate New York.

Noguchi's use of the igneous rocks basalt and granite in his late works connect them to the earth's very origins, while his minimal carving in shaping their form allows their natural material to persist long after the sculptor's interventions. Of these works he noted, "I had come to think that the deeper meaning of sculpture ought to be sought in the working of hard stone. Through this might be revealed its quality of enduring. The evidence of geologic time was its link to our world's creation."[1] Indeed, the enigmatic title of this work imbues the object with a mysterious sense of a vestige of an unknown realm, or else the deposit from an extraterrestrial one. While in some of his later sculptures, he brought parts to a high degree of polish, here the stone is presented in a symphony of roughened surfaces. With its outdoor location and exposure to the elements, Unidentified Object gradually develops a rust-green appearance due to the migration of the natural iron within the basalt. This transformation further underscores Noguchi's understanding of the stone as a manifestation of the passage of time—"Basalt, like a geode, has within it the history of its being—made visible when subject to a purpose only the artist can determine."[2]


[1] Katharine Kuh, "Noguchi in Japan," World, March 3, 1973, p. 61.

[2] Isamu Noguchi, "Catalogue; Area 4, Note 8," The Isamu Noguchi Garden Museum, New York: Abrams, 1999, p. 82.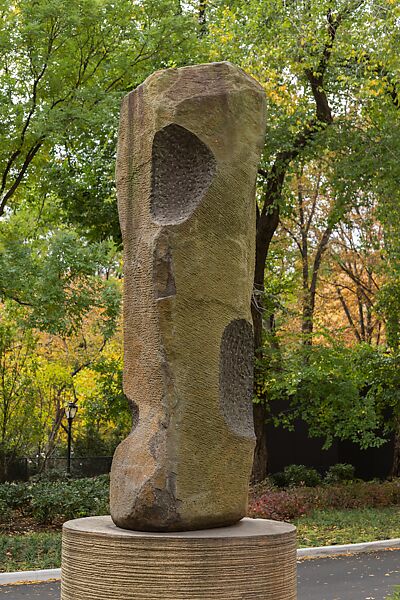 This artwork is meant to be viewed from right to left. Scroll left to view more.