John Pierpont Morgan Memorial
Paul Manship American

On View Gallery
From 1871 until his death John Pierpont Morgan (1837–1913) served the Metropolitan Museum as a founding trustee, vice president of the board, and, from 1904, president. This memorial consists of a central panel with a dedicatory inscription to Morgan. Surrounding this tablet are panels in high relief, which feature putti and a laurel wreath, winged griffins, male and female allegorical figures alluding to accomplishments in Morgan's life, and reclining figures playing lyres. In the panels on the left, Mercury personifies Commerce; a rigidly frontal, draped female holding a cornucopia represents Finance; and an astronomer alludes to Science. On the right, a partially draped female personifies Art and holds aloft examples of sculpture and architecture; a bearded philosopher with an open book represents Literature; and Archaeology is represented by a half-draped female displaying artifacts from the ancient world. Bordering the panels are ornamental carvings in low relief that include additional figures related to the personifications.

In 1970, during renovations to the Museum's front plaza and Great Hall, the memorial was moved from the northwest pier supporting the central dome to the south wall of the Fifth Avenue entrance vestibule, which necessitated removal of the tablet's original scrollwork pediment and concealment of the sides showing signs of the zodiac.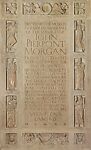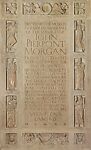 This artwork is meant to be viewed from right to left. Scroll left to view more.