"Perse" Grille
Designer Edgar Brandt French

Not on view
Edgar Brandt, a superb craftsman who employed all the skills of the traditional French metalsmith, was one of the most accomplished exponents of the French Art Deco style. This grille combines stylized flower forms and rippling scalloped bands rendered in contrasting textures, forming a free pattern of extraordinary richness and creating a sense of highly charged motion. The floral motif evokes Persian miniature painting, reflected in its name.

The grille was presented to the public at the 1923 Salon d'Automne, one of the many annual exhibitions in Paris where visitors could see ensembles and room settings promoting the latest styles by the best-known French decorators. It was part of a larger grouping presented in an alcove and prosaically titled "Quelques Ferronneries" (Some Ironworks). The focal point was a monumental tripartite screen set into the alcove's rear wall, flanked by two nearly identical grilles with mirror images of the same pattern. The grille acquired by The Met was installed at the alcove's left. While a very similar grille by Brandt was published in 1925 as an "entrance door," none of these panels appear to have been conceived for this purpose. Brandt later added the stabilizing feet to The Met's panel, allowing it to stand alone.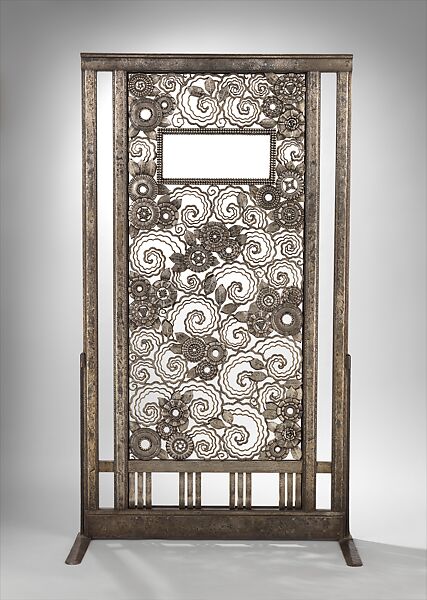 This artwork is meant to be viewed from right to left. Scroll left to view more.