Still Life with Metronome (Still Life with Mandola and Metronome)
Georges Braque French

Not on view
Braque worked in tandem with Pablo Picasso from 1907 until the start of World War I to develop Cubism, revolutionizing the depiction of forms in space by transforming objects through fragmentation, abstraction, and multiple perspectives. This canvas, one of five still-lifes dedicated to a musical theme that Braque made between late 1909 and early 1910, radically extends the artist's Cubist experiments.


Today, the painting's title specifically identifies the metronome (a musical device used to set tempo as an aid for musical practice) yet it only acquired this designation about thirty years after the work was made. Braque's first dealer, Daniel-Henry Kahnweiler, called the composition Still Life with Mandolin, although the instrument represented in the center of the composition is the mandolin's larger cousin, the mandola. Braque himself was a classically trained musician who was, by his own account, surrounded by musical instruments in his studio. Dozens of these populate the artist's Cubist still-life paintings.


Still Life with Metronome dates to the early phase of Cubism's development, often referred to as Analytic Cubism. Paintings from this period feature subject matter broken down into rudimentary shapes and overlapping planes rendered in a simplified palette of neutral colors. The trapezoidal metronome at upper left, positioned off-center, conveys depth and perspective, while the mandola emerges from a pile of dissolved forms. These instruments would have been familiar to European audiences at a time when music-making was a popular leisure activity; Braque's decision to represent them in his canvas would have made Cubism's pictorial innovations more legible.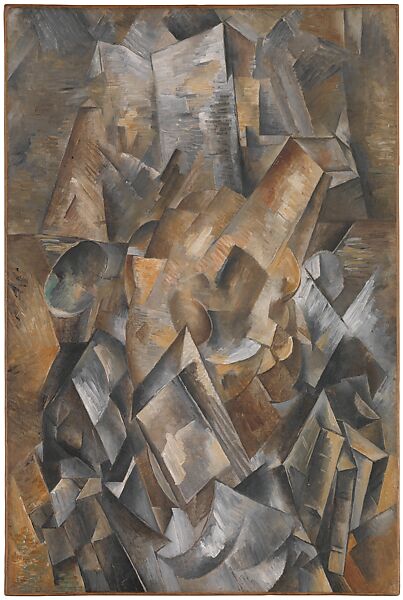 This artwork is meant to be viewed from right to left. Scroll left to view more.