The Man at the Café
Juan Gris Spanish

On view at The Met Fifth Avenue in Gallery 908
As the picture's title indicates, this scene is set in a café: a table, wall, paneling, and newspaper sticks are all rendered with different textures of faux wood grain. At center is the silhouette of a man (we can make out his hat, right hand, and arm), who is immersed in reading his newspaper. Before him sits a glass mug of beer, the top thickly painted in white and stippled with the end of the paintbrush to simulate brimming foam. Elements of the composition are echoed and replicated: the newspaper stick is included twice, so too the contour of the man's left arm, as if Gris recorded his incremental movements at the table. The forms of the composition are also divided into angles that suggest motion; they are filled with various brilliant colors of yellow, orange, and blue; thick textures; and painted and incised patterns, which further the scene's sense of animation.

In 1914, Gris almost exclusively made papiers collés (pasted paper) compositions. Over eight months, the artist produced over forty such works that mix drawing materials and everyday papers with paint on canvas. If the clippings used in the paintings are a key to his production, Gris likely made the present work (which includes the printed date of February 3, 1914) in February or March, just months before the artist left Paris for Collioure. The Man at a Café is a particularly remarkable example of Cubist experimentation for its large size and rare appearance of a human figure.

Papier collé, a method of adhering paper elements to a composition to break with the expectation and tradition of painted representation, was a Cubist technique invented in 1912 by Georges Braque and Pablo Picasso. Before 1914, Gris only made occasional use of papier collé, but he was the first to exhibit such a composition (The Washstand, 1912, private collection), at the 1912 Section d'Or exhibition at the Galerie la Boétie, Paris, where he received great critical attention for the "curious originality of [his] imagination." Gris's works from 1914 have been lauded as the summit of the artist's oeuvre by Cubist scholar John Golding, who wrote that they "represent the climax of Gris's exploration of the intellectual possibilities of Cubism and of the new techniques it has introduced."

Unlike those of his Cubist colleagues, whose papier collés are typically spare and resistant to interpretation, Gris's are closer to paintings, their entire surface covered with paper and paint. Attentive to the iconic properties of his materials, Gris layered and carefully organized his compositions into a whole. He also injected in them his witty humor and delight in visual puns. In the case of The Man at the Café, the newspaper includes collaged clippings from the front page of the daily Le Matin. Though we can see the man's fedora, his face is hidden by the ingeniously cut-and-pasted newspaper fragments containing part of an article titled "BERTILLONNAGE / On ne truquera plus les oeuvres d'art." ("The Bertillon Method / One will no longer be able to make fake works of art.") Alphonse Bertillon was a famed French criminal investigator who championed the forensic science of fingerprinting. The article posits that artists should be required to register their fingerprints, which then could be compared to ones found on any given canvas, rendering forgeries impossible. The presence of this shadowy figure, whose own fingers are colored a spectral blue, suggests otherwise.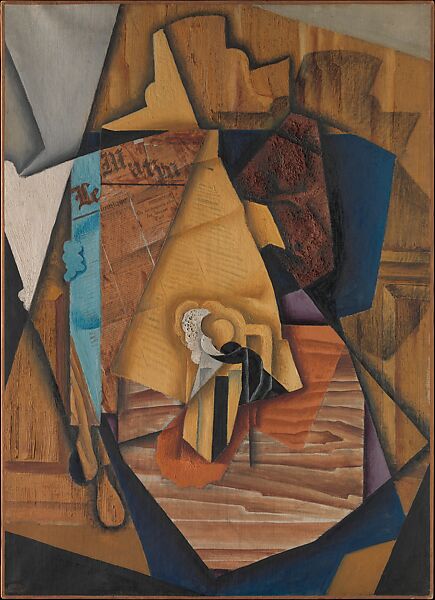 This artwork is meant to be viewed from right to left. Scroll left to view more.